Like or Share this post.
SKI DENALI - PART 1
DIA - ANC - TLK - Kahiltna Base Camp
"May the road rise up to meet you.
May the wind be always at your back.
May the sun shine warm upon your face;
the rains fall soft upon your fields and until we meet again,
may God hold you in the palm of His hand."
-Traditional Gaelic Prayer
Saying goodbye at DIA.
I was ready to go.  This was the moment I had long been anticipating.  I had prepared for years, sorting out the details of what it took and what I needed to climb and ski from North America's highest point.  
It was something that my grandfather had told me about as a youngster. 
It was a life goal I had written down as a Cub Scout.   
I had stared at pictures, read stories and dreamt about it since my childhood.
I had long prepared physically and mentally for the challenges of such an expedition.
I wanted to do it to continue a family legacy and do something that my children can be proud of.
I had an inexplicable feeling that it was something I needed to do.
So why wasn't I thrilled to get started?  The departure is usually when my heart starts to race and I imagine the fantastic adventure that lies ahead.  But, I didn't have that usual feeling of exhilaration as I stepped out of the car at DIA's massive circus-tentesque terminal.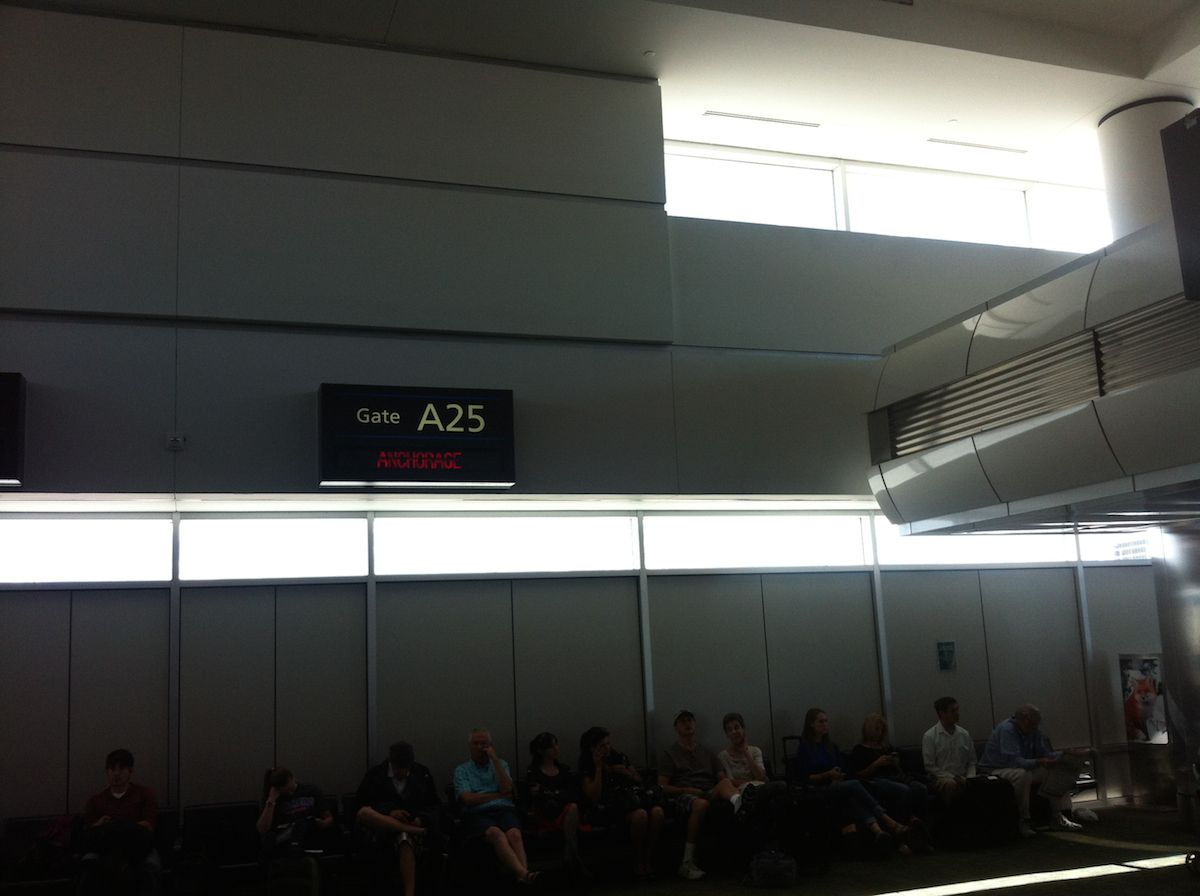 Waiting for the flight...thinking.
Perhaps my lack of excitement upon departure was because this trip was different from the hundreds (perhaps thousands) of other mountain adventures I've been on.  For starters, I was now a father and I was about to leave my wife and nearly 9-month old daughter for an unknown amount of time.  Would I be gone a couple weeks?  A month?  Longer...?  I already missed them as
the security guard ushered them towards the terminal exit.  Not knowing when I would see them again seemed to amplify that feeling.  Additionally, I had invested so much into planning and preparing for this trip that starting it made me nervous.  What if things didn't go well?  Would I feel like I had wasted all that effort?  Would I feel like a failure?  Would I ever get to attempt this lifelong dream again?  Would my family be disappointed if I wasn't successful?  Would my family be proud of me even if I was successful?