Like or Share this post.
SKI DENALI - PART 5
DENALI DEPARTURE - GOING HOME
"See 'em sit there, and as they always do for some reason after they touch the yellow gate the last time,
they just kind of, it's like you cut the strings on a - what is it that, a marionette? - they just pfft.
Someone will be there with a chair and they just sit there, and you can see this...
the extremes of joy that can come with sports, that you only get when failure was probable."
Joyful in a harsh landscape.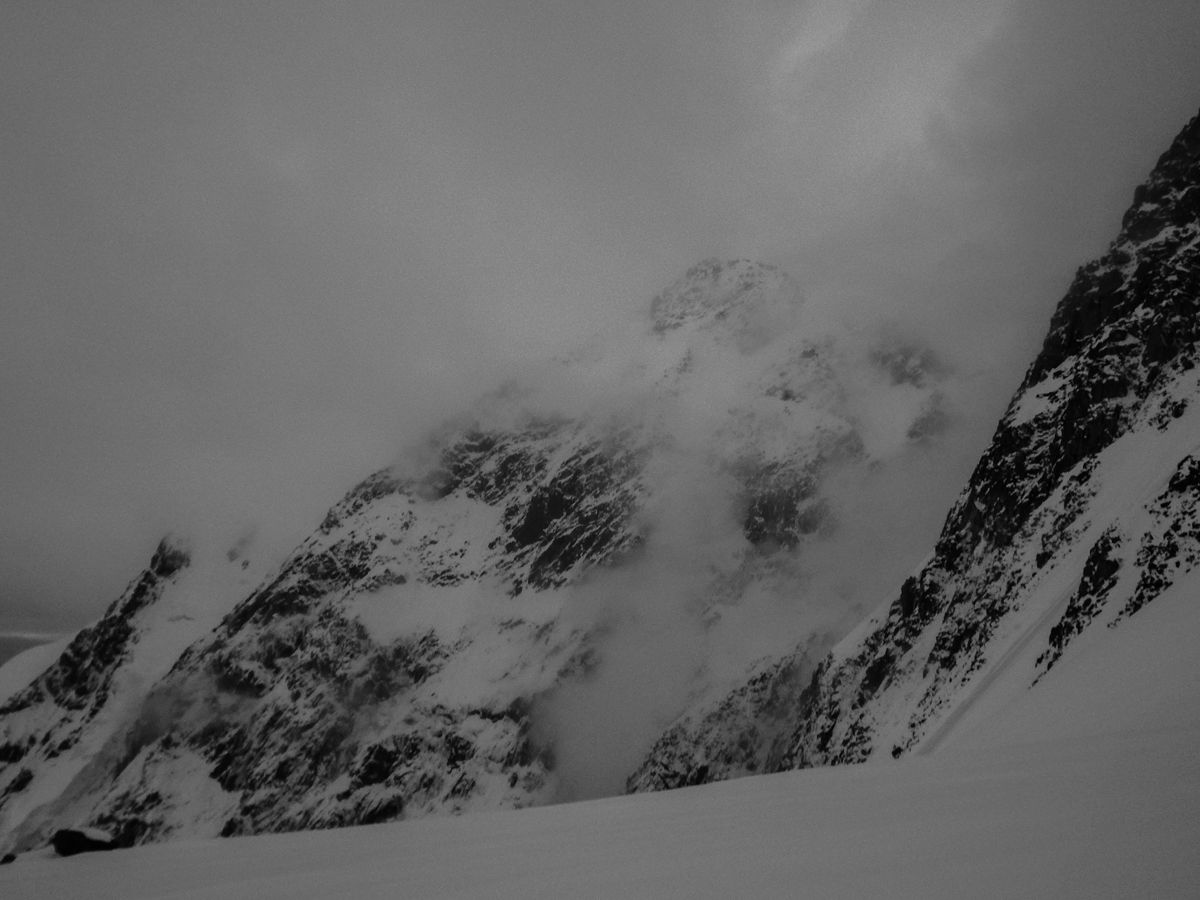 Ski Denali - Part 5: Denali Departure
We had done it. The years of planning, preparation, learning and training, the long days waiting in Denali's weather, the continual upward push with dehydrated bodies and tired legs had all paid off. North America's highest point had been reached and descended on skis via the Messner Couloir. The conditions were what dreams are made of. We were blessed and we knew it, feeling truly content in what we were fortunate enough to experience.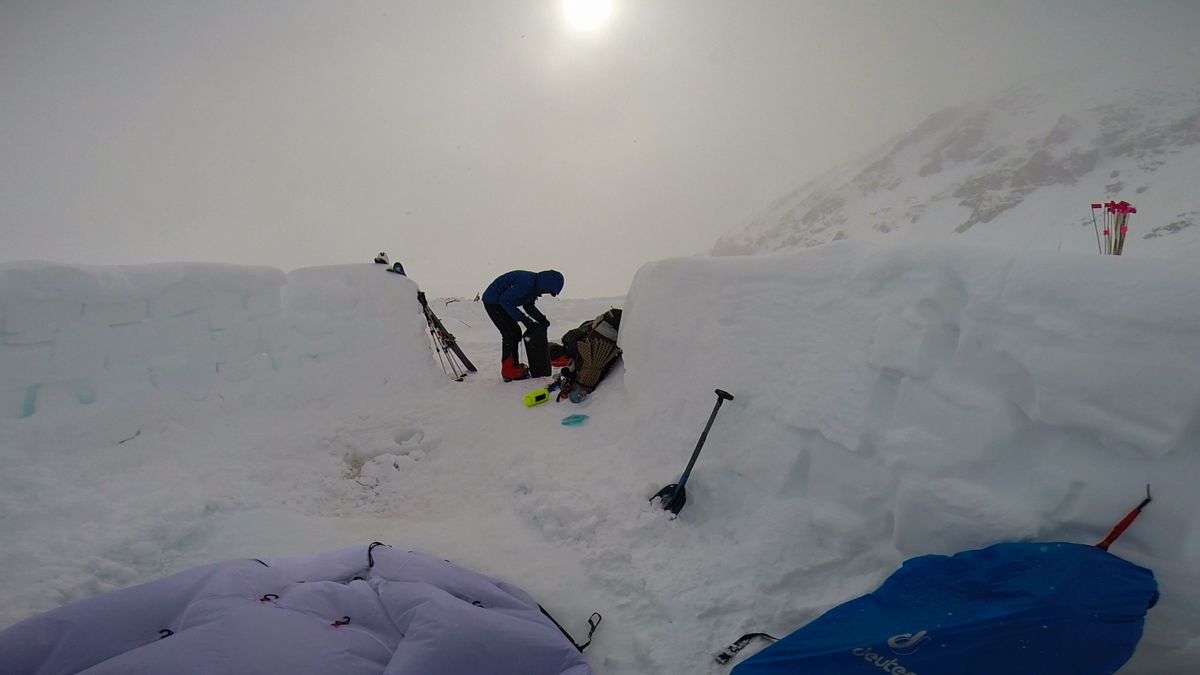 Packing up what had been our home
for 10 days at Camp 14.
After a well deserved night of sleep we woke and began preparing for our departure. There was nothing but storms in the forecast and we had finished what we intended to do, so there was no use sticking around. The call of home, family and friends was strong.
By mid-afternoon we had broken down camp, packed all of our gear and were ready to start the 12-13 mile journey to Kahiltna Base Camp. We consolidated things onto one sled with the thought that it would be best for two people to try to manage one extra-heavy load on the way down rather than each of us having to individually manage our own heavy loads. Although this was a good plan (and I would do it the same way again) we didn't anticipate how difficult it would be. We knew it would be hard, but didn't expect it to be quite as hard as it was. For me, the trek from Camp 14 to Kahiltna Base Camp would prove to be the most physically difficult part of the trip.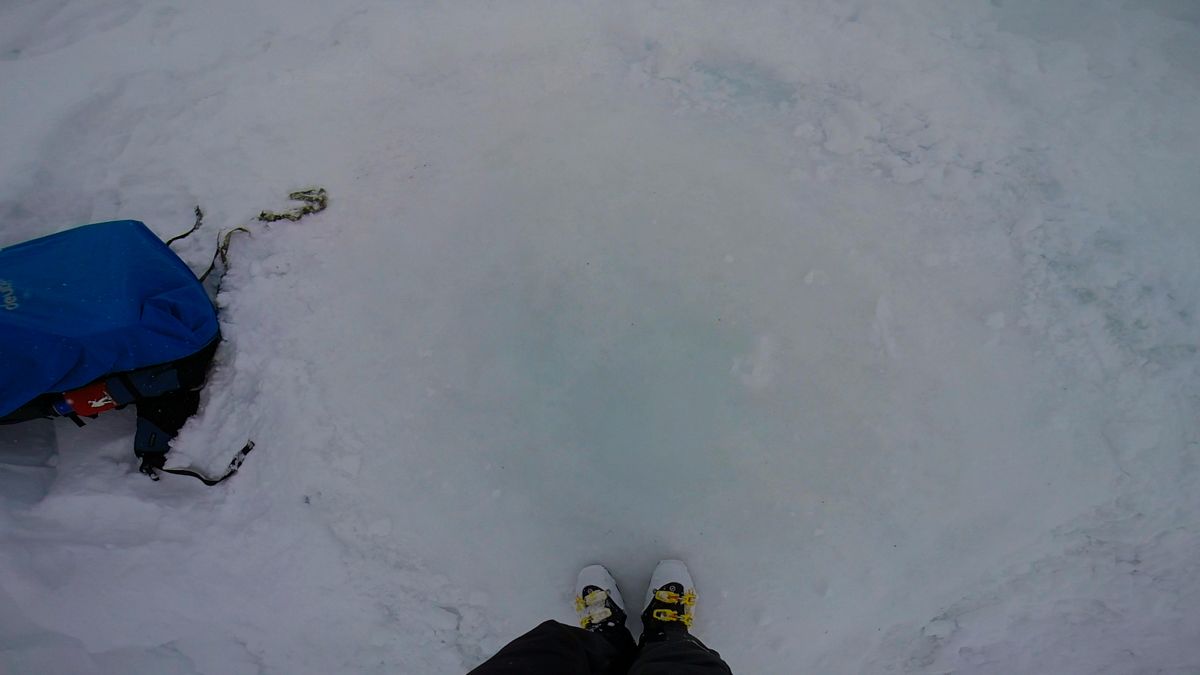 We had melted the snow under our tent
right down to the glacial ice.
Farewell to Camp 14.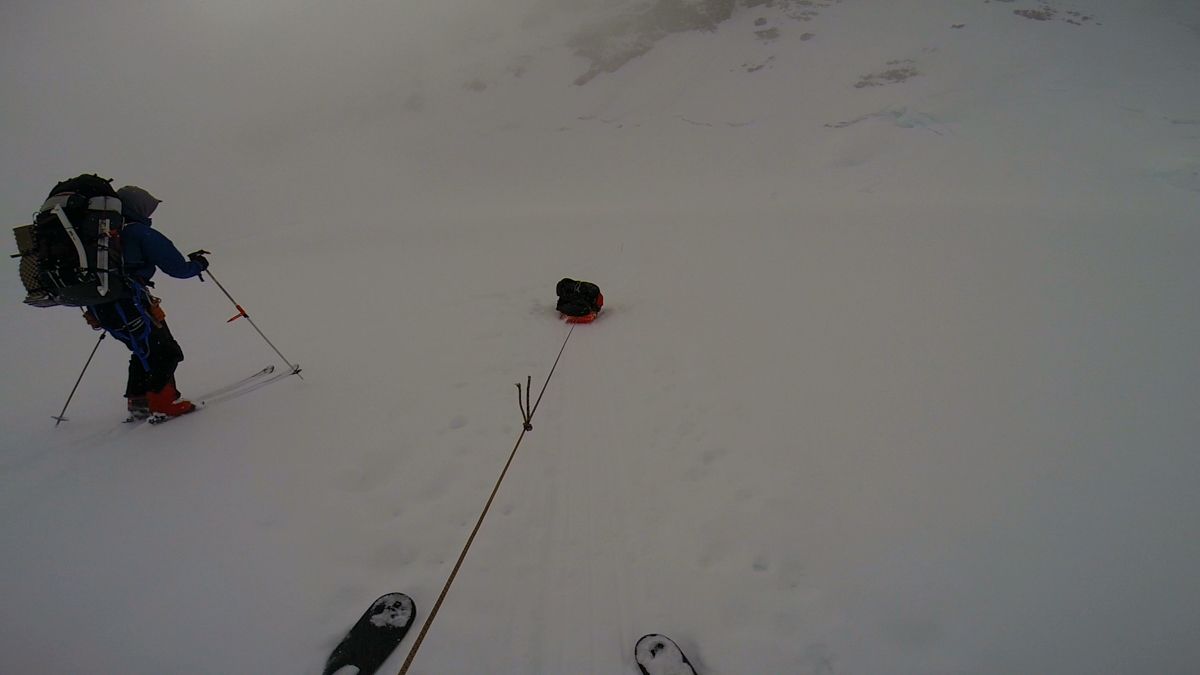 Solo power-wedging with an unruly load.
Our top-heavy, unruly, beast of a sled had us moving at a snail's pace between Camp 14 and Motorcycle Hill Camp. Even though we were on skis we got passed by people who were walking...WALKING! Needless to say it ended up taking longer than anticipated. The side-hill descent, the new snow and the fact that we had summited the day before didn't make things any easier. Countless times our sled flipped over and countless times we propped it back upright. We tried various strategies: solo wrangling, dual wrangling, sled uphill, sled downhill, etc. Each strategy worked for a given type of terrain, and failed miserably in another.
By the time we made it to Motorcycle Hill Camp our bodies were beginning to feel the strain of the past 36 hours.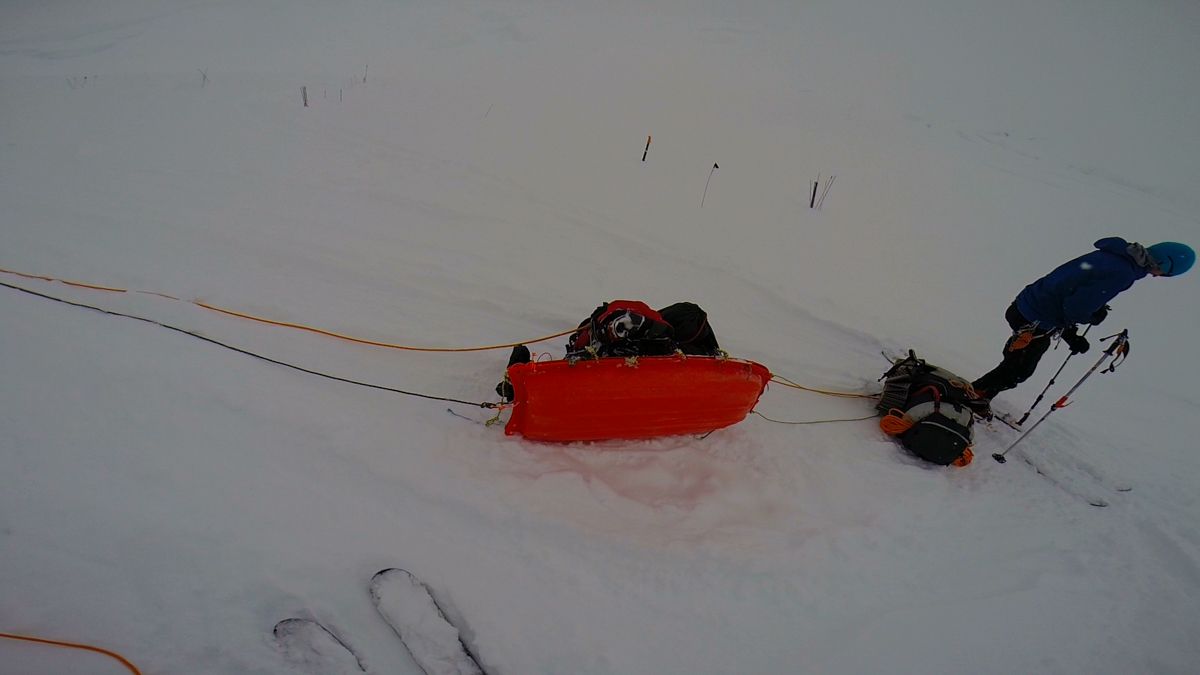 An all too frequent sight.
At least the views were still stunning.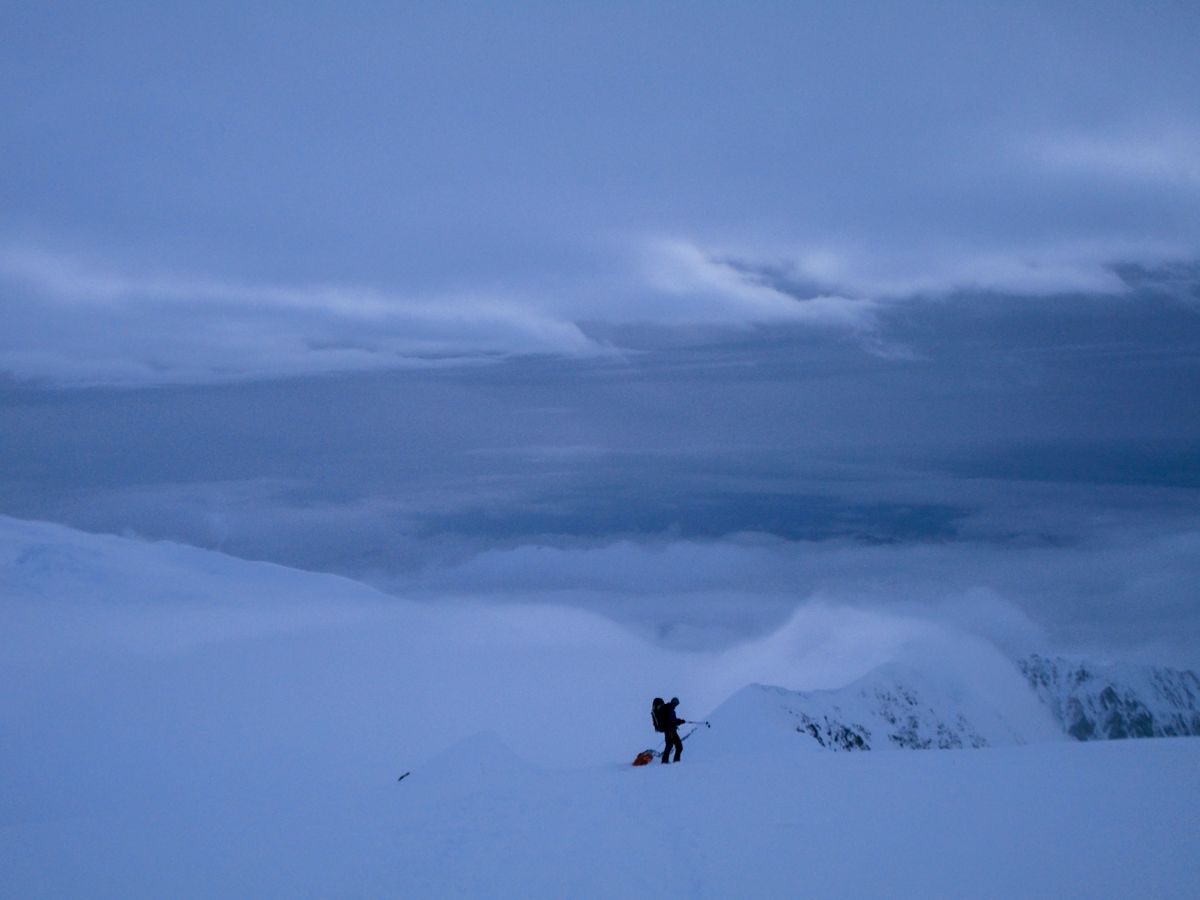 Josh on a solo-sled-wrangling-slog.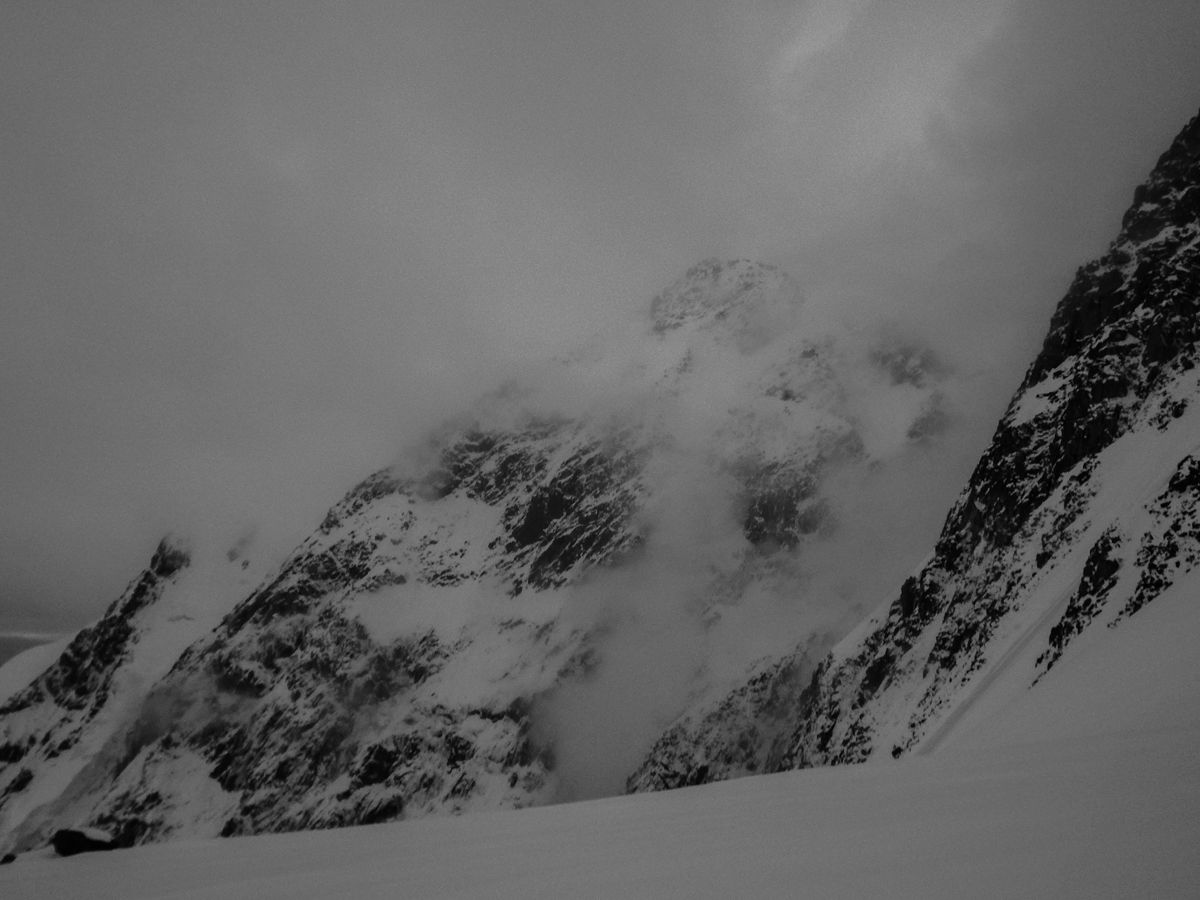 Did I mention that the views were stunning?
When we descended below Motorcycle Hill Camp we traded one difficulty for another. Here, the terrain was much easier for managing the sled ("Oh thank heavens!"), but we found ourselves in the dense fog of a relatively warm snowstorm. The visibility was terrible. Making sure we were on-route and not straying off into the numerous, crevasse-riddled sections of the Kahiltna glacier was slow going. Furthermore, the warm, wet, almost slushy snow created a lot of drag on the sled. There were sections where, even though we were on a slope, getting the sled to move required a good bit of physical exertion.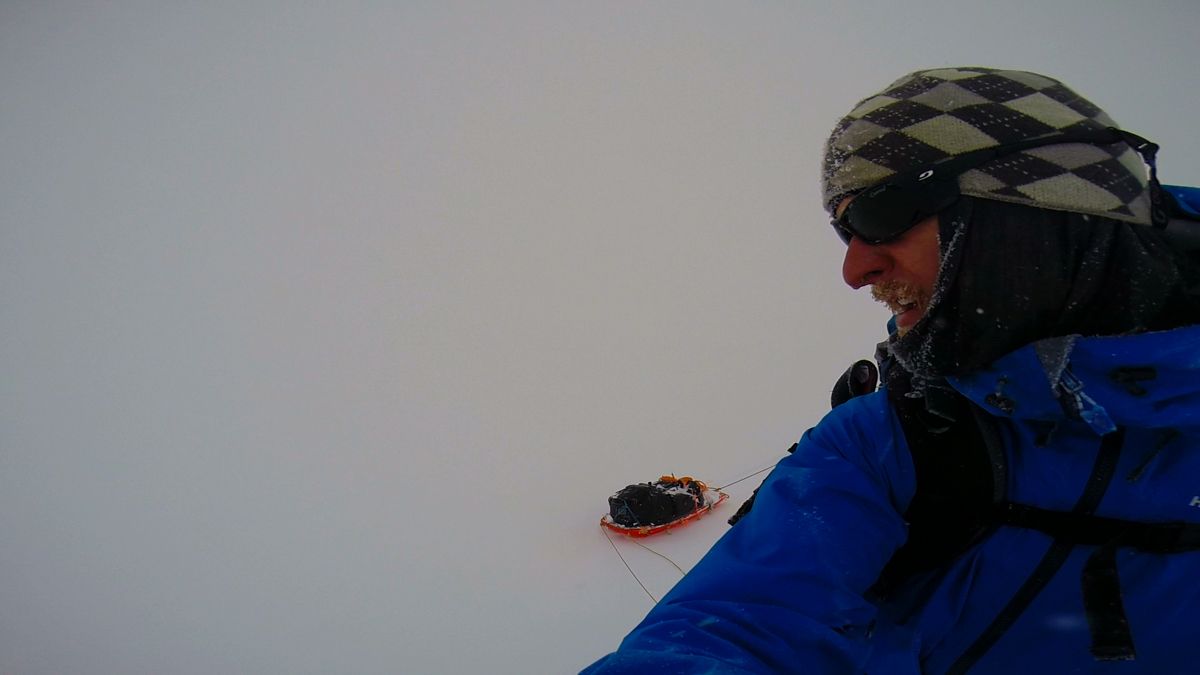 Somewhat easier terrain for sled wrangling near Kahiltna Pass.
Minimal visibility between Kahiltna Pass and Ski Hill Camp.
When we hit Ski Hill Camp we were tired. Plain and simply pooped. To add insult to injury, things were just about to get even harder for our weary legs.
Slightly better visibility at Ski Hill Camp.
Ski Hill Camp to the bottom of Heartbreak Hill is roughly 5 miles with a descent of roughly 1000'. There terrain varies between slight uphills to slight downhills, so we had lost the benefit of having a slope to help us with the weight of the sled.
Inching our way down the Kahiltna from Ski Hill Camp.
Our visibility was in-and-out with the waxing-and-waning snowstorm. Even though it was the middle of the night, at this elevation the temperature was hovering just below freezing. Wet, dense, sticky snow was falling onto the already slushy surface. Even on the slight downhills the sled didn't want to move.
At the end of every step the heavy sled sunk several inches into the wet snow. With the start of every new step it had to be dislodged, only to sink into a new spot in the snow. It was exhausting work that we traded back and forth as we inched our way down the Kahiltna glacier.
Heartbreak Hill fully lived up to its name. In the previous 36 hours we had done a large summit climb and skied the Messner (on minimal water), packed up camp, and struggled with a cumbersome sled through difficult conditions for more than 12 miles. The last thing we wanted to do was a 500' climb to reach Kahiltna Base Camp, but we had no choice. What would normally seem like a small inconvenience now felt surprisingly exhausting and...heartbreaking. This is where all the physical and mental training that I had done to prepare for Denali really paid off. I was able to dig deep and find the reserves, both mentally and physically, to finish.
When we finally reached Kahiltna Base Camp in the wee hours of the morning we hastily set up our tent and crawled into our sleeping bags. I'm not even sure if my head hit the pillow before I fell asleep.
Denali sending us out in style - an exhausted climb up Hearbreak Hill. Kahiltna Base Camp barely visible through the storm.
Ski Denali - Part 5: Going Home
One last look at The High One from Kahiltna Base Camp.
After a few hours of sleep we woke to the unwelcome sound of my alarm clock. It was important to wake up early in order to get on the list of parties to fly off the mountain. It is first come, first served, so the higher we were on the list the more likely we'd be able to fly out without having to spend another night (or possibly more depending on the weather) at Kahiltna Base Camp. Sleep, although it felt so good, jeopardized our chances of an early departure. Rise and shine!
The Longships getting ready to leave their element.
We were the first ones to get our party on the list that morning, but there were a large number ahead of us from the previous few days. The weather had been un-flyable for more than 24 hours and a small crowd of civilization-eager mountaineers had amassed at Kahiltna Base Camp.
As the ranger noted that the "Ski Denali" party was awaiting pickup from
Talkeetna Air Taxi
, my mouth began to water at the thought of restaurants and a variety of food in town. I was a bit nervous that we would be too low on the list to fly out that day. The morning was providing a flyable weather window for planes to make pickups. The problem was that nobody knew how long it would last. It could be one hour, it could be 12 hours.
With our names on the list we broke down camp, returned our sleds and unused fuel, dug up our base cache and waited for a spot on a plane. We were fortunate enough to make it out on the second to last plane of the day.
After another jaw-dropping flight we landed in Talkeetna, just before noon.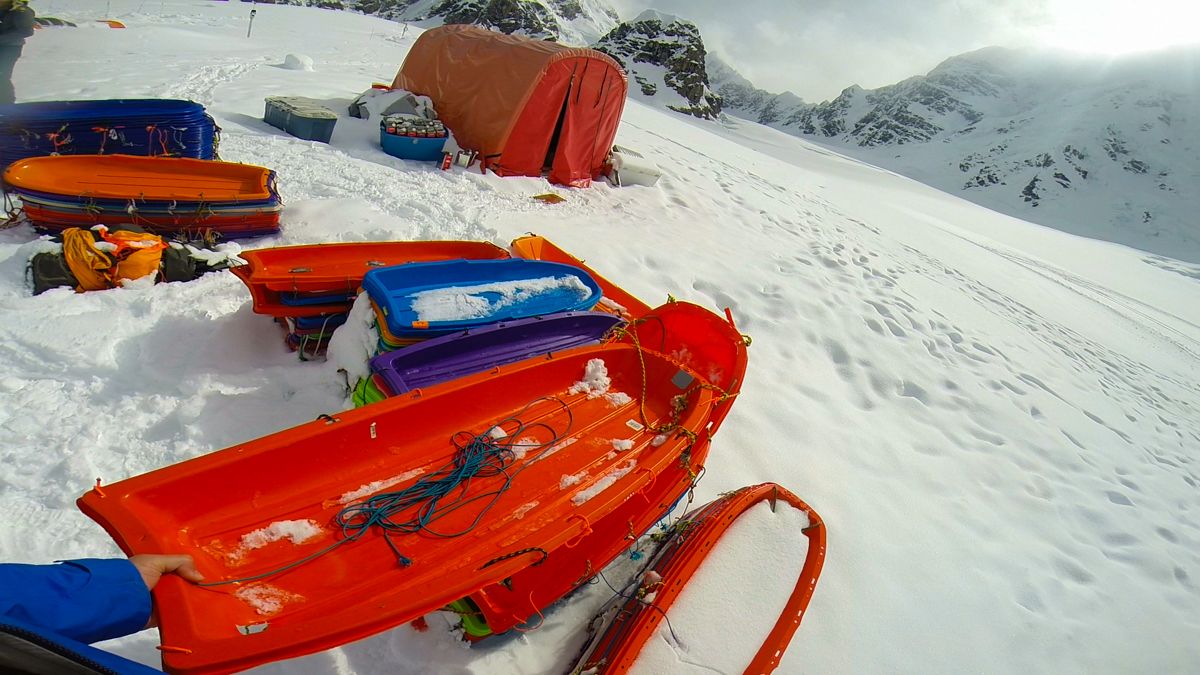 Returning Donny, who was completely out of his element.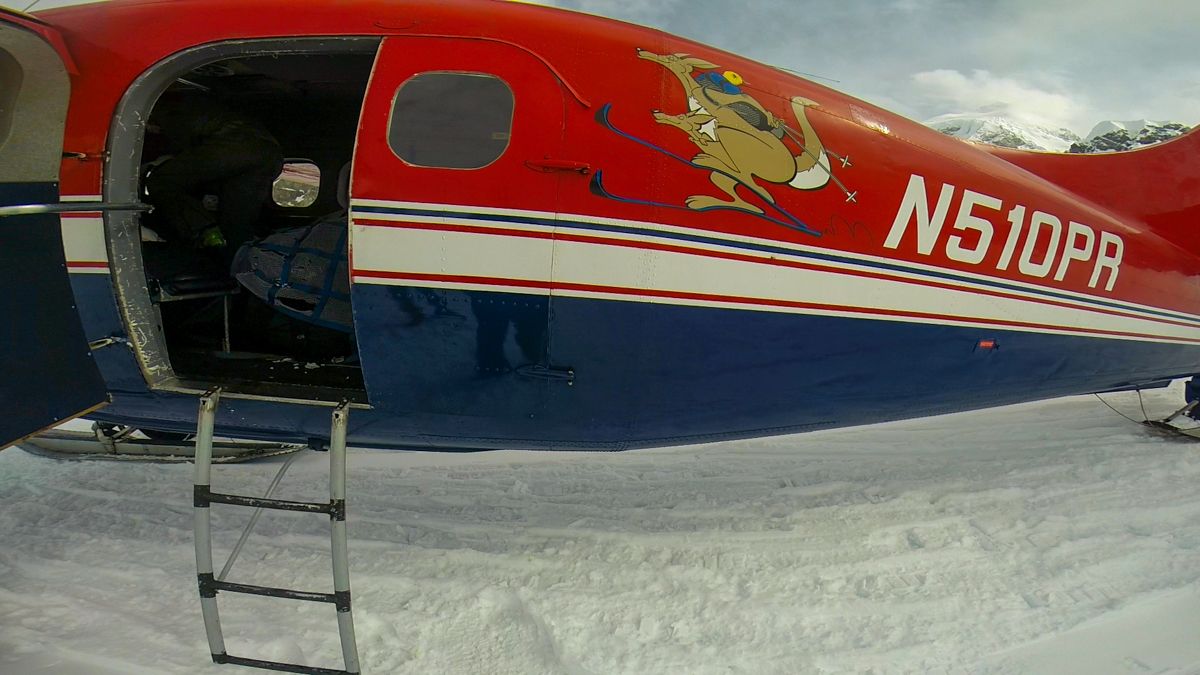 Our ride.
Denali glacier flight - put it on your bucket list.
Wilderness.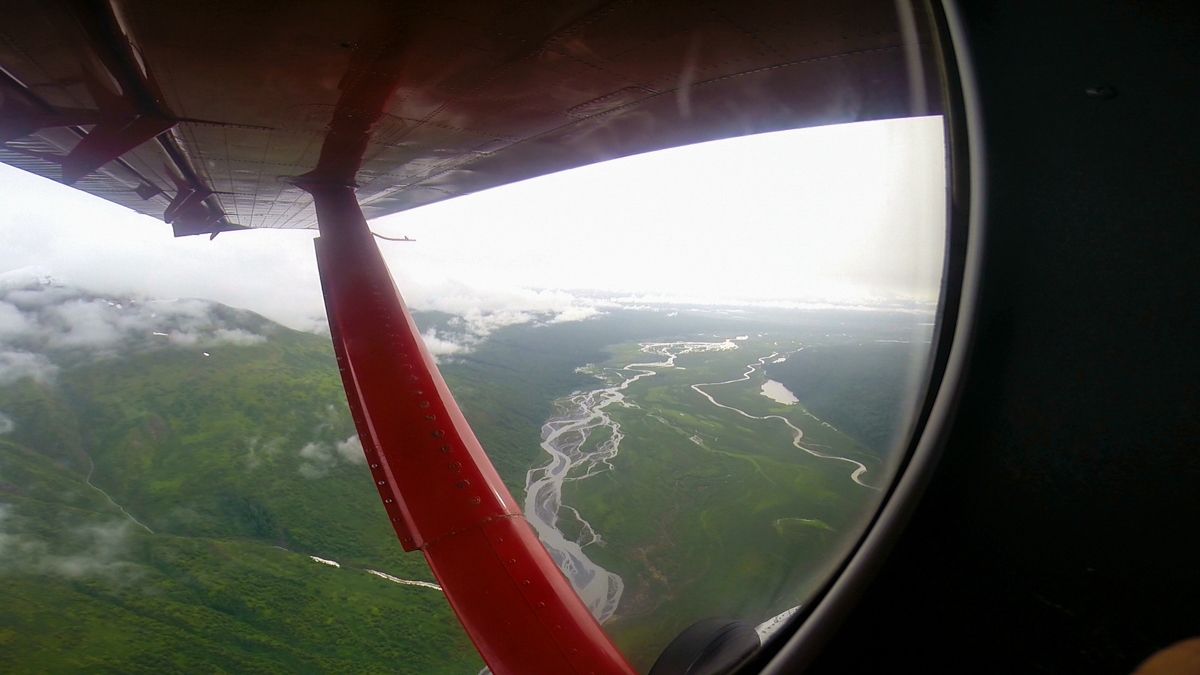 The first sight of green vegetation in 3 weeks.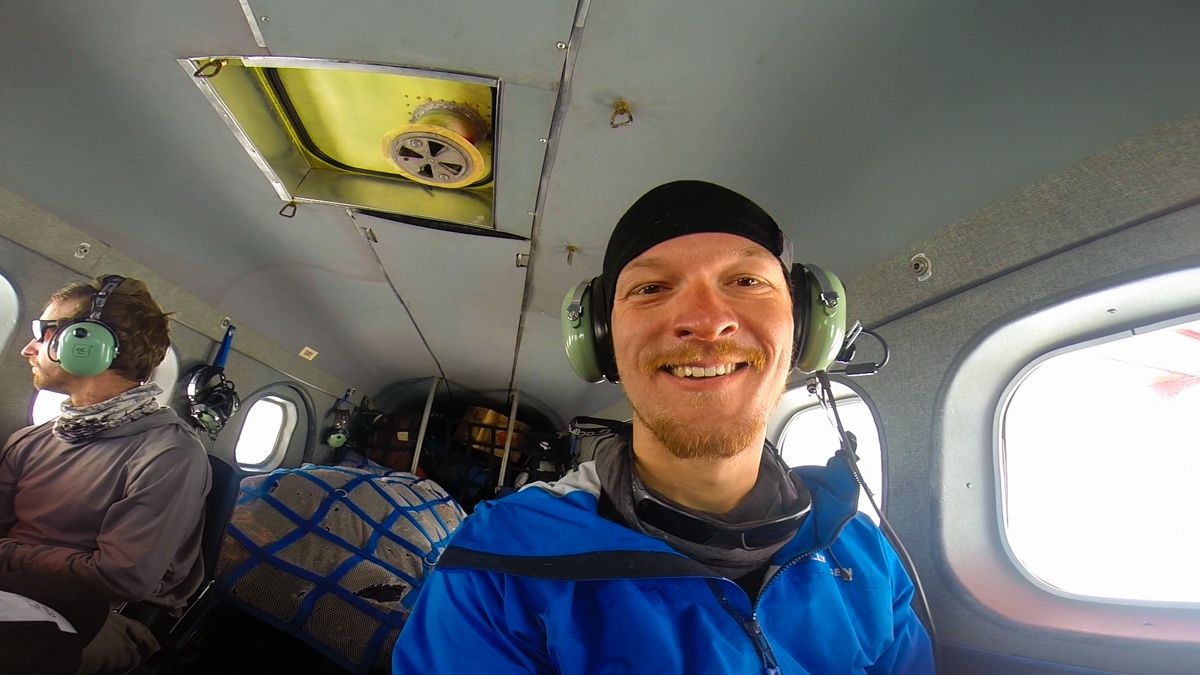 So happy for non-human powered transportation.
Drying out in Talkeetna.
Upon landing in civilization we called loved ones, ate, showered, ate, dried our gear, ate, repacked our gear, ate, checked in with the rangers at the
Denali National Park Office
, and ate. The shower that I took at the Talkeetna Roadhouse was perhaps the best of my life, but it was the food that I was most excited about. With the smell of fresh baked goods, vegetables and meats in the air I began "sport eating." A whole pizza...check. A bacon cheeseburger...check. A giant raspberry danish...check. Two local greens salads...check. The list goes on, but suffice it to say that I could have given any competitive eater a run for his money.
That evening Ian drove up from Anchorage to give us a ride back to the Treadwell's place. I really can't stress enough how their generosity was appreciated.
Thank you Ian and the Treadwells!
The next day I was on a plane headed to Denver. I told my wife that I was getting in a full 24 hours later than I really was in order to surprise her. It worked. When I felt her embrace and got to hold my little daughter I knew the expedition was officially over.
It was the adventure of a lifetime.
Ski Denali: Parting Thought
An adventure that concludes in successfully realizing a large, improbable goal is a rather strange thing. All of the work, sacrifice, worry, struggle, preparation, anxiety, effort...it's all finally over. In their place are a deep sense of joy, accomplishment and gratitude. Joy, accomplishment and gratitude do not necessarily equate to full satisfaction, however. More often than not the end of a successful adventure also yields a "what now" feeling. I think this is because the
pursuit
of the goal almost becomes a part you. What do you do now that it is over? Who are you now that it is over?
One particular adventure may be over with its particular goal reached, but the greater adventure of life remains. Life is an adventure with no end. So, always be pursuing and make life an adventure worth living. I believe God designed us for that. It is a way for us to get to know our selves, each other, and Him.
Further up and further in.
Below are the raw journal entries from the above 3 days. I wrote these on my phone while I was on the expedition and have not edited them at all, save for some typos.
June 22, 4:15 pm: Talkeetna Air Taxi Bunk House, 450'
Yesterday's travel was brutal. We packed up at 14k Camp and left at 7:00 pm. We started out with many sled issues between 14k Camp and Squirrel Hill. Once we got those initial issues sorted out we were making decent time. However, once we got below Motorcycle Hill Camp (11,200') we were in a soupy, foggy white-out. Navigation was difficult so travel was slow and the sled full of gear was still a bit unruly. When we made it to the bottom of Ski Hill the snow got sticky, deep and almost slushy. The sled dug in and became an absolute bear to haul. When we finally reached the bottom of Heartbreak Hill (6,645') the terrain feature lived up to its name. Dragging the sled up that final 500' pitch to Kahiltna Base Camp as our last travel on the mountain was rough. We finally made it and started setting up camp at 3:00 am this morning. It was the most physically worked and tired I had been on the entire expedition.
We got a few hours of sleep, woke up at 8:00 am and immediately started breaking down camp. I took care of moving our stuff (a big load) to the landing area while Josh retrieved our cache. We were on a flight back to Talkeetna with Talkeetna Air Taxi right around 10:30 am. It felt great.
We got into Talkeetna, called loved ones, showered and ate huge meals of pizza, burgers and baked goods. I feel a bit normal again!
We just finished laying out all of our stuff to dry (it got soaked in last night's white-out). I'm amazed that we lugged that much stuff up the mountain and back down!
It feels good to be done with an amazing expedition with one of the most incredible men I've ever met. I'm proud to call Josh my friend and my brother. I hope he feels the same.
Things won't be truly great until I'm in the embrace of my wife and daughter. Hopefully that is less than 48 hours away!
June 23, 5:30 pm: Treadwell House, Anchorage, AK, 20'
I slept in a bed last night. Although it may have only been for a few hours it was incredible. I spent much of the day repackaging my gear for flying, rebooking a flight home and returning the satellite phone.
I can't stress enough how thankful I am for the hospitality of the Treadwell's and their family friend, Ian. Without them I don't know what we would have done.
I leave tonight/tomorrow at 1:00 am on a flight to Denver. I am so excited to see Kelly and Marilyn. I hope Marilyn remembers me! I told Kelly that I'm getting in 24 hours later than I really am so I can surprise her. I think she'll get a kick out of it!
Looking forward to being reunited with my girls, but I'm going to enjoy one last Alaskan "sunset" before this amazing journey ends.
June 24, 10:45 am: Bettner House, Arvada, CO 5740'
It was a long and uncomfortable flight from Anchorage last night. I got in over an hour late with an extremely sore neck, but I'm excited to be here! My friend Tim picked me up from the airport and I'm currently waiting on the back porch for Kelly and Marilyn to come home. They think I'm getting here tomorrow, so this will be a big surprise for them.
The expedition is officially over. It was the adventure of a lifetime, but I'm very thankful to be home.