Like or Share this post.
Ski Denali - Part 2
Ski Hill Camp - Motorcycle Hill Camp - Camp 14
"The Fear of the Lord is the beginning of knowledge:
but fools despise wisdom and instruction."
The imposing massif of Denali standing more than 12,000' above Ski Hill Camp.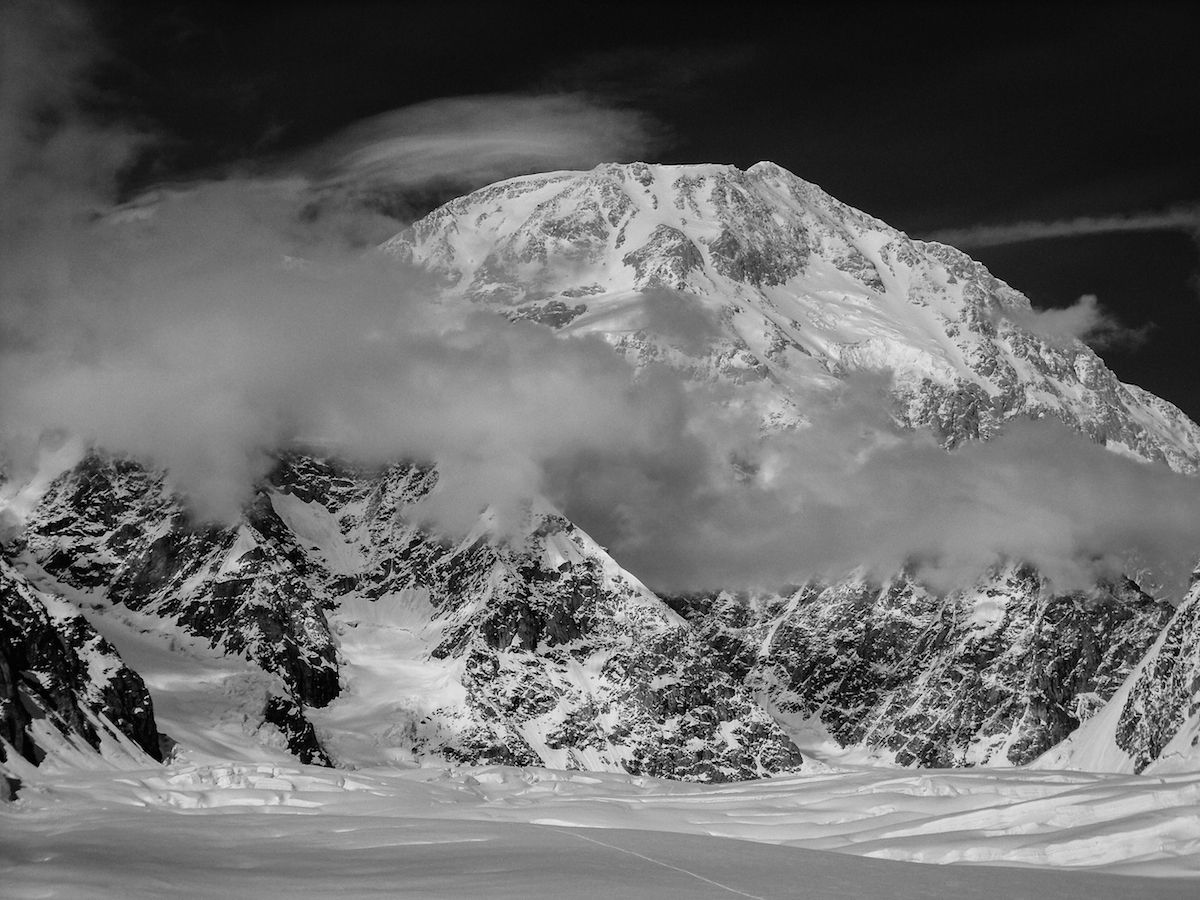 Ski Denali - Part 2: Ski Hill Camp
Paradoxically, in order to climb the peak with the largest vertical rise in the world (from base to summit that is entirely above sea level) we had to start by going down. The brisk descent of Heartbreak Hill, roughly 500 vertical feet that separates the main Kahiltna Glacier from Kahiltna Base Camp, was a pleasant way to begin the day. Finishing the short descent put us at the lowest point of our climb, roughly 6650'. As we turned north and began skinning up the Kahiltna Glacier we were on the expedition's opening battle against gravity.
This was our first opportunity to test our set-ups and truly feel the weight of all our gear. Fortunately, from the bottom of Heartbreak Hill to Ski Hill Camp the terrain climbs for ~5 miles at a very mellow and consistent angle. The heavy loads, although significant, were not a torturous burden. We made great time as we skinned past those walking in guided groups. Hooray for skis!
The scale and grandeur of the mountains really set in as we moved up the Kahiltna. We were surrounded on all sides by enormous crevasses, seracs, cornices, cliff bands and ice-falls. God's fingerprint is uniquely stamped on this dramatic, severe, no-nonsense landscape. Listening to what it is telling you, learning from it and acting accordingly is of the utmost importance.
This place will humble you...if you're arrogant you are dead.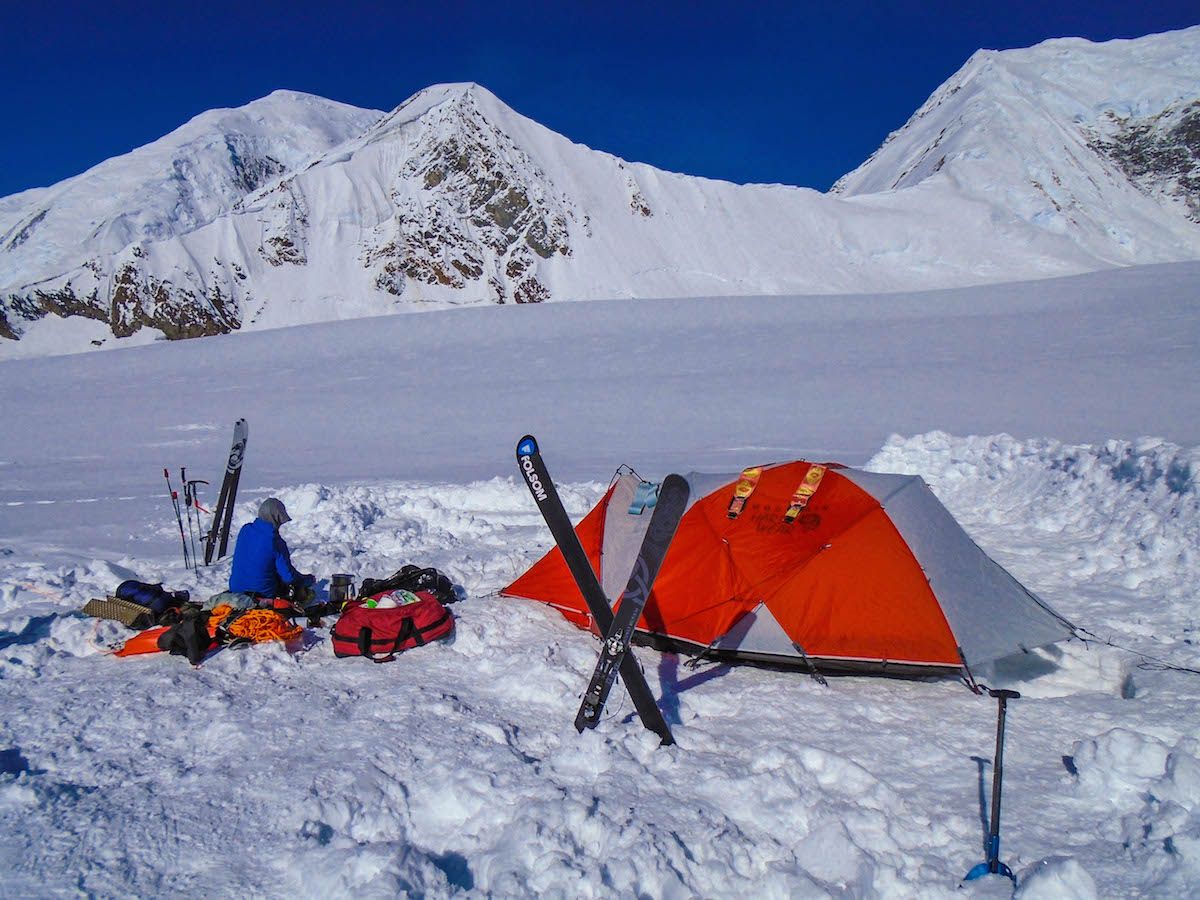 All set up at Ski Hill Camp
Although we were in relative safety on the middle of the Kahiltna Glacier, we knew that as we moved up the mountain we would be exposed to more and more of Denali's fangs. Taking this all in, digesting it early, and allowing ourselves to be humbled helped us make wise decisions later in the expedition.
Upon our arrival at Ski Hill Camp we moved from shadows into sunlight. I distinctly remember the immediate change. Things warm quickly in a world of white as sunlight re-radiates from every direction. Likewise, temperatures plummet extremely quickly when there is no direct sunlight. As Josh so accurately put it, "This place is like the moon."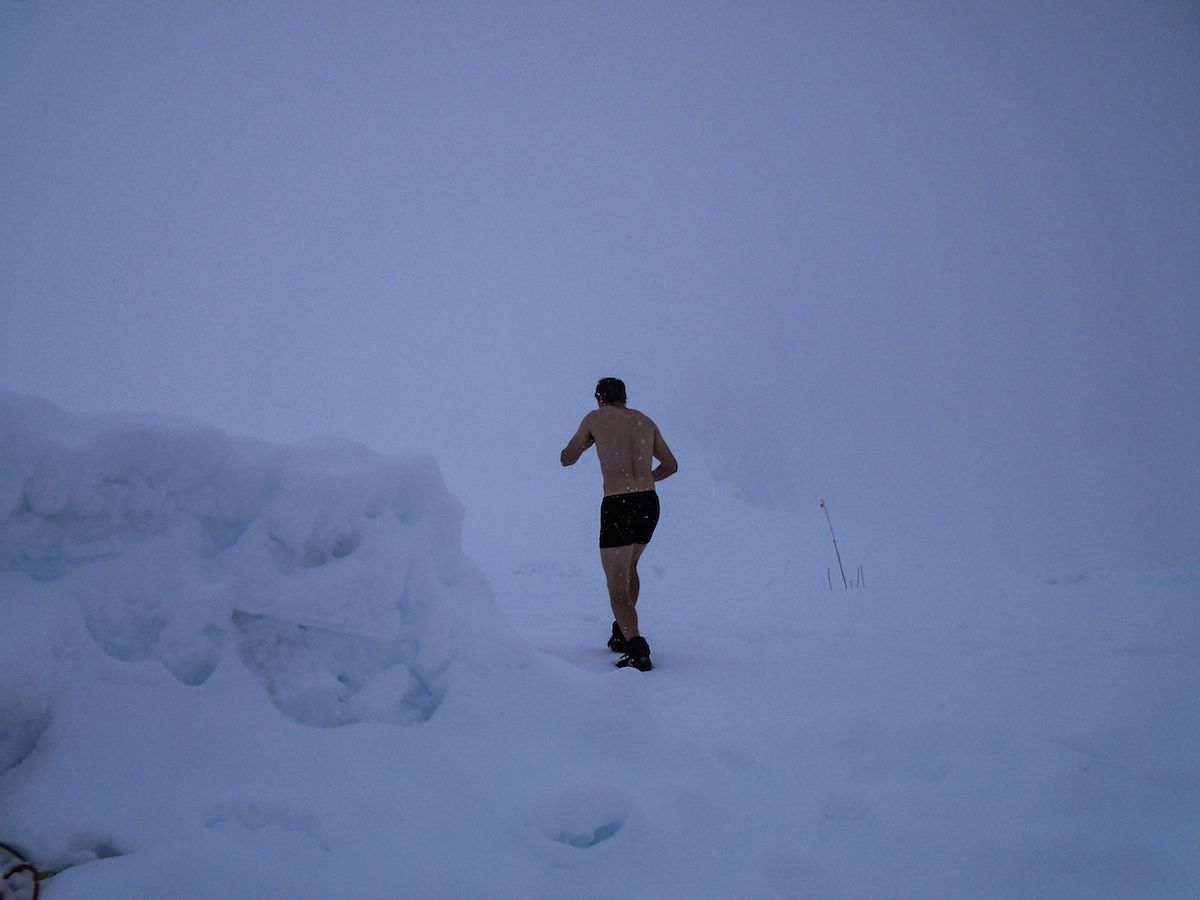 Running to the bathroom while waiting out a storm
shenanigans.
We spent the next couple nights at Ski Hill Camp waiting out snow and rain storms. We were anxious to move up the mountain, but it didn't make any sense to do so soaking wet. Instead we stayed in our nylon cocoon listening to the roar of various avalanches and serac falls as we played cards, ate, read books and talked about life. It was time well spent, undistracted by the tedium of the outside world, bonding with one of my closest friends in the middle of a vast wilderness. I will always remember these few days with a fondness.
Ski Hill tent time.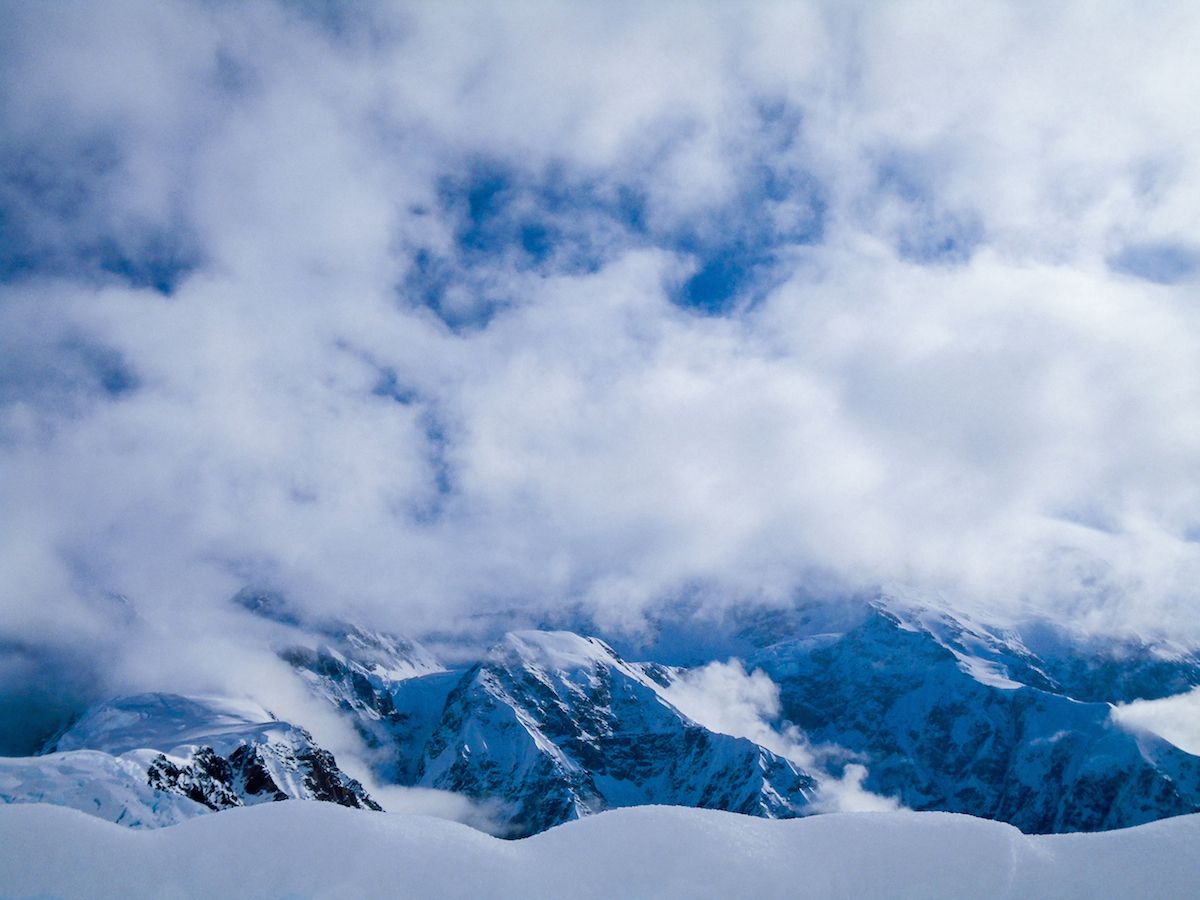 A clearing in the storm #1.
A clearing in the storm #2.
A clearing in the storm #3.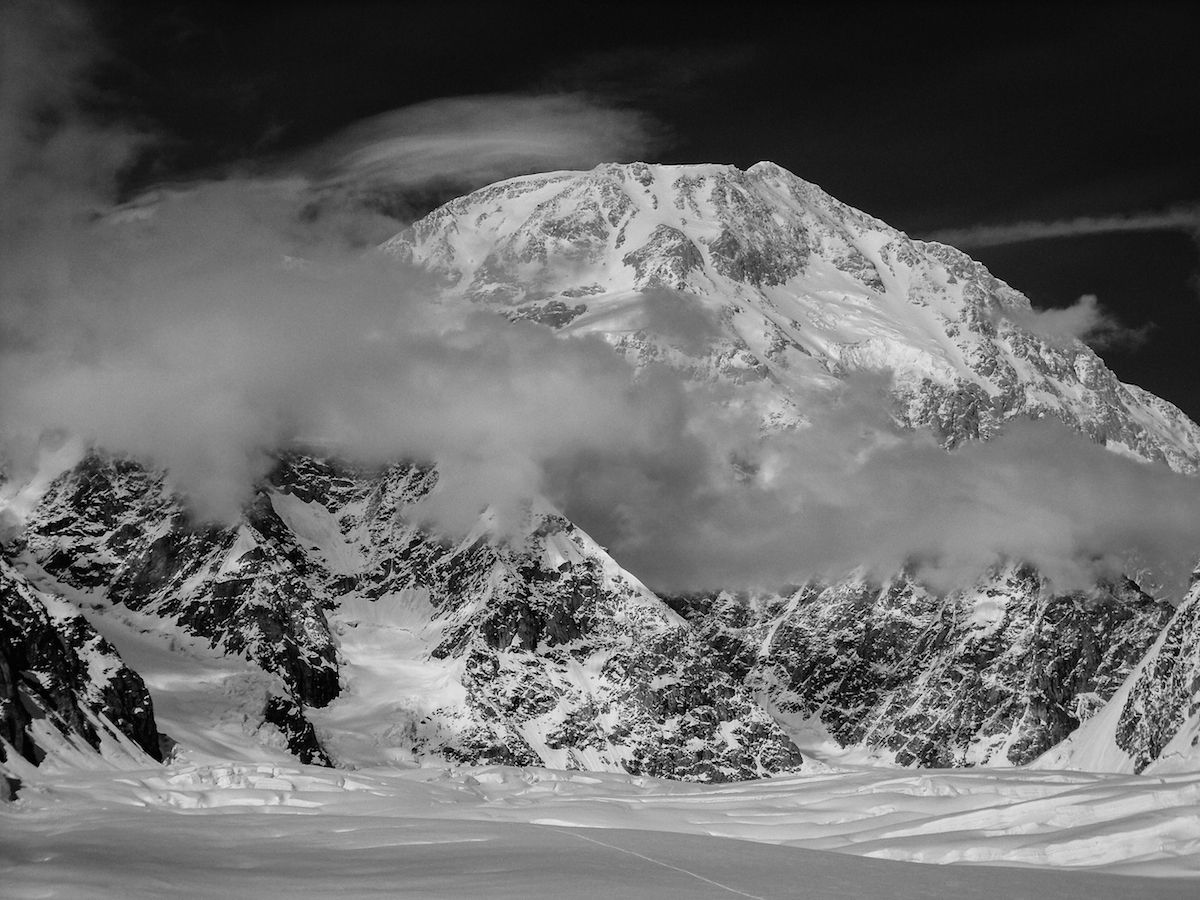 A clearing in the storm #4.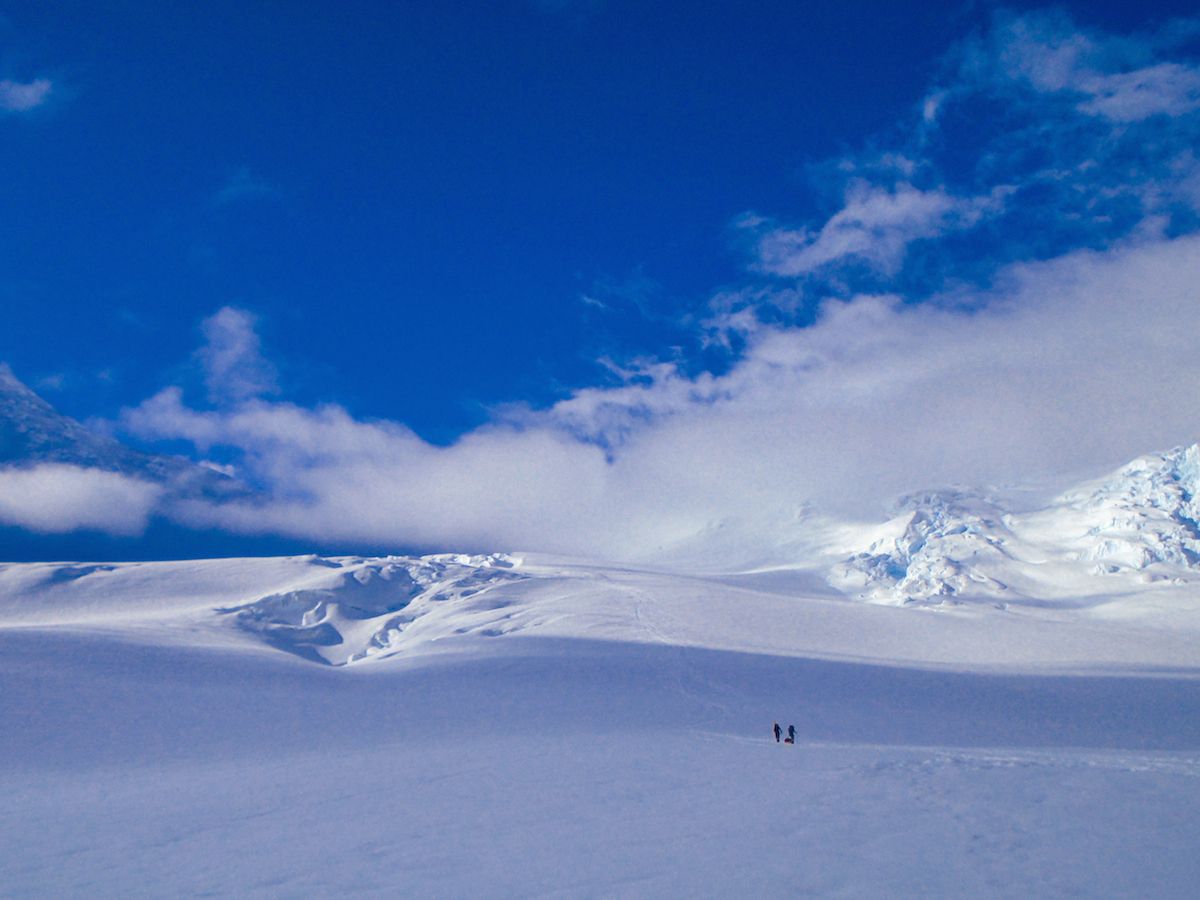 A party descending Ski Hill.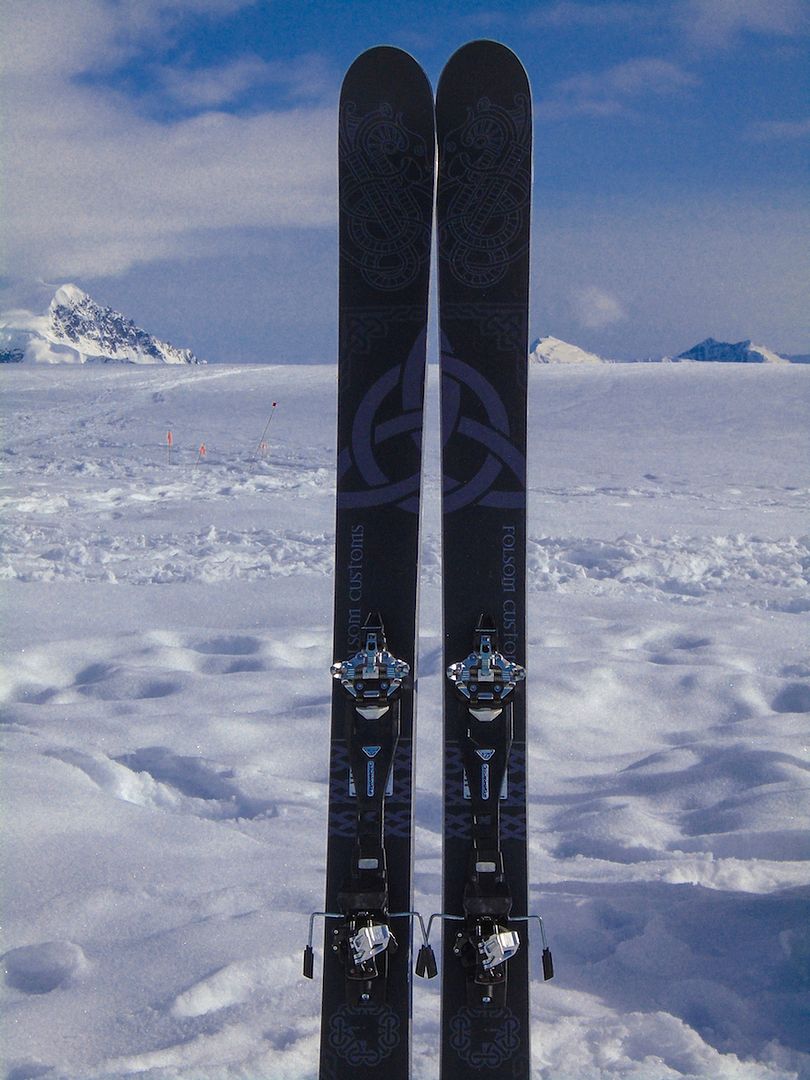 The Longships eagerly awaiting some action.
Ski Denali - Part 2: Motorcycle Hill Camp
Leaving Ski Hill Camp.
When the weather finally provided an adequate window for travel, Josh and I took advantage. Since the Alaska range never gets darker than "dusk," we began our trip to Motorcycle Hill Camp in the wee hours of the morning. Our willingness to travel so early yielded stunning views as the sun's rays passed around Denali and illuminated the peaks on the lower Kahiltna. Those who have spent time in the mountains know how these special moments can forever be burned into one's memory.
The sun lighting up the horizon as we pull out of
Ski Hill Camp.
Mountaintops illuminating as they pass out of
Denali's shadow.
Flippin' the poo bird.
Peaks on the lower Kahiltna illuminate as we climb toward
Kahiltna Pass.
Things were clear, crisp and cold as we approached Kahiltna Pass. Within minutes, though, clouds began forming all around us, and we found ourselves near the top of a storm. Wanting to avoid setting up our camp while it was snowing, we made haste from Kahiltna Pass to Motorcycle Hill Camp, hoping to get there before the storm got too strong. To our pleasant surprise, as we got within a few hundred vertical feet of Motorcycle Hill Camp, we found ourselves climbing above the clouds.
A few minutes of crisp, clear sky before clouds roll
in on Kahiltna Pass.
Storm rolling in on Kahiltna Pass.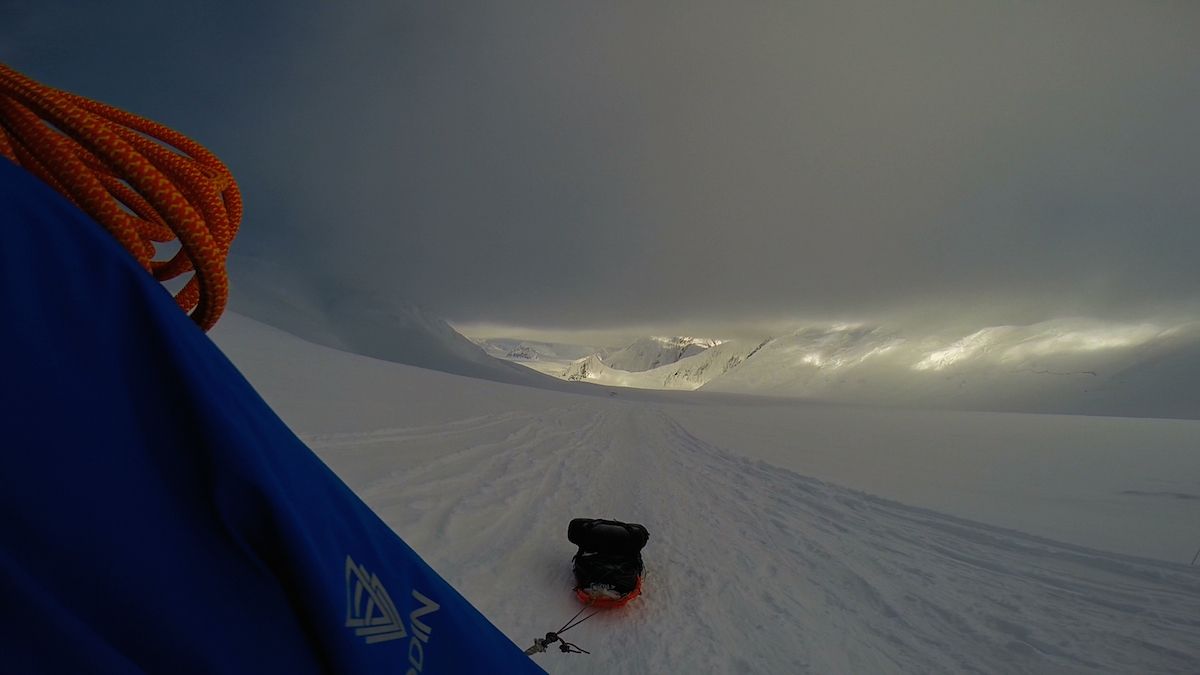 The once clear valley quickly engulfed in clouds.
Above the weather at Motorcycle Hill Camp.
We were relieved to be above the storm, but the trek from Ski Hill Camp to Motorcycle Hill Camp had been taxing. We hauled our gargantuan loads up more than 3000 vertical feet and 4 miles with nothing more than 2 breaks of less than 10 minutes. Before we began making camp, we ate a much needed meal and surveyed our surroundings.
The scenery was spectacular, and it was obvious that this environment was significantly different from Ski Hill Camp. For starters, even in direct sunlight things were noticeably colder. Furthermore, the crevasses, steep slopes and other hazards that were long distances off at Ski Hill Camp were much closer here. It would be like this for the remainder of our time on Denali.
As if the mountain were trying to get our attention and demonstrate its power, a group of truck-sized boulders loosed from the slope north of camp while we were setting up our tent. In what seemed like slow motion they careened towards a cluster of rogue tents just west of where most others had set up. I watched for a few seconds in helpless anxiety before all the rocks disappeared into the gaping mouth of a bergschrund. Everyone was safe, but I'm sure those in the rogue cluster of tents were a little rattled. The next day their tents were gone, likely moved to the core of Motorcycle Hill Camp where there were no threats from overhead hazard.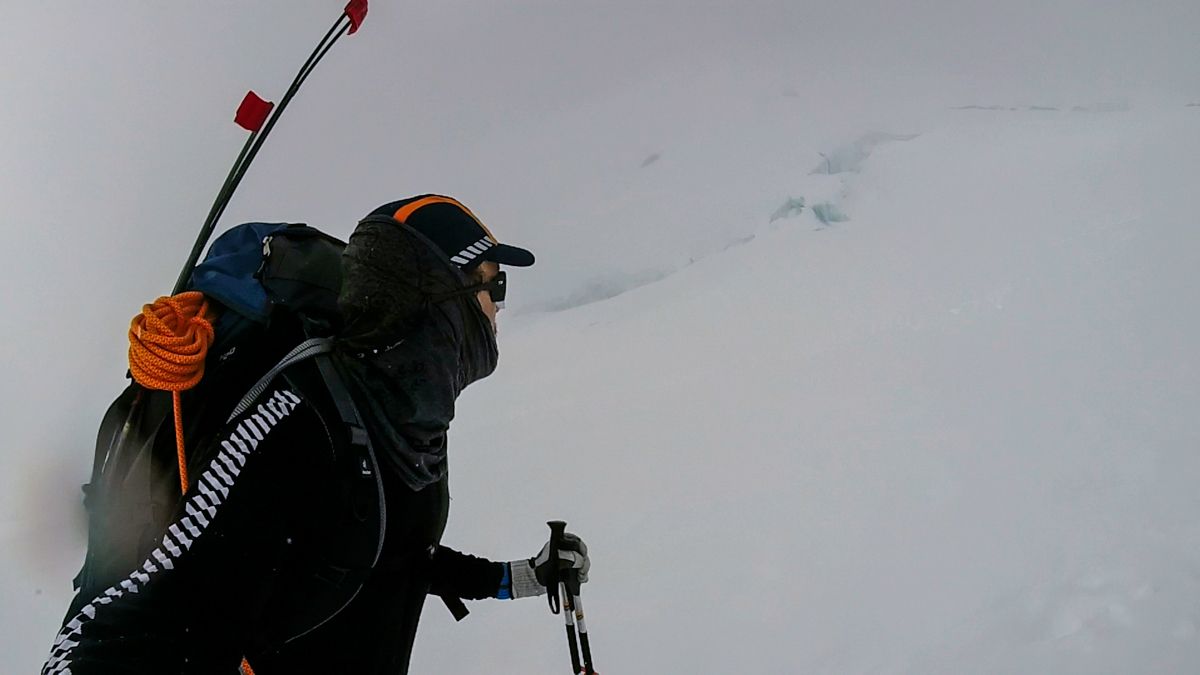 Moving through "tiger country" on our cache run.
We weren't in Kansas anymore, Todo.
We were clearly coming face-to-face with more of Denali's perils. Humility and wise decision making were keys to staying safe.
Josh used a great term to describe this sort of terrain - "tiger country." It works on two levels. First, a Siberian Tiger is white and black striped, resembling the dark stripes of crevasses on a white glacier. Second, the image of traveling into tiger country alludes to the dangers of traveling in terrain that belongs to someone/something else of great power.
Pre-rigging for crevasse rescue.
After a refreshing night of sleep, we woke up in a storm and spent much of the day preparing for a cache run. Caching a significant amount of food and gear in a snow pit near Windy Corner would save us a lot of weight when we moved up to Camp 14. The next day, with on-and-off snow storms, we made our cache run. With continued storms in the forecast, doing our cache early, while the storms weren't too bad, would likely allow us to move to Camp 14 earlier.
Snowing on Squirrel Hill.
Rounding Windy Corner on the
cache run with the upper
mountain
starting to show.
Getting to the Windy Corner cache required just under 3000 vertical feet of climbing, putting us at roughly 14,000'. It snowed for our entire ascent until we reached Windy Corner. At that point we got our first glimpses of the upper mountain through a veil of clouds. I had stared at this terrain in pictures countless times. When I finally saw it with my own eyes I was inspired. I was so blessed to be where I was, doing what I was doing with one of my best friends.
Despite the beauty, we could not enjoy the view for long. When considering oxygen density, since Denali is closer to the poles, 14,000' is roughly equivalent to 16,000' at Colorado's latitude. It wasn't the elevation that had us hustling to get back to camp, however. The temperature was plummeting, and we wanted to get back to our tent before things got extremely cold. There was no doubting that the climate at these higher elevations was more exposed and significantly colder.
Denali's upper mountain and the Messner Couloir on display
from our cache.
Enjoying views of Denali's upper mountain as the
temperature plummets.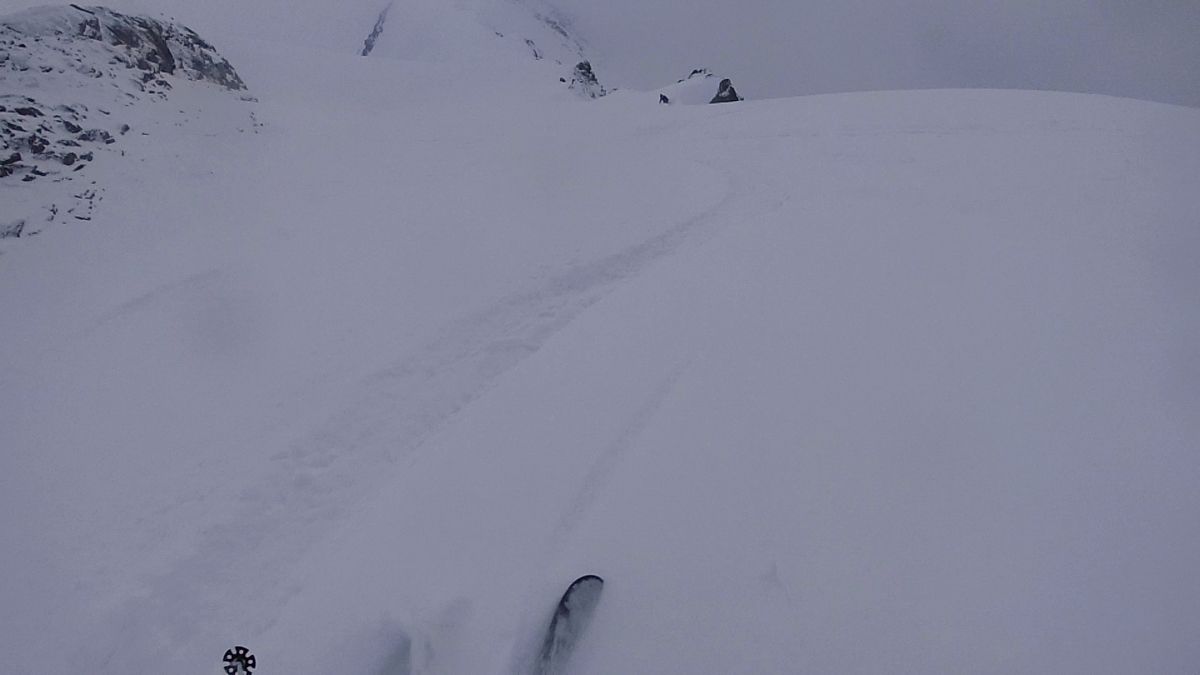 Deep, low-visibility turns back to
Motorcycle Hill Camp.
Click. Snap.
Click. Snap.
We stepped into our bindings and prepared for our first downhill turns on Denali. We were extremely fortunate to find legitimate, cold powder turns. All the snow that had accumulated over the past several days went from being a burden on our ascent to a reward on our descent. Visibility was low, but we enjoyed linking turns all the way back to our tent at Motorcycle Hill Camp. Our mountaineering trip could now officially be called a ski trip.
Close quarters.
The next three days were spent waiting on weather at Motorcycle Hill Camp. A series of storms were upon us, and they pummeled the mountain with snow. On one hand this was good news. It meant that our intended ski routes on the upper mountain, which were reportedly ice climbs at the time, were likely getting snow. On the other hand, the close quarters, multiple rounds of gin rummy, digging out the tent, reading books, digging out the tent, making meals and digging out the tent really made us want to get moving.
During one round of snowfall, we got more than 30" overnight. The next morning there were storms above and below us but clear skies on Motorcycle Hill. Since the storms and deep snow nixed any plans of moving to Camp 14, we decided to ski on Motorcycle Hill. It wasn't big or challenging skiing, but it was fantastic to get moving and make some beautifully deep powder turns just above camp.
We were two-for-two for powder skiing on Denali! Spirits were high that evening as we dozed off, hoping to be able to move to Camp 14 the next day.
"GIN BABY!"
Digging out the tent...again.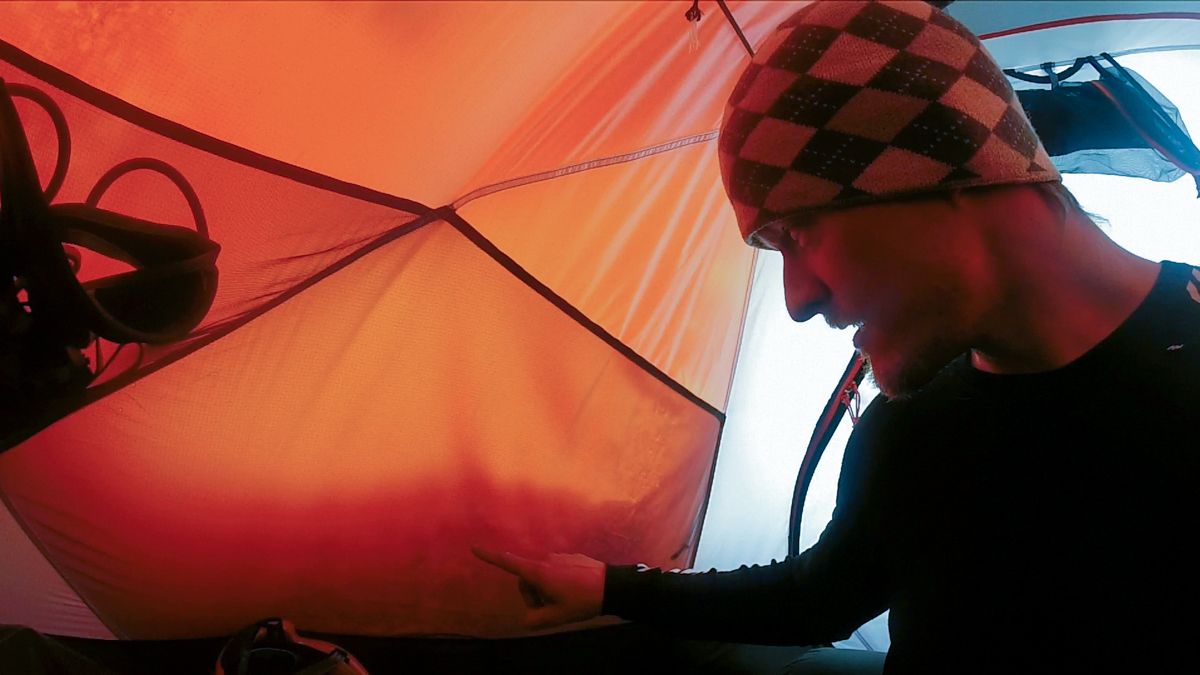 1.5 hours after digging out the tent the snow
is climbing up again.
Josh enjoys the bluebird on top of Motorcycle Hill.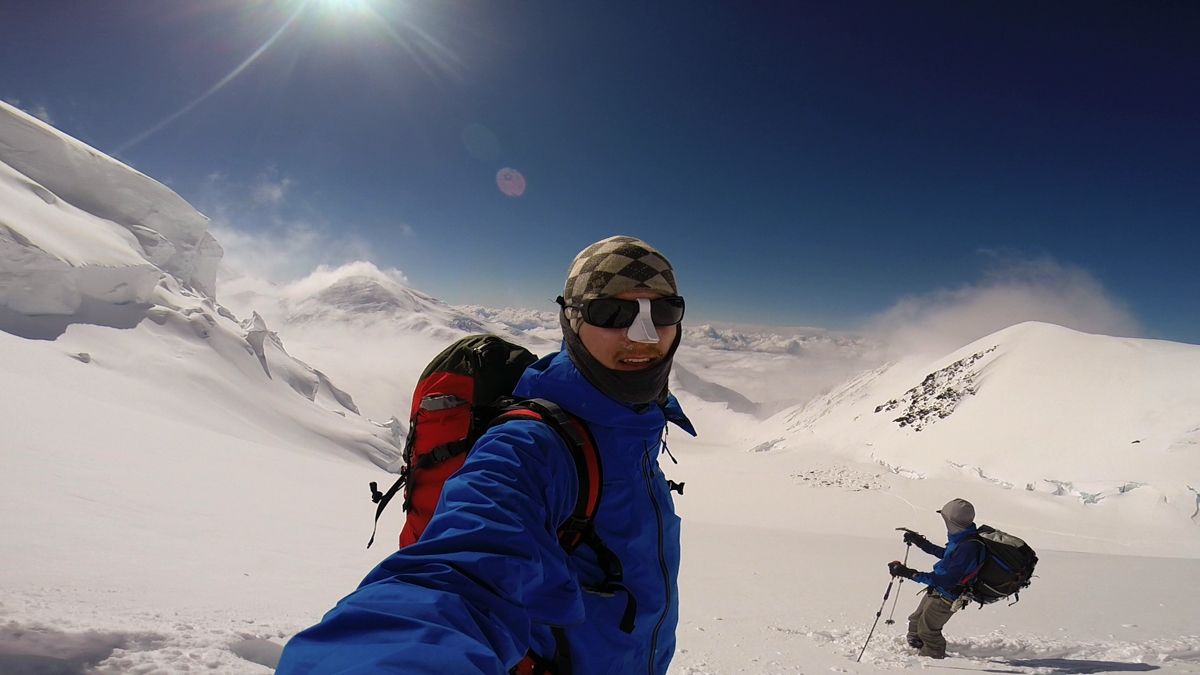 Storms below us, storms above us, bluebird on Motorcycle Hill.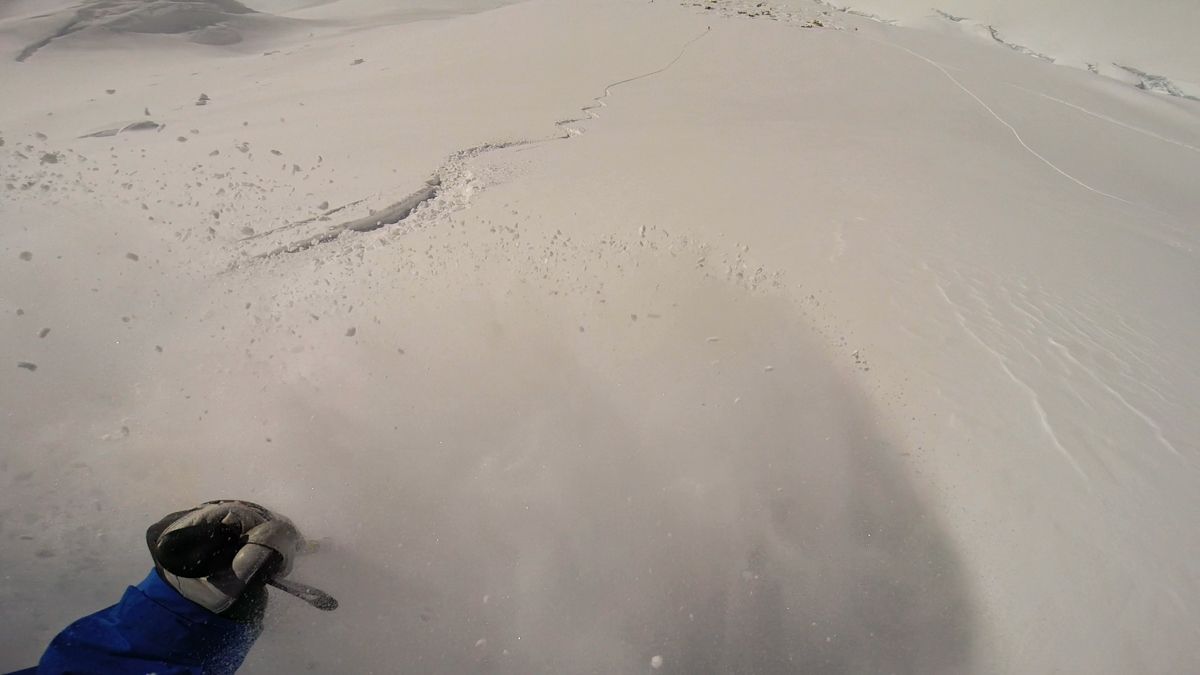 Deep turns on Motorcycle Hill.
The first of many high 5's.
Looking back.
Ski Denali - Part 2: Camp 14
As the weather cleared the next morning our satellite phone buzzed with text messages. One of the messages was from my friend Joel Gratz - a meteorologist on
OpenSnow.com
. He said it looked like we had a short but doable weather window to make it to Camp 14.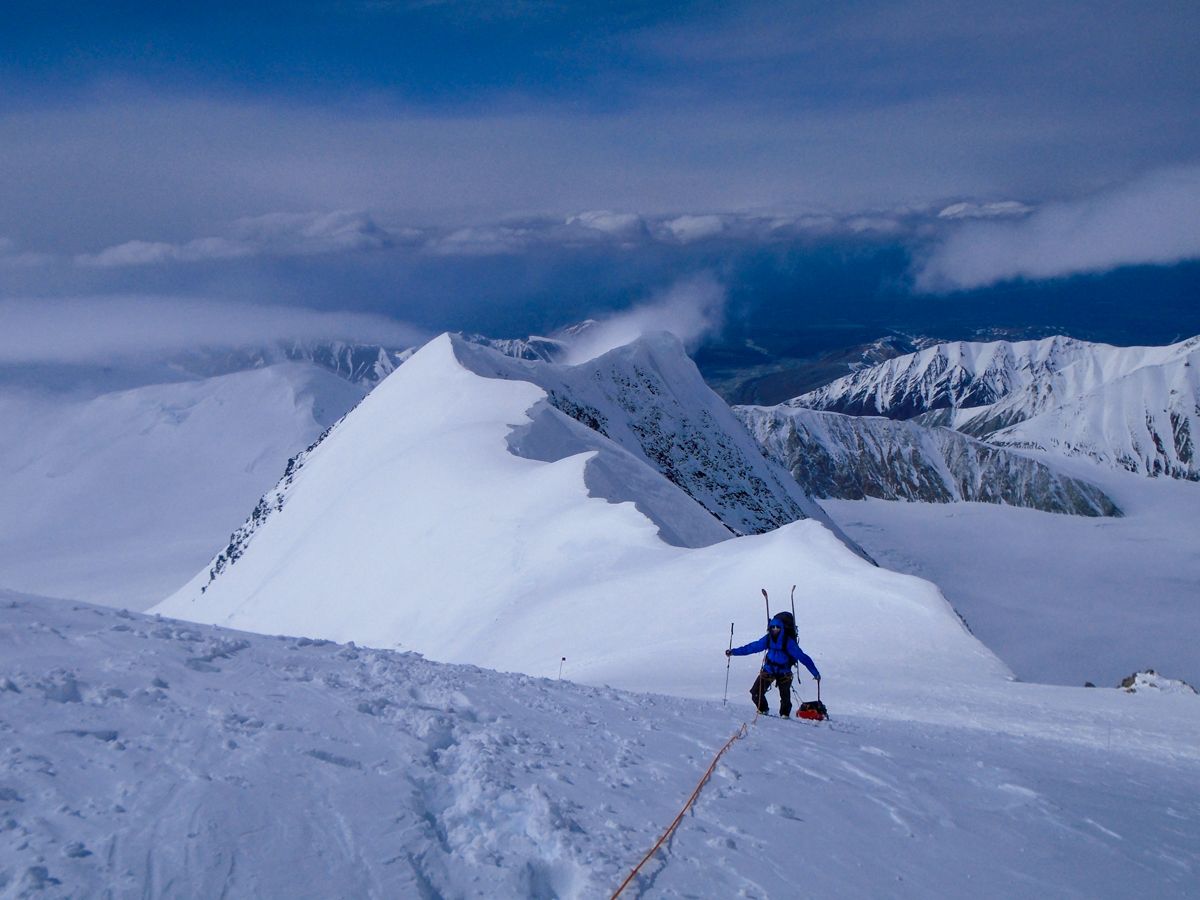 Motorcycle Hill below, hauling gear towards Squirrel Hill.
Josh and I were both on the same page. Although the window was short and the new snow had not yet consolidated, this looked like our best opportunity to move to Camp 14. The forecast called for more storms, and if we didn't move now, it might be a week until another decent window opened.
Hauling gear on Squirrel Hill.
We ate a meal, broke down camp and got moving...kind of. It was rough going. The route climbs 3000 vertical feet in 2.6 miles while passing crevasse fields, avalanche paths and various other objective hazards. Hauling our heavy sleds and backpacks up this route through the fresh snow was a formidable task. Our difficulty was compounded when we were greeted by a howling, in-the-face wind at the Polo Fields. Each step felt like five as we marched, heads down, into the gale. Stopping to rest or taking our time wasn't in the cards. In a single lethargic "sprint" we made it beyond Windy Corner and out of the wind.
I was whipped. My stomach growled and my hips burned. Even after a food and water break near our cache, I struggled with the remaining, mellow climb to Camp 14.
Water stop on Squirrel Hill.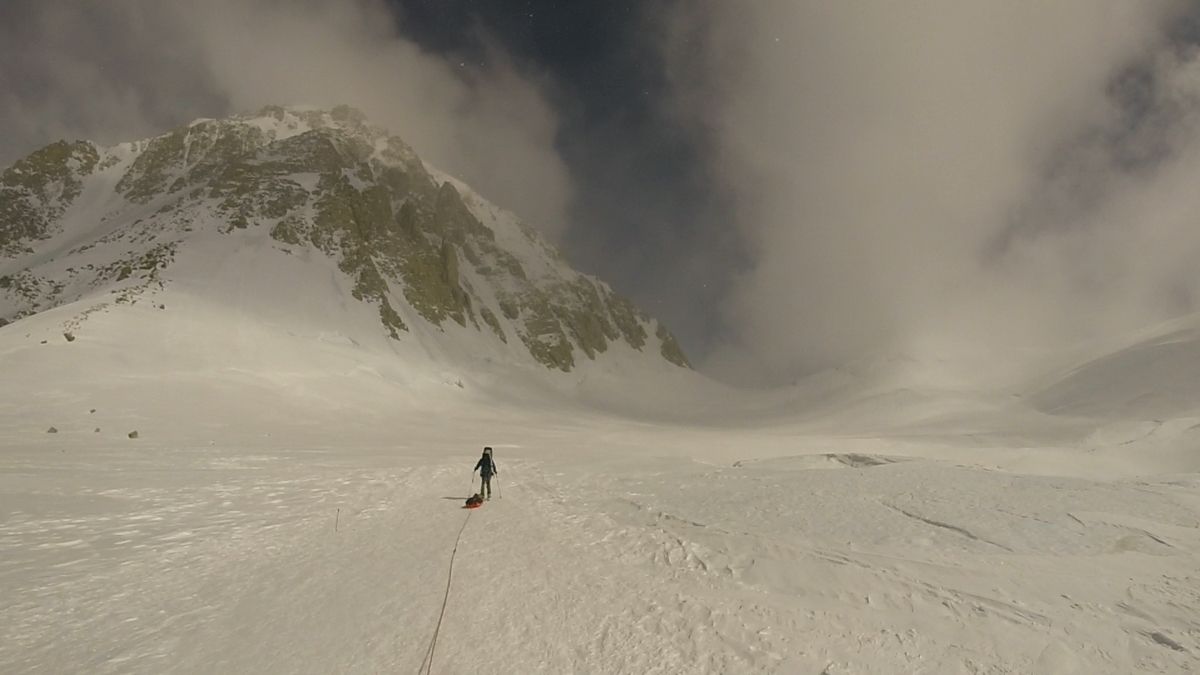 Hauling gear across the Polo Fields.
Continually crossing cracks.
We slogged into Camp 14 haggard, exhausted, hungry and...happy. This was the place from which our greatest adventures on the mountain would be staged, and we knew it.
Home sweet snow-walls-and-tent at Camp 14.
Below are the raw journal entries from the above nine days. I wrote these on my phone while I was on the expedition and I have not edited them at all, save for some typos.
June 4, 9:30 pm: Ski Hill Camp, 7,820'
We woke at 2 am this morning and it was amazingly cold. I was very surprised how different the temperature was when compared to the relative warmth that I fell asleep in a few hours before.
It took us until 4:30 am to get our camp broken down, get our sleds rigged and our base camp cache buried before we got moving. It was quite cold but once we got started things went rather smoothly, especially considering that we were getting used to our sleds (I named mine Donny) and heavy loads. After skiing from Kahiltna Base Camp down Heartbreak Hill, Josh took the lead on our rope-party of two. We made good time and passed several groups of guided clients as we skinned the 5 miles to Ski Hill Camp.
At Ski Hill Camp we passed from the shade into sunlight and the temperature began to rise quickly. We set up our camp and made breakfast as other crews started leaving Ski Hill Camp for their ascents.
The view of Denali from Ski Hill Camp is spectacular. Truly a beautiful setting. As the sun continued to bake the glacier, however, we largely retreated into the tent to avoid the heat and sunburn despite the views. The heat of the day was tremendous, with my watch (that I wasn't wearing) reading in the 80's. I spent much of the day in just my underwear in the tent trying to keep cool and avoid sunburn. Even now, at 9:45 pm, it is still quite warm as we prepare to sleep. But, we anticipate it getting very cold again as it did last night.
Our plan is to wake again at 2:00 am, eat a somewhat substantial breakfast and start our ascent to Motorcycle Hill Camp at 3:30 am to avoid traveling during the heat of the day. It is really convenient to not have to worry about light at any point of the day for safety, but it does make sleeping difficult.
Speaking of sleep, I better try to get some.
June 5, 11:30 pm: Ski Hill Camp, 7,820'
When we woke up this morning at 2:00 am and then again at 4:00 am we were surprised to see that it was snowing. The forecast had originally called for a clear morning with the possibility of precipitation in the evening. At 10:00 am it was still snowing (periodically turning to rain as it got warmer) so we made a big breakfast and decided to wait the storm out. Traveling in the snow/rain would have been miserable and we would have been soaked to the bone by the time we reached Motorcycle Hill Camp. Staying dry is quite important. Not only would it be immediately uncomfortable if we got wet, it would be very hard to dry out and significantly reduce our chances of summiting (because of illness). Additionally, travel in the low visibility isn't ideal when on a glacier. I think our decisions to stay put during this precipitation is well justified.
The heat of the day turned the snow into a steady rain and Josh and I enjoyed our first down day in the tent. We played cards, had hot drinks, ate a large dinner, read books and even watched a movie before sleeping. It was rather enjoyable. Over the course of the day we got at least 8" of new snow, much of which consolidated during the periods of rain. We stayed warm and dry in the tent.
We listened to the weather forecast that the NPS broadcasts over the radio at 8:00 pm. They said that the storm will likely continue overnight (now snow again) and clear in the evening tomorrow. 6" or more of snow is likely above 14,000'. We made a game plan to sleep in tomorrow, spend the day in the tent and depart and depart for Motorcycle Hill Camp some time after dinner when the weather should be clearing and the temperatures cooler.
We are hopeful that this storm is depositing a significant amount of snow on our desired ski lines on the upper mountain. Here's to hoping for dry weather tomorrow night so we can begin our ascent to Motorcycle Hill Camp, remain dry and be one step closer to our goal of skiing Denali!
June 6, 12:45 pm: Ski Hill Camp, 7,820'
Trying to sleep last night was quite difficult because I got extremely warm. I woke multiple times to shed layers or further open my sleeping bag. Although I started my sleep cold, things changed quickly. Josh said it well when he said this place is like the Moon with its huge and rapid temperature swings.
When we woke this morning things were clearing and now the sky is 50% clouds and 50% sun. Although yesterday's storm has passed and the visibility is good we are waiting for tonight when the temperatures are cool again before leaving for Motorcycle Hill Camp. That will keep us safer in the crevassed terrain and more comfortable as we lug our heavy loads up the 3,400' vertical.
Going to the bathroom (pooping) has become a big anxiety for me. We opted to save weight by not bringing our "Clean Mountain Can" and just using the provided biodegradable bags instead. The problem for me has been that I can't use just the bag without risking peeing all over myself or alternatively getting poop on myself - real health hazards as well as being gross. Today I resorted to digging out a snow toilet to put the bag in, which works well and kept me and the snow clean. This technique might not be cool with everyone when we get to a more crowded camp, so it remains a source of anxiety for me.
One thing that is a huge comfort (and I hate discussing this in the same post as discussing my bathroom issues) has been talking to Kelly and receiving text messages from her on a daily basis. Hearing her voice and the voice of Marilyn in the background while talking on the satellite phone gives my heart a lift. It also makes me long to be in their presence. Things would be much more emotionally difficult if I couldn't communicate with them though.
We're planning on eating dinner and then leaving Ski Hill Camp some time in the early morning hours. Hopefully we get to Motorcycle Hill Camp tomorrow just as it starts to get warm.
Now it is time to start packing and organizing our gear for an efficient departure.
June 7, 4:15 pm: Motorcycle Hill Camp, 11,200'

We woke up at 2:45 am this morning to cold temps and clear skies, made a nice breakfast, packed up all of our camp and finally made our way out of Ski Hill Camp at 4:40 am. I had slept poorly but my excitement to be moving up the mountain overcame my grogginess and we made good time to Motorcycle Hill Camp given our heavy loads.
The route between Ski Hill and Motorcycle Hill is about 4 miles and 3,400' of elevation gain. It would be rather pleasant without our huge and heavy loads. However, the nearly hundred pound sled (AKA Donny) and 35 pound pack made it an arduous task. The cold temps had also frozen much of my water. When I did stop to get a drink the water chilled me to the bone and it took quite a bit of time to get warm again. Consequently, I didn't drink very much during our travel. For the last 1.5 miles my hips, which do much of the work of dragging Donny, began to fatigue.
We passed the Kahiltna Pass Camp and made it into Motorcycle Hill Camp at 9:00 am. As soon as we arrived the sun came out and warmed things up significantly, but it was obvious that things will be colder from now on than they were at Ski Hill Camp.
Josh, who didn't eat during our travel, started to feel really beaten down, as did I from my dehydration. While setting up the tent we had to take a break for an early lunch otherwise we were both going to bonk. After some food and getting the tent up we both got some much needed rest and protection from the sun.
Right now we have our campsite set up, snow walls built, gear organized and are sitting in a snow storm. It sounds like the next couple days will be stormy, which will likely push back our arrival at 14k Camp. In the mean time I'm going to use this opportunity to eat, drink and get some rest. According to the National Parks Service, 11,000' at our latitude is more like 13,000' at Colorado's latitude. So begins my regiment of Diamox every 12 hours until we return to lower altitude.
June 8, 2:30 pm: Motorcycle Hill Camp, 11,200'
Last night was the first night that I slept really well. Josh and I went to sleep listening to an audiobook (Lord of the Flies). I will have to rewind a lot of it because I completely passed out and woke up to it playing a few hours later. Completely worth it for the restful sleep I got.
The temperature didn't get too cold last night and there was very little wind, which I'm thankful for. I'm also very thankful that we woke to roughly 5" of new snow at 8:00 am. Hopefully this snow is falling and sticking at the higher elevations, too.
Although there hasn't been a ton of sunlight today, and it has been snowing on and off, the temperature has been very comfortable. I've spent the entire day in my base layer shirt. I can't stress enough how bonkers I find the weather to be here.
Most of today has been spent preparing a cache that we're going to take beyond Windy Corner tonight, roughly 2,400' vertical above us. I don't look forward to it. The pack I'm taking is very heavy. We're not using the sleds because we want to ski back down without being inhibited by them. Did I mention that my pack is very heavy? We are keeping a week's worth of food with us at Motorcycle Hill Camp in case we get stuck in the impending storm. The rest of the food is going in the cache.
Hopefully we are able to get up to 14k Camp without having to wait a week in a storm. Even if we sat in a storm for a week at 14k Camp at least we would be getting better acclimatization while we wait. I can't complain too much though. We must take the opportunities we have and not try to force opportunities that don't present themselves.
Now I need to stretch my back a bit before I abuse it on this cache run.
June 9, 12:20 pm: Motorcycle Hill Camp, 11,200'
Last night's cache run beyond Windy Corner (13,600') went better than I had anticipated. We left camp at 6:45 pm and arrived at our cache location at 9:00 pm. It felt great to get the very heavy packs off our shoulders when we got there.
On the way up Motorcycle Hill to Squirrel Hill and all the way to Windy Corner it was snowing pretty hard and visibility was limited. We could hear avalanches and ice-falls coming down parts of the mountain like a dragon roaring from the darkness. It was certainly intimidating but nothing came even close to the route.
As soon as we got to Windy Corner the clouds started to clear, giving us spectacular views of the upper mountain. With the clearing clouds came a significant drop in temperature, however. Josh's feet got extremely cold as we were burying the cache so we tried to move as quickly as possible. My fingers got cold immediately when I took them out of my gloves to re-rig my pack. It was good to realize the seriousness of the brutal high altitude temps early so we can prepare for it later.
The descent back to Motorcycle Hill Camp was fantastic. The deep, 1'+ of snow that that we struggled through on the way up was a big reward on the way down. Our first skiing on Denali was legitimate, face-shot, powder skiing.
In total the trip only took 4.25 hours, but upon our arrival at camp everything looked different under a new blanket of snow...and it was quite cold (it was almost hot when we left). We got our campsite buttoned up, crawled into our sleeping bags and passed out.
Today we are taking a rest day because the forecast for the impending storm has it diminishing and our backs could use a rest after the cache run. We are planning on moving to 14k Camp tomorrow so this day of recovery will be great. Hopefully tomorrow's storm won't be too brutal and we can make it to 14k Camp without incident.
I better get some food in me and use this recovery day for all it's worth!
June 10, 11:30 am: Motorcycle Hill Camp, 11,200'
Yesterday's rest was pleasant but we've been getting a lot of snow (about 3' up against the tent when we woke) and a fair bit of wind all night and morning. We have dug the tent out multiple times this morning.
I talked to Kelly on the satellite phone twice yesterday. I had to call a second time because I'm really missing her. My longing to be with my Kelly and my Marilyn has been, hands down, the most challenging part of the trip. I try not to talk to Josh too much about it because, as a single guy, I'm not sure he'd understand or maybe even resent it.
We are cooking a meal right now and then are going to stick around here for another day. The new snow would be hell to break trail through and the winds are pretty high. Plus, since it is already late in the day and tomorrow is supposed to be warmer and less windy, we've decided that it would be a better day for travel to 14k Camp. Since the forecast for the rest of the week is stormy we won't miss out on too much acclimatization because we won't be able to do too many training missions above 14k Camp for several days anyway.
Here's to staying dry, warm and hopefully making it to 14k Camp soon...one step closer to the summit and one step closer to being with my family again.
June 11, 10:00 pm: Motorcycle Hill Camp, 11,200'
We woke up at 8:00 am today to check the weather and were surprised and excited to see some blue skies. After getting pummeled by more than 30" of snow yesterday we were hopeful to get on our way up to 14k Camp. We ate breakfast and packed everything but the tent. As we were packing we kept our eyes on the peaks above us and notice that there was a strong wind that we were well protected from at Motorcycle Hill Camp. After a discussion with one of the NPS Climbing Rangers (Tucker) we learned that there were 40+ mph winds at Windy Corner and 14k Camp. Tucker is also trying to make his way to 14k Camp but opted to spend another day at Motorcycle Hill Camp.
Josh and I deliberated and decided to stay put. Push up to 14k Camp today will gain us very little in terms of acclimatization or training on the upper mountain because there is another storm forecast to roll in on Friday. Added to the pain and aggravation of struggling up to 14k Camp in low temps and high winds and then having to set up camp in even lower temps and higher winds (14k Camp had an ambient high today of 0 degrees) it simply wasn't worth it. So, we stuck around Motorcycle Hill Camp for another day.
The sun was out and in this little area we were well protected from the wind so Josh and I decided to get some exercise and ski the beautiful blanket of new snow that had fallen on Motorcycle Hill.
Before I continue to tell you about our day's skiing, I must interject with some discussion about Josh. I'm incredibly blessed to be doing this trip with a partner like him. He and I understand each other well, communicate well, tolerate each other and work well as a team. Beyond that, we help each other grow as individuals and friends. He is incredibly knowledgable in the mountains and there is nobody else I'd rather spend several smelly, frigid weeks with on a glacier.
Back to the skiing...Josh put in an approach to our ski line that I ended up being quite uncomfortable with. Unfortunately, by the time I knew I was uncomfortable with it, bailing would have placed Josh in a precarious position. After the ski descent (which I'll get to in a bit) we discussed the situation in a civil and objective manner. Being able to do that with somebody is rare and is yet another reason why I am very blessed to have Josh as a partner for this trip.
The ski descent was fairly short but incredibly enjoyable. The scenery is awe inspiring and the multiple feet of cold snow provided amazing turns all the way back to camp. I hope the video turned out well, but I fear that no pictures or video can do this place justice.
The forecast for tomorrow may allow us to finally reach 14k Camp in a manner that won't jeopardize our health or our success higher on the mountain...fingers crossed. I better get some sleep.
June 12, 11:30 pm: 14k Camp, 14,200'
That was a punishing day. We woke this morning to clear skies and lighter winds than yesterday with a forecast for an incoming storm tomorrow. After a little deliberation we decided that today would be the day to move up from Motorcycle Hill Camp to 14k Camp. I think it was the right decision, but it was punishing.
As usual, we have our large loads - backpack full of gear and sleds full of food and gear. On this journey, unlike our cache, the new snow and higher winds made trail breaking and pulling sleds significantly more difficult. Part way up Motorcycle Hill the skinning became impossible and we transferred to boot packing. We boot packed from there to the top of Squirrel Hill. On the Polo Fields we were back to skinning with mixed use of ski crampons.
The wind was very strong and in our faces from the Polo Fields through Windy Corner. We did our best to muscle through it and not take any breaks to prevent the wind from making us too cold. On the upper side of Windy Corner we were out of the wind and took a much needed rest break right by our cache. I was pretty bushed. Hauling the sled and pack the remaining distance to 14k Camp felt difficult even though it isn't. We were extremely grateful that even though the wind was howling down lower it was calm (but cold) at 14k Camp.
We arrived at 14k Camp at 7:30 pm, 5.75 hours after leaving Motorcycle Hill Camp. Josh scouted out a good camp site and we got everything set up. We are both exhausted, hungry and thirsty but happy to be at 14k Camp. Hopefully that was our last "heavy load" day because at the moment we don't plan on camping anywhere higher on the mountain...hopefully.
Dinner is being made right now and we're warming up. Time to get some sustenance and sleep as the impending storm rolls into camp.