Like or Share this post.
SKI DENALI - PART 1
DIA - ANC - TLK - Kahiltna Base Camp
"May the road rise up to meet you.
May the wind be always at your back.
May the sun shine warm upon your face;
the rains fall soft upon your fields and until we meet again,
may God hold you in the palm of His hand."
-Traditional Gaelic Prayer
Saying goodbye at DIA.
I was ready to go. This was the moment I had long been anticipating. I had prepared for years, sorting out the details of what it took and what I needed to climb and ski from North America's highest point.
It was something that my grandfather had told me about as a youngster.
It was a life goal I had written down as a Cub Scout.
I had stared at pictures, read stories and dreamt about it since my childhood.
I had long prepared physically and mentally for the challenges of such an expedition.
I wanted to do it to continue a family legacy and do something that my children can be proud of.
I had an inexplicable feeling that it was something I needed to do.
So why wasn't I thrilled to get started? The departure is usually when my heart starts to race and I imagine the fantastic adventure that lies ahead. But, I didn't have that usual feeling of exhilaration as I stepped out of the car at DIA's massive circus-tentesque terminal.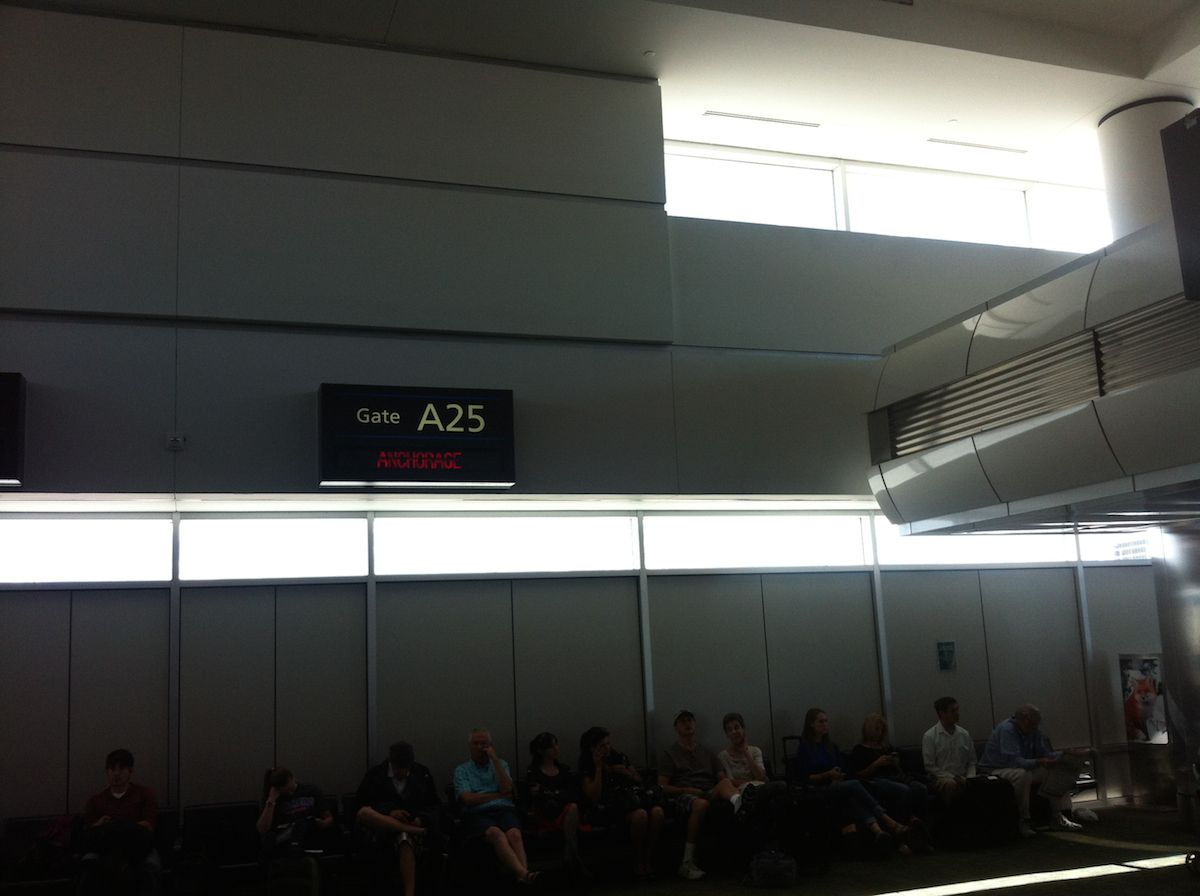 Waiting for the flight...thinking.
Perhaps my lack of excitement upon departure was because this trip was different from the hundreds (perhaps thousands) of other mountain adventures I've been on. For starters, I was now a father and I was about to leave my wife and nearly 9-month old daughter for an unknown amount of time. Would I be gone a couple weeks? A month? Longer...? I already missed them as the security guard ushered them towards the terminal exit. Not knowing when I would see them again seemed to amplify that feeling. Additionally, I had invested so much into planning and preparing for this trip that starting it made me nervous. What if things didn't go well? Would I feel like I had wasted all that effort? Would I feel like a failure? Would I ever get to attempt this lifelong dream again? Would my family be disappointed if I wasn't successful? Would my family be proud of me even if I was successful?
I had never struggled with questions like this on past mountain adventures. It was the questions, not the bags, that felt heavy as I wrangled my gear through the airport.
Ski Denali - Part 1: ANC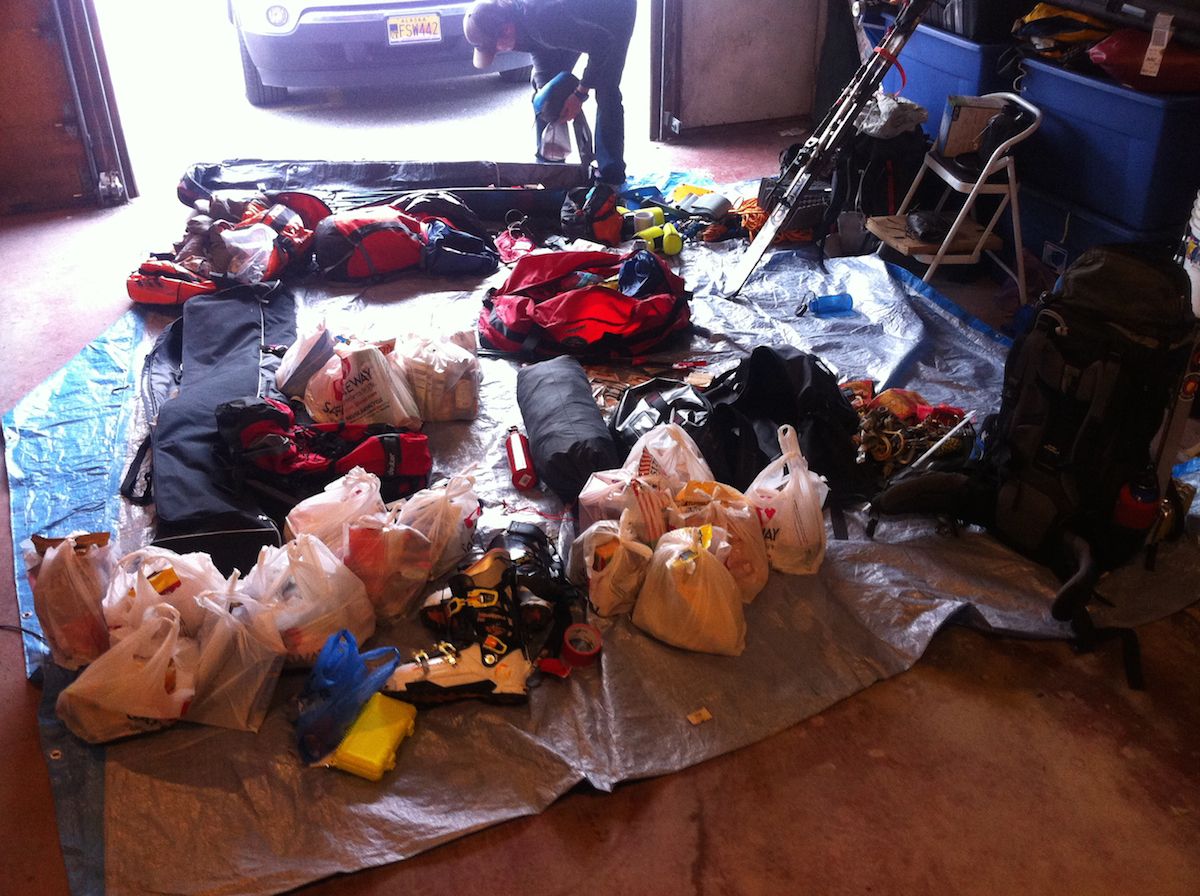 Another gear explosion.
It wasn't until I landed in Anchorage, and saw the familiar face of Josh Smith - one of my closest friends and partner for the expedition - that the anxiety started to fade. I began to feel my usual optimism and excitement for what lay ahead. Simply knowing that, regardless of outsiders' views, the expedition would be a success due to strengthened bonds of friendship, I was able to let go of my anxiety. Although I still greatly missed my wife and daughter, my rejuvenated excitement allowed me to view skiing Denali as something I was trying to do
for
them - so they could be proud of me - instead of simply something that took me away from them.
Game on.
"Sunset" over the Cook Inlet
from the Treadwell's home.
Standing at the ocean and seeing
"The High One" is a sight to behold.
We spent the following two nights at my friend Tim Treadwell's beautiful home on the Cook Inlet in Anchorage. The Treadwell's generosity was humbling. We exploded our gear, shopped for our food, organized and re-organized for more than 24 hours in their garage. We eventually packed everything up, and Tim and Ian drove us to Talkeetna.
Ski Denali - Part 1: TLK
All checked in at the NPS office.
In Talkeetna we met with the National Park Service, scheduled our glacier flight with Talkeetna Air Taxi, ate lunch with Tim and Ian, and thanked them for all their help. Once they were on their way back to Anchorage we unpacked all of our gear...again...to weigh and prep it for the glacier plane.
Oh my goodness.
We were heavy and it was mostly food. Josh and I had opted to forgo dehydrated food entirely. We wanted to eat well, but we certainly paid for it in weight. We tried to ditch some of our gear in Talkeetna but my packs still weighed in at ~140 lbs (not counting my skis, boots, poles and fuel that we would pick up at base camp). There was no use complaining about it, so I quickly came to terms with the idea of hauling a heavy load up a mountain.
My bag (aka "Bertha") getting weighed in.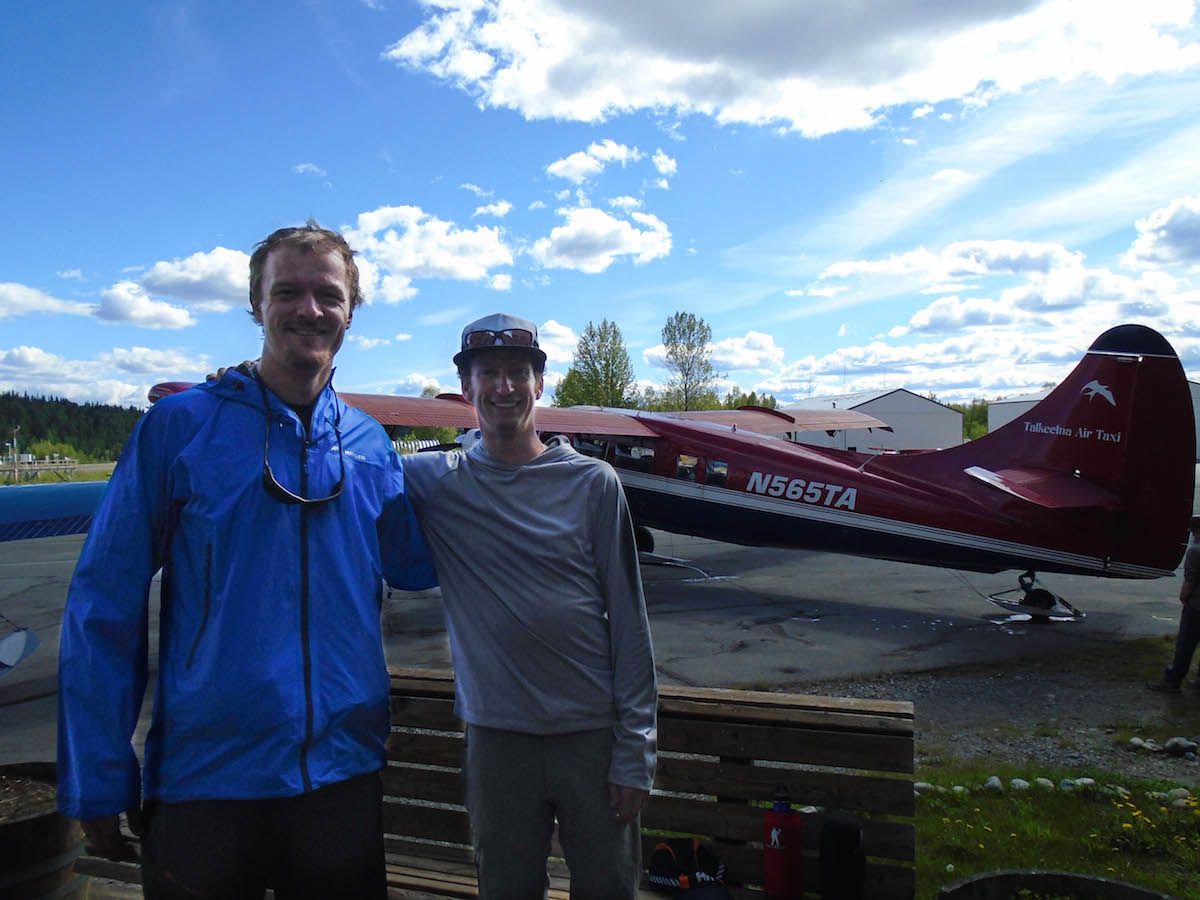 Boarding.
Ski Denali - Part 1: Kahiltna Base Camp
The "Big 3" from the air: Foraker, Hunter and Denali.
The river below is only a few hundred feet above sea level.
Denali stands at over 20,000'.
As the plane lifted into the sky our jaws dropped. Josh and I have both spent ample time flying around in the mountains for work and we both agree - this is the most stunning flight we've ever been on. The Alaska Range is a sight to behold and flying amongst it should be on everyone's bucket list. Pictures cannot do it justice and I'm afraid my words will fall short as well. As the plane buzzed over knife-edge ridges and the massive vertical relief of the range, things only got more impressive. Mountains beyond mountains reach their gnarled flanks of rock and ice into the sky while Denali - The High One - stands as watchful sentinel over them all. That environment is truly awesome, in the literal sense of the word. I felt incredibly blessed to be in such an amazing place.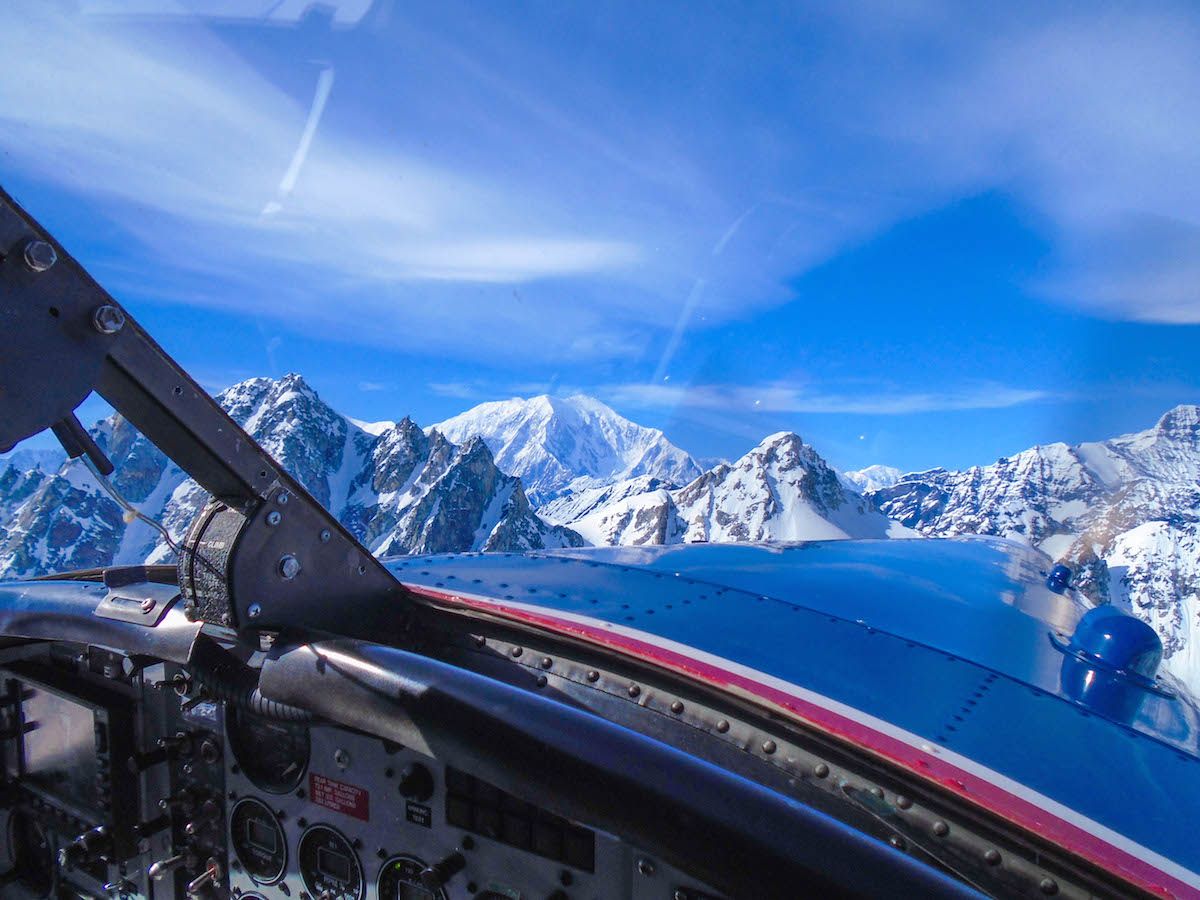 The High One comes into view over a ridge.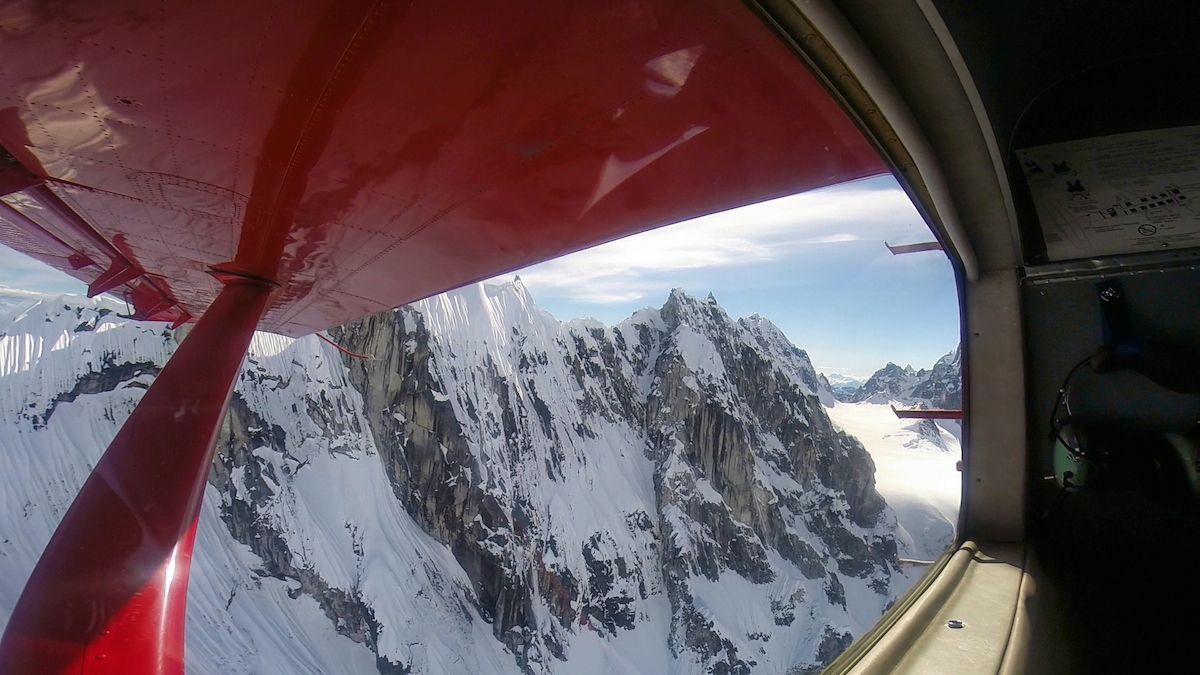 One of the countless gnarly ridges.
Enormous glaciers.
Kahiltna Base Camp arrival.
With a loud buzz the plane gently lifted off the glacier, leaving Josh and I at Kahiltna Base Camp. From this point forward, until our return to Kahiltna Base Camp, all transportation was human powered. We were in the heart of a vast, wild and beautiful place.
We picked up our fuel and selected our sleds, which are nothing more than children's toy sleds and began the work of setting up our first camp. While setting up camp we both came up with names for our sleds. Having heard horror stories from others we knew that these plastic toys had the potential to be very frustrating and unruly. So, we named them as such.
Josh named his sled Putin because he anticipated it "dictating" a lot of his movement and going places it wasn't supposed to go.
I named my sled Donny because I anticipated the plastic toy to be entirely "out of its element" and me yelling at it a lot. Kudos to those who understand the reference.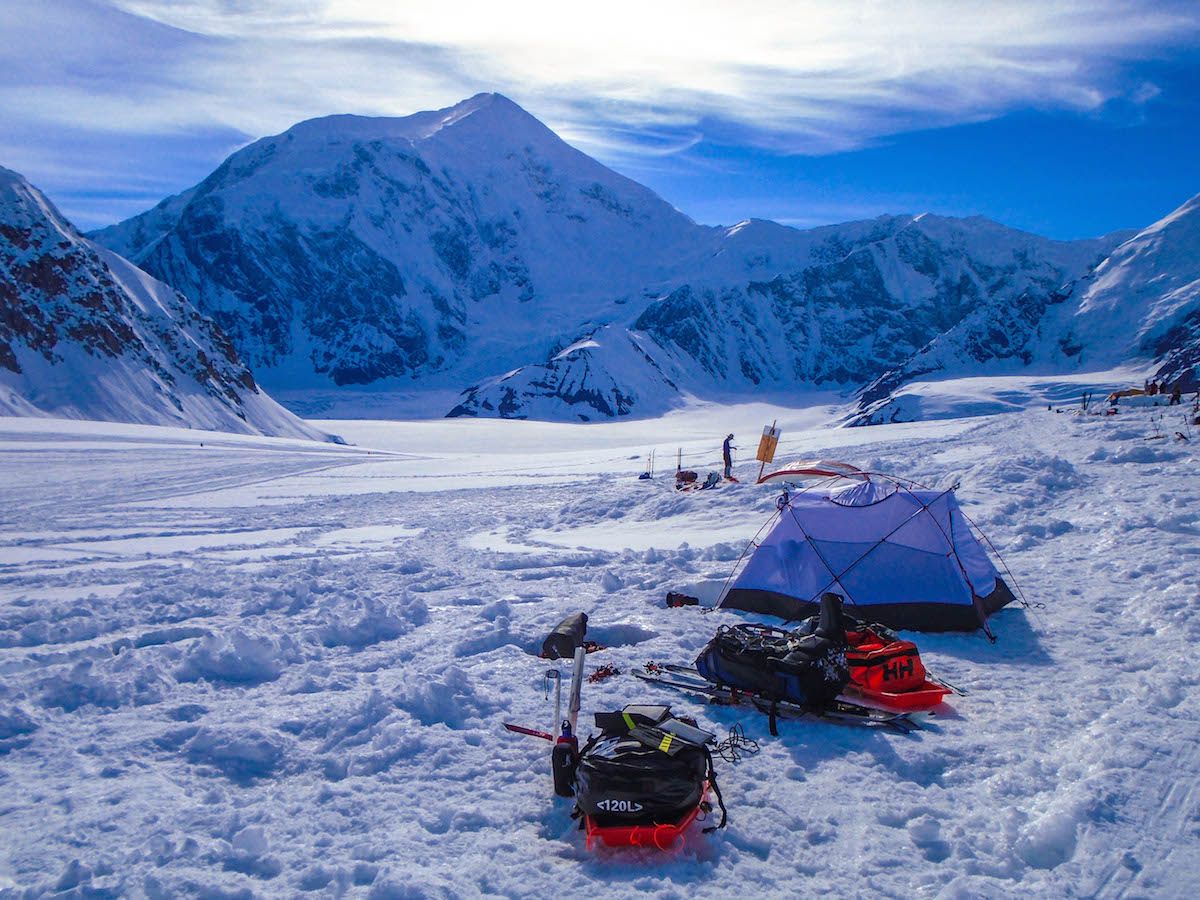 Our 1-night home at Kahiltna Base Camp.
Once camp was set-up we ate dinner and tried to sleep. Our plan was to set out for Ski Hill Camp in a few hours when the sun was at its lowest and temperatures were at their coldest. The colder temperatures meant stronger bridges over the crevasses for the 5.3 mile trek up the Kahiltna Glacier.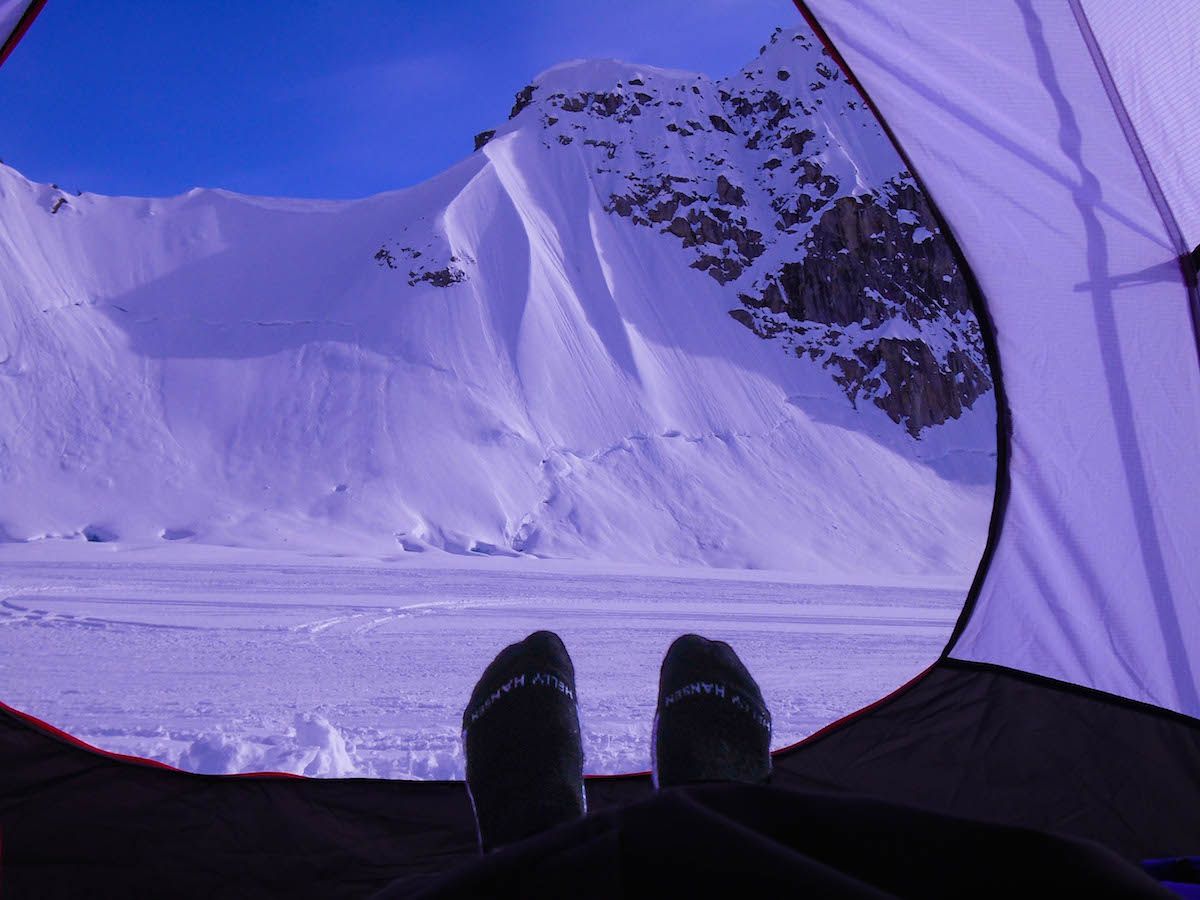 Dinner and a view.
Donny was loaded up and ready for the 2 am departure.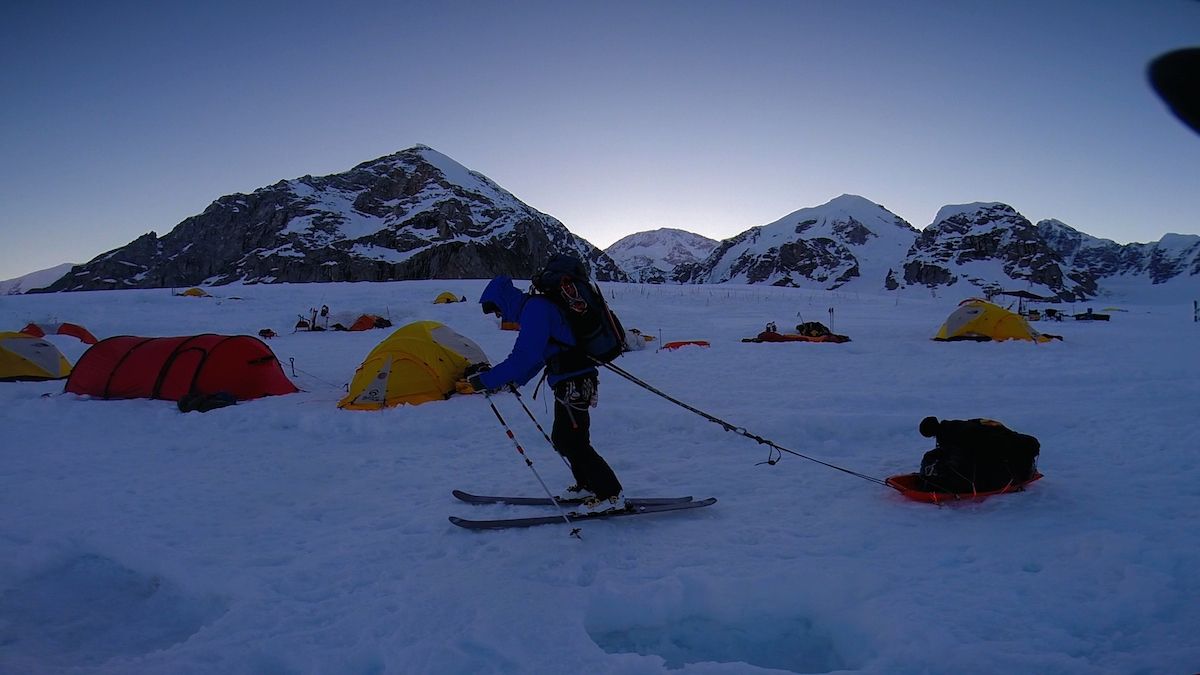 Starting the trek up to Skill Hill Camp with
Denali in the background.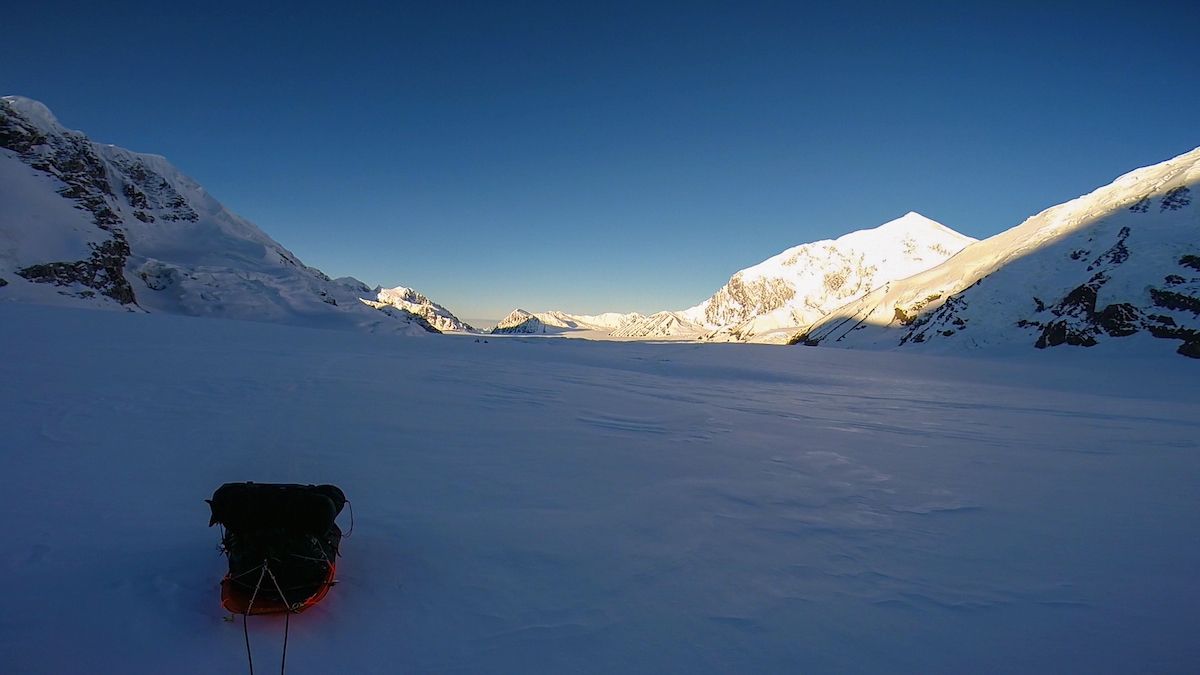 Moving up the Kahiltna Glacier as the sun illuminates Foraker.
We were, finally, officially climbing Denali. Spirits were high.
Below are the raw journal entries from the above 3 days. I wrote these on my phone while I was on the expedition and I have not edited them at all, save for some typos.
June 1, 4:30 pm: DIA (Frontier Flight 889), 5000'
Flying from Denver to Anchorage may be the most difficult part of the trip. It is ripping my heart out to leave my wife and daughter for what may be several weeks, or even forever. Although it's emotionally difficult to leave, I genuinely feel like this trip is something I need to do - something I am meant to do. If we are successful I will be able to continue and pass on a legacy that I am proud of and that my children can be proud of.
June 2, 11:30 pm: Treadwell's House, Anchorage, AK, 20'
Today was a tiresome and tedious day of getting things sorted, organized and marathon shopping for food and miscellaneous gear around town. I'm so glad it's over and I get to enjoy the "sunset" that never sets over the ocean from the Treadwell's back room.
June 3, 7:45 pm: Kahiltna Base Camp, 7,190'
Another long day of travel and packing. The Treadwells treated us to an amazing breakfast of sourdough waffles and fruit smoothies while we discussed Mead's ideas about energy policy in the ocean. We packed up the vehicle and Tim started driving us to Talkeetna at 9:00 am.
We made it to Talkeetna at 11:30 am and checked in with Talkeetna Air Taxi who slotted us for a 5:00 pm flight. After checking in with TAT we went to our orientation with the National Park Service at noon. The orientation took about an hour but went smoothly. We heard further reports that the upper mountain was not looking in good ski shape but that perhaps the recent storms had changed that.
After orientation we ate lunch with Tim and Ian at the Talkeetna Brew Pub and ordered a pizza from Mountain High Pizza Pie for our dinner tonight.
After bidding farewell to Tim and Ian, and giving them many thanks, we set to work yet again unpacking and repackaging our gear to make it appropriate for the glacier flight. We also had to weight our gear, which was very disheartening - I was super heavy. At least most of the weight comes from food so it will get lighter as the trip goes on.
At a little after 5:00 pm we loaded our plane for the flight to Kahiltna Base Camp. There was another group on our ship getting dropped off at a lower glacier before we got dropped off. The flight was absolutely stunning although a little bumpy at the beginning. I was blown away at the scale of the mountains in this range. They are by far the gnarliest and most stunning range I've ever seen. God's fingerprint is uniquely stamped on this area.
Upon arrival at Kahiltna Base Camp we got some things set up (including a start on the sleds) and set up the tent as minimally as possible. I ate dinner and wrote this. Now I'm planning on getting a few hours of sleep before leaving in the early morning hours to start our ascent to Ski Hill Camp, 5.3 miles up the glacier. There are 24 hours of daylight, which is still messing with my head, but by traveling at night we reduce the risk of bridge collapse (it is colder although light) and travel in temperatures well suited for hard physical labor.