Like or Share this post.
After a few outings of many-laps-with-short-vertical it was time to go out and get a big descent. Peak 2 fit that bill. After waking up at 4:00 AM on Saturday morning I met up with TBar, Amy and Connor and we carpooled to the trailhead.
Video: I'm still getting the angles worked out...
Peak 2, Colorado - May 8, 2010
from
Joel Bettner
on
Vimeo
.
A look at the day's accomplishments: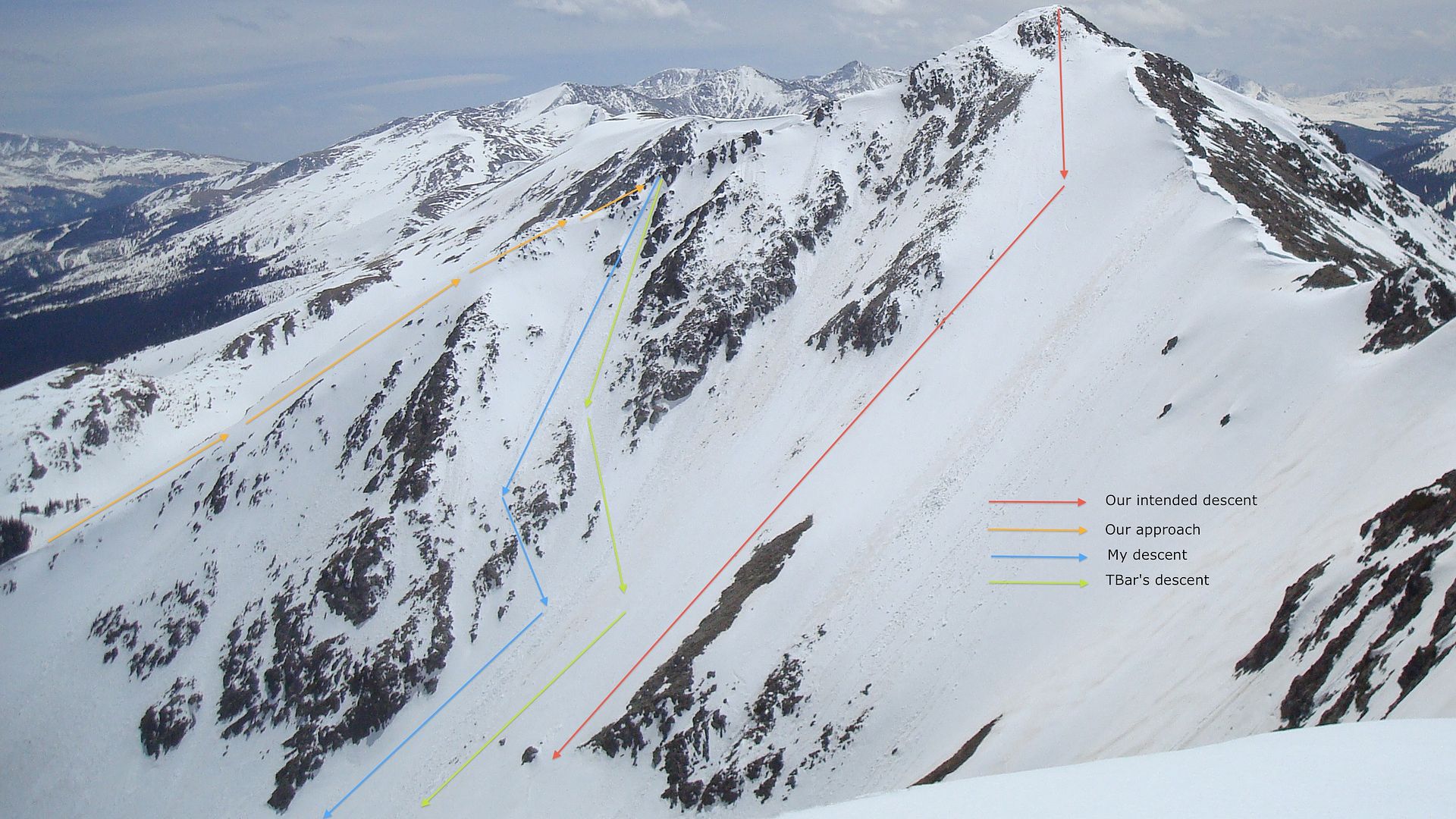 Last year I attempted Peak 2 with my friend Dwyer, but we had to give up on reaching the summit due to increasing avalanche danger and deteriorating snow pack. We summited Peak 1, and then started the traverse along the ridge from Peak 1 to Peak 2.
A pic from the Peak 2 attempt in 2009:
Because last year's approach route was unsuccessful for gaining the summit, I decided to try to ascend the eastern ridge of Peak 2 this time.
Here's the rest of the story...
Early morning and the objective comes into view:
After gaining the eastern ridge, Amy and Connor decided to ski down to the basin and wait. For both of them it was their first time attempting a big peak ski descent, and I think they both got exhausted. TBar and I have been at it for a long time, and quite a bit so far this season, so we were feeling pretty good.
TBar and I continued to climb up...: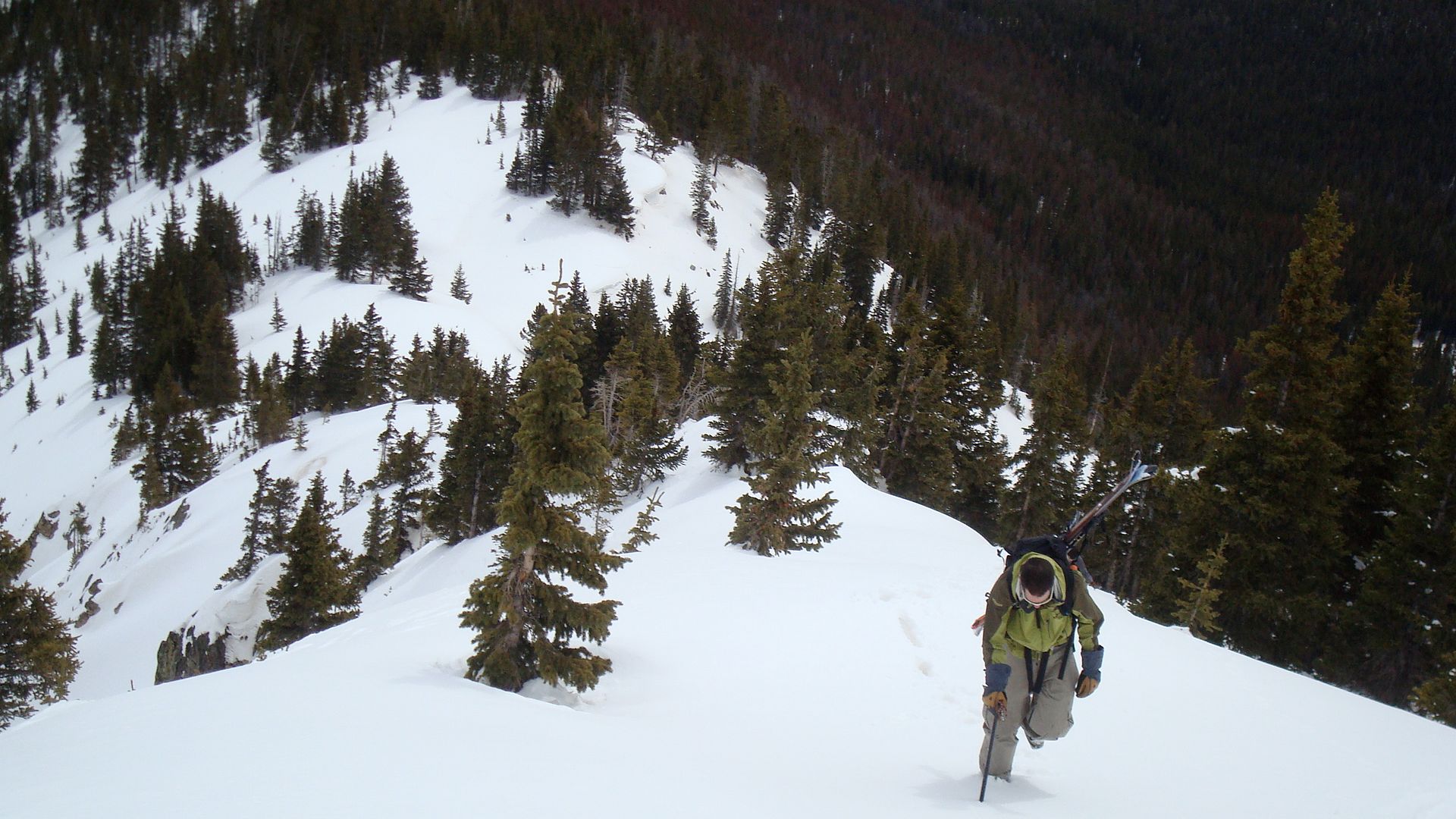 ...and up:
Connor took a zoomed in picture of us just before we reached the false summit: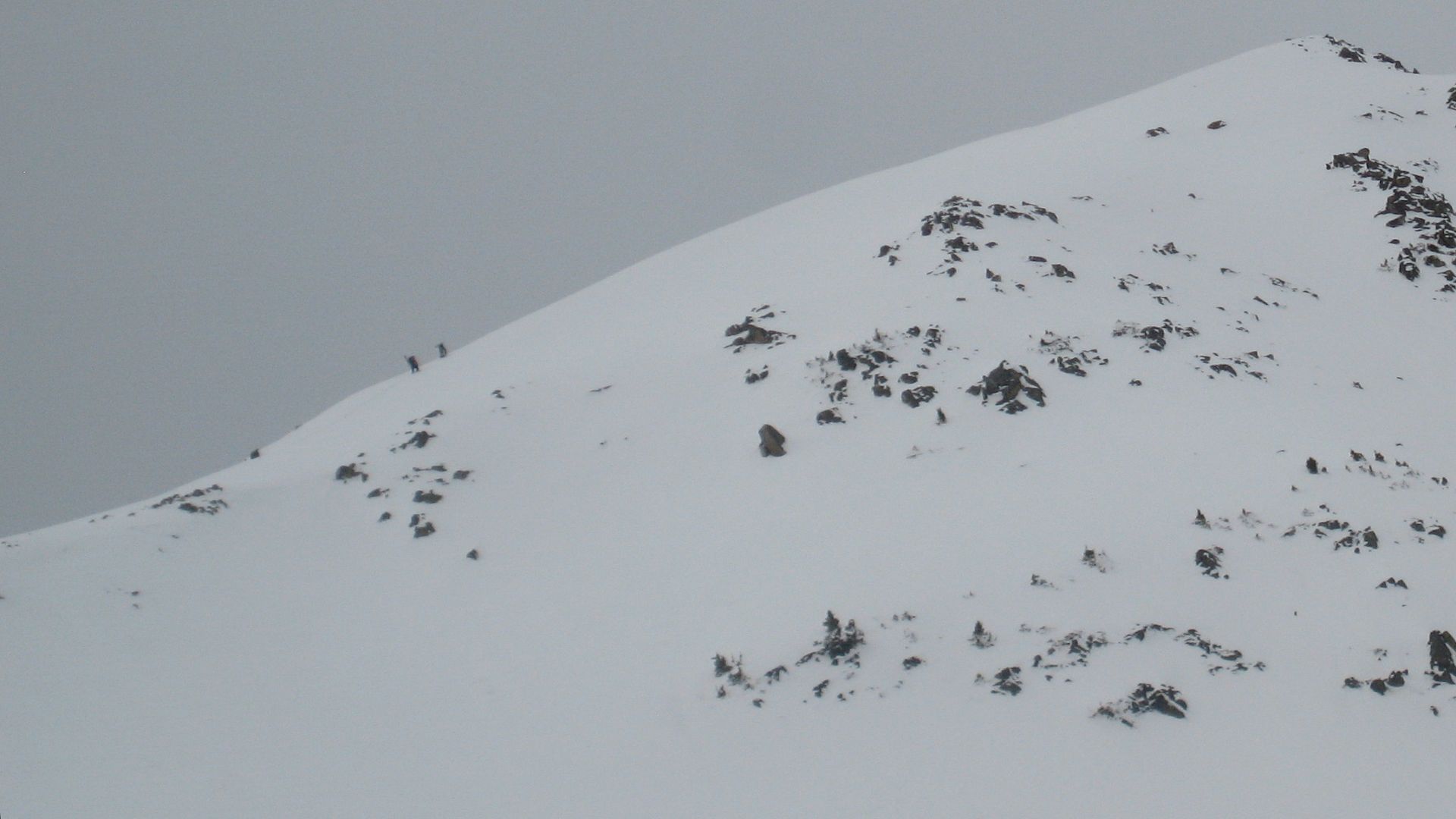 When we were about 200' vertical from the summit, we ran into this.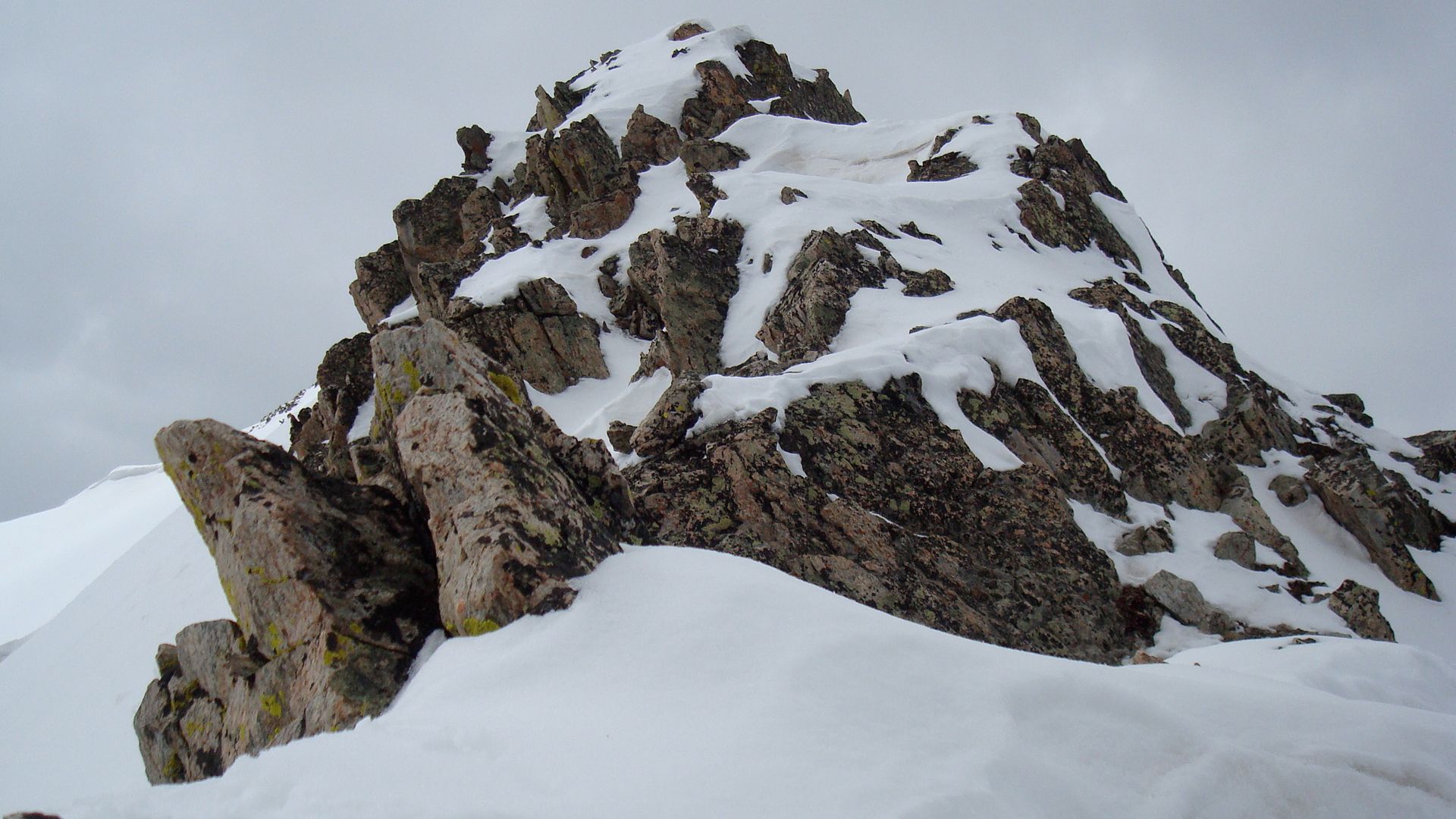 With the weather quickly deteriorating, the snow being unsupportable around the rocks, and the time of day getting late, we decided it was in our best interest to begin our descent from where we were. If we had rope and harnesses getting through this rock outcropping would have been much more reasonable, but as it was we didn't want to risk our lives for a couple hundred extra feet of vertical. Although this meant we didn't ski from the true summit, it did mean that we got to
ski the steepest part of Peak 2
, so it was a great consolation prize.
Getting geared up on the narrow ridge:
A look down my line:
TBar getting ready to drop in: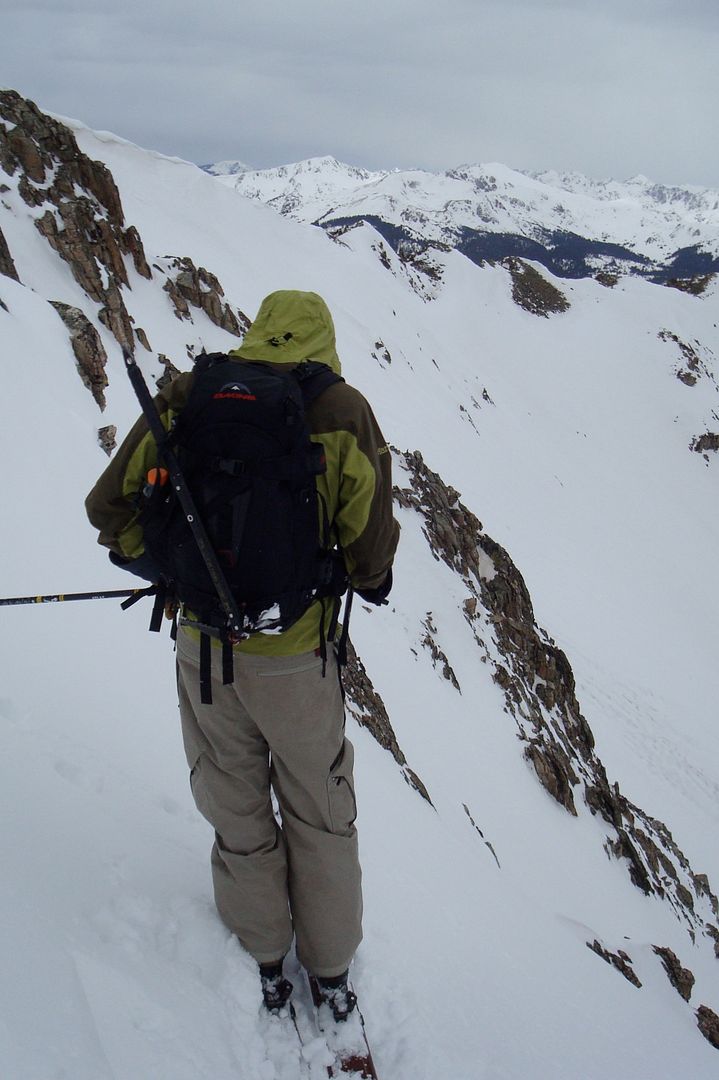 You can watch the descent on the video above. It was great. At the top of the line the snow was nice and soft up to about mid boot. A perfect consistency for skiing big, steep lines in the spring. Because of the soft snow, however, we generated significant slough and had to use good slough management.
Regrouping in the basin: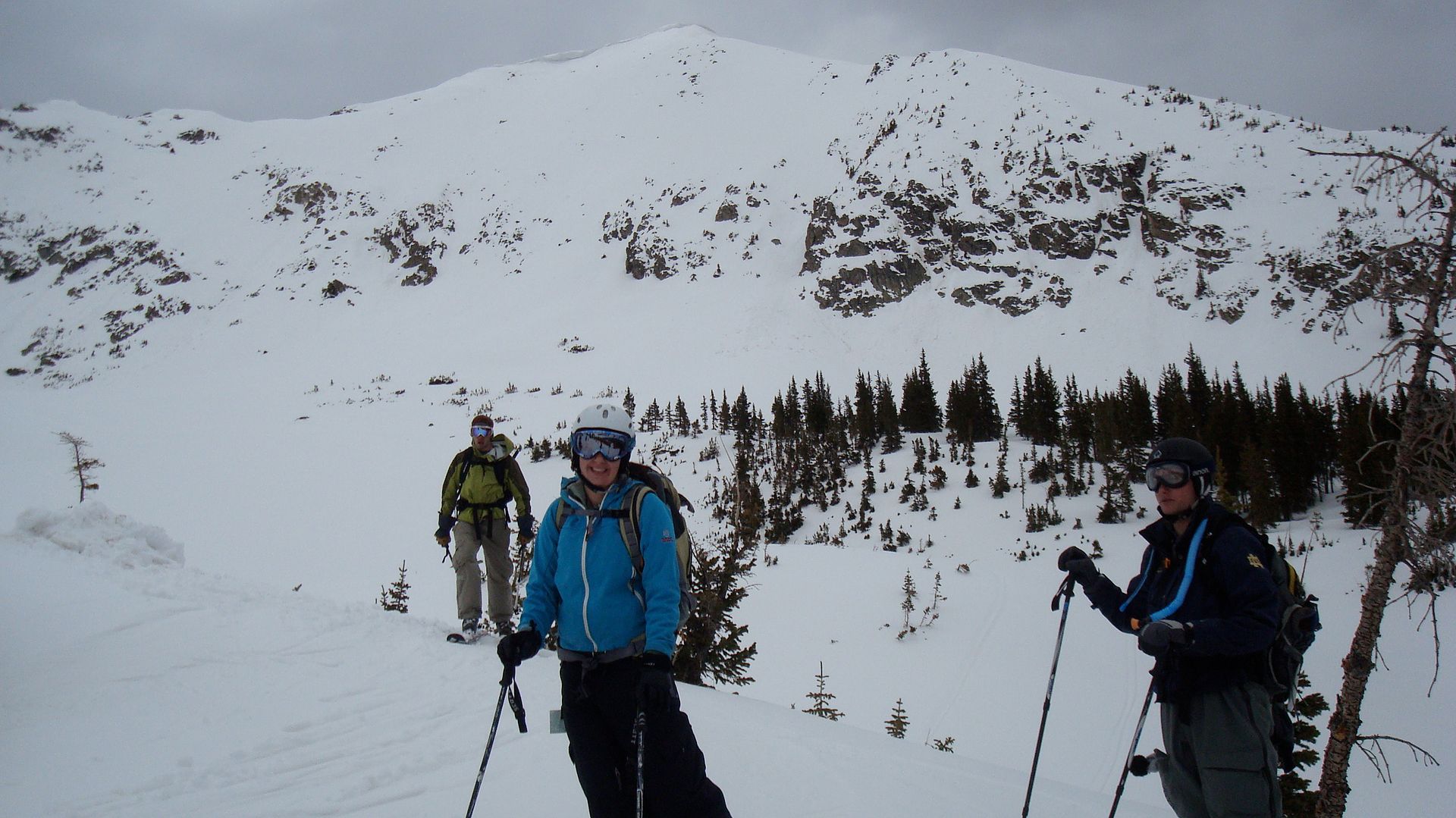 Change in weather from beginning of the day to the end:
Making our way out through the woods: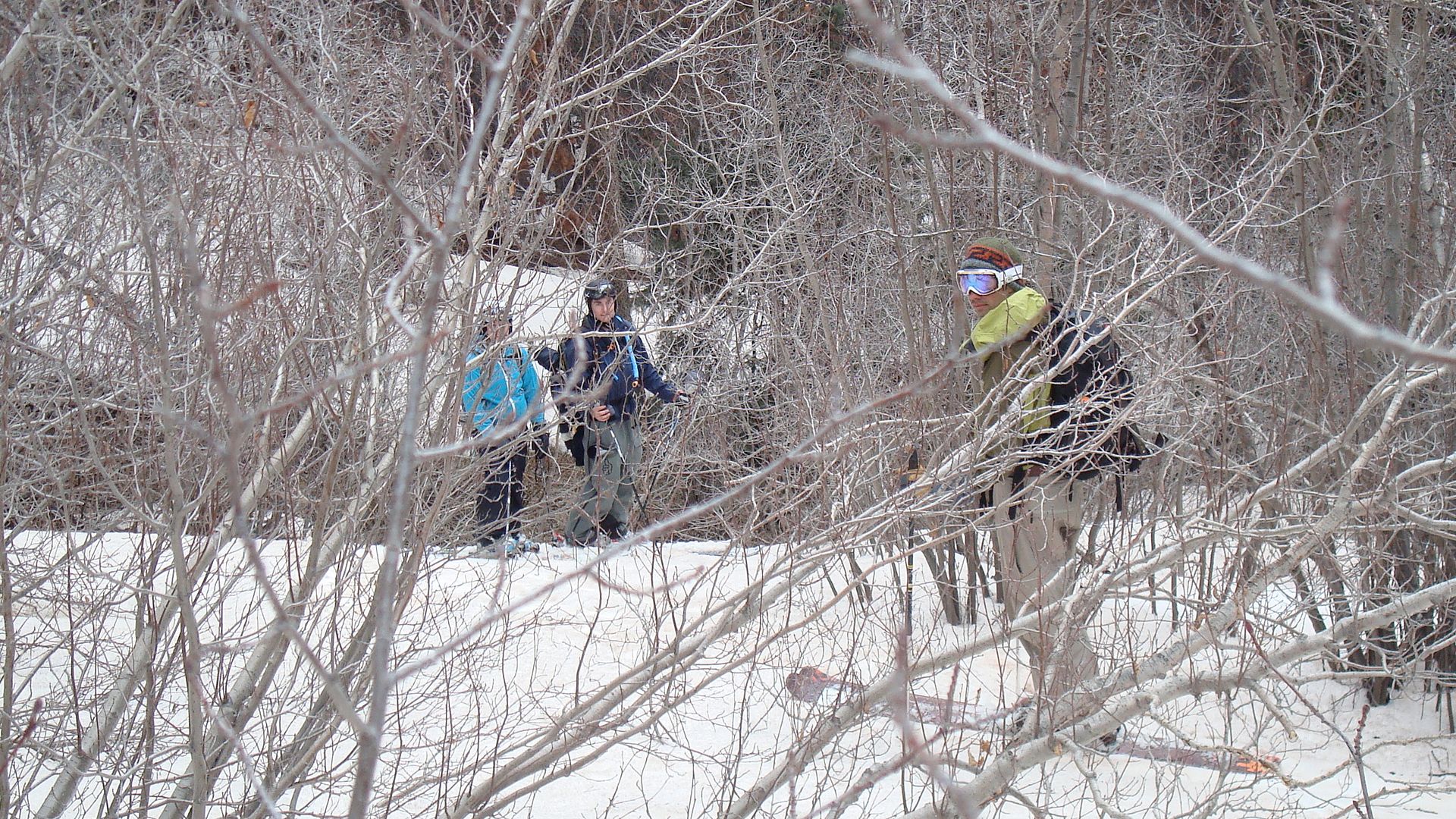 The beauty of a truck: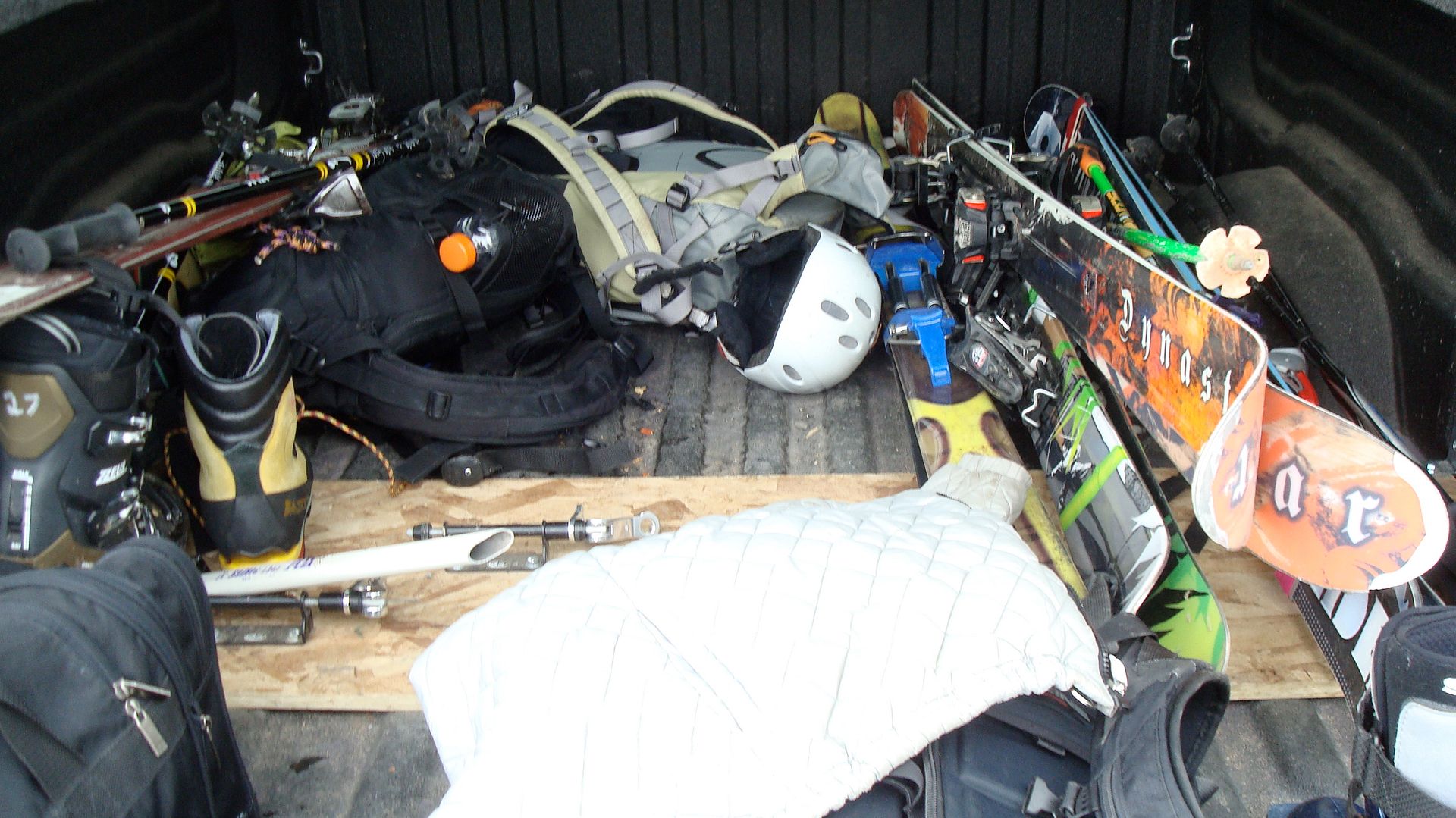 Beta:
The eastern ridge of Peak 2 is deceptively exposed and sketchy. It may not look like it in the pictures, but an unroped fall on the top of the ridge would most likely cost you your life. In the future I'm going to approach Peak 2 from Peak 1. Although the ridge between the two peaks requires traversing over some exposure, it is still less exposed than the eastern ridge of Peak 2. For both approaches it is important to do them when the snow will still have some structure and won't completely give way under your weight.
The trailhead that we started at (by Rainbow Lake) was at an elevation of roughly 9090 ft. The summit of Peak 2 is roughly 12930 ft. For the route we took up the eastern ridge, that is an overall elevation gain of approximately 3840 ft over about 3.6 miles.
This morning we left the trailhead at 7:00. We were making good time, but due to some equipment issues with Amy and Connor we got slowed down significantly. TBar and I still reached the top of the line we skied within 5 hours. Many conservative mountaineering estimates for routes like this will tell you to estimate about 1 mile an hour and an extra hour for ever 1000 vertical feet. We obviously did it much faster than that, even with long breaks. I think TBar and I benefit from a high level of fitness that allowed us to climb much faster. However, we still started early enough to budget the appropriate amount of time in case we were much slower.
If you plan on doing this route, be very careful with your route finding in the trees. It can be difficult or impossible to find any landmarks and determine that you are going in the right direction. Plan it out ahead of time by looking for landmarks on a map that you can recognize on the ground (i.e. streams and hills). That is what we did and we were able to hike directly where we wanted to go.