Like or Share this post.
General Plan:
I'm planning on arriving in Anchorage on June 1st, where I'll rendezvous with my ski partner Josh. For the next 2 days we will purchase most of our food for the expedition, consolidate all of our gear and get everything as neatly packed as possible. The expedition truly begins on June 3rd as we board a glacier plane in Talkeetna (weather permitting) to get dropped off on the Kahiltna glacier on Denali's lower flanks.
Although June summer time for most North Americans, for Denali climbers/skiers it is prime time for winter activities. In the middle of the winter, it is dark for most (if not all) of the day. In June there is nearly 24 hours of sunlight to enjoy the mountain with. Earlier than June the temperatures are consistently significantly colder. In June it can still get very cold and snow a lot, but there are breaks from the cold with warmer and sunnier days. June is also ideal because many of the crevasses on the mountain are still well bridged, while later in the summer the bridges collapse making navigation more difficult.
We plan on climbing the West Buttress route to ascend Denali. This is the standard route for climbing the mountain that most people use to get to the summit. For me, personally, the route of descent is much more important that the route of ascent so I am completely fine climbing this "standard" route. However, even though the West Buttress route is the standard route it should not be underestimated. It still presents a significant amount of hazard and careful planning and wise decision-making are paramount to a safe and successful climb.
If weather is not an issue, our first 4 days on the mountain will be spent hauling all of our gear from the lower Kahiltna glacier to Advanced Base Camp at 14,000' (commonly referred to as "Camp 14"). Once at Camp 14 we plan to spend several days, possibly more than a week, acclimatizing with smaller day tours to nearby ski descents. This will give our bodies the opportunity to adjust to the altitude and crazy weather of the mountain. Additionally it will give us the opportunity to assess the snow conditions for a descent of the Messner couloir.
The lower part of the West Buttress Route (red line) with the approximate locations of Ski Hill (green circle), Camp 11 (yellow circle) and Camp 14 (purple circle).
When we feel that our bodies have acclimatized and that the weather is permitting we will make a push from Camp 14 to the summit of Denali at 20,320'. We plan to do this all in one day and return back to Camp 14 via a ski descent of the Messner couloir.
Why I need to train harder than usual:
Living and working at fairly high altitudes in Colorado is a great benefit for my Denali fitness. I have done my best to increase my altitude fitness higher than ever before in preparation for Denali. Our Denali plans are much different than the "standard" climbing plan. After leaving Camp 14 most people set up another camp at roughly 17,000' (AKA Camp 17 or High Camp). From there they will often take another day to acclimatize before making a push to the summit. When they return to Camp 17 from the summit they often spend another night before finally returning to Camp 14. This means a trip from Camp 14 to the summit and back often takes 3-4 days.
We plan on doing it in one day.

The upper part of the West Buttress Route (red line) with the Messner coulir (green line) and the approximate location of Camp 14 (purple circle).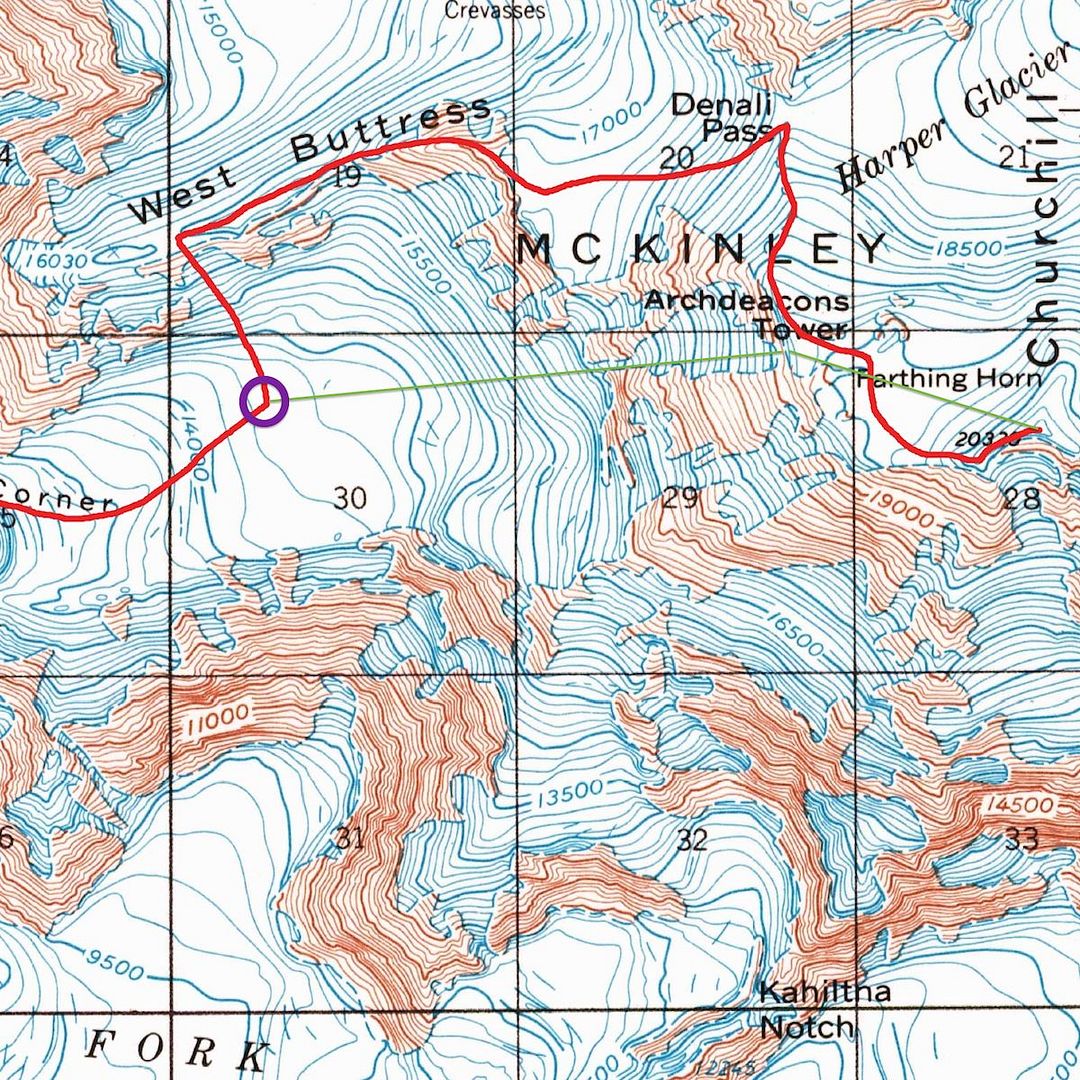 Our intended descent route down the Messner couloir (shown in green on the map) would not allow us to return to Camp 17, and we do not want to ski such a committing descent with the weight of a tent and camp gear in our packs. The top of the Messner couloir starts fairly close to the summit and ends almost right at Camp 14. It is in our best interest to summit Denali and ski back to Camp 14 all in one day.
I know plenty of people have summitted from Camp 14 and skied down in one day. I also know the altitude and physical demands of the mountain have surprised even great climbers and ski mountaineers who failed to summit. I would prefer to be in the former group. To increase the likelihood of success I am training as hard as possible to prepare my mind and body for the rigors of such a day. I know that despite all of my training there is still a chance that the mountain will get the best of me, but training hard gives me the best chance of being successful.