Like or Share this post.
NOTE: Final videos will be created AFTER I finish this trip. Enjoy the previews but there is better stuff coming.
Monday, June 6th to Friday June 9th, 2011
- After skiing St. Helens the forecast showed some promise for the Northern Cascades. I drove up to the Bellingham area and spent the next few days waiting for the weather to actually break. During the day of most promising weather Josh, Sam, Allen, Brendan and I made an attempt at Shuksan. After a 2 AM wake-up, we hit the trail at 4 AM. Unfortunately, the clouds never cleared, which would have meant glacier travel with no visibility. We reluctantly turned around and are saving it for another day.
What a way to start the day.
If there are any Sasquatch in these woods, we certainly scared them away with our clambering.
Sam was a little disappointed, just like the rest of us, when we got into the alpine and saw a thick layer of clouds up on the glaciers.
June 10th, 2011
- With no sign of an improving forecast in the north of the state, I decided to see what was going on near Mount Adams. Sure enough, the forecast was calling for two days of clear weather over the weekend. So, I bid Bellingham adieu, got in the car and began to make my way south. I spent the night of the 10th with my great friend Greg at his cabin near Packwood.
June 11th, 2011
- I could not find/convince anyone to join me for a two day slog up Mount Adams, so I decided to do it solo. Prior to this I had never done a mountain of this size by myself. Granted, my intended route on the mountain was quite mellow, but simply its size and the fact that I was spending the night on the mountain alone was a new experience for me.
After a long morning drive I arrived at the Trout Lake Ranger Station around noon. I got my things organized for the overnight trip on Mount Adams, filled out all the necessary paperwork, and purchased my permit.
I arrived to the parking for the South Climb trailhead at around 2:30 PM and was on the trail by 3:00 PM.
Leaving the car with the patchy road slog ahead of me.
After 3 hrs and 15 mins (6 miles) of hiking/skinning I made it to camp and set things up. I got to share some company with two other guys - Jeff and Ernest - who were staying in the same area.
Home for the night.
Mount Hood was showing off in the alpenglow.
A little lenticular?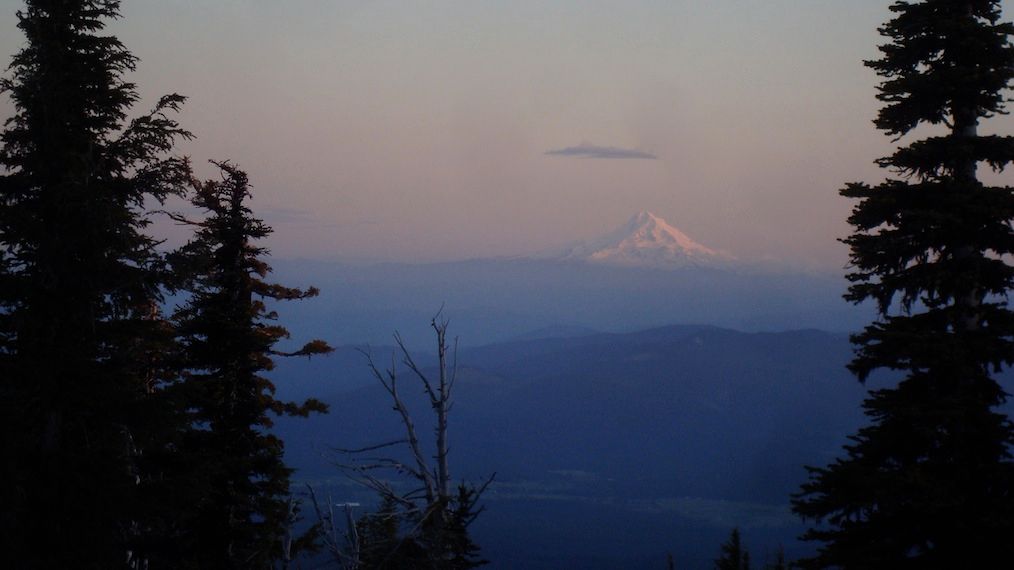 The forecast called for freezing levels to be around 8,200'. So, my original plan was to get to bed early and wake up at 2:30 AM to start my ascent. However, even before the sun began to set, the snow at camp was beginning to freeze. Camp was only at 6,500', so I knew this would afford me more time to sleep in the morning and get a later start. By my estimates temperature at 6,500' got into the low 20's F that night.
June 12, 2011 - I awoke at 5:00 AM and the snow around my tent had frozen to the point that it was difficult to kick a boot into. Instead of starting I decided to wait for it to thaw which would make skinning easier. By 7:30 AM it was still quite frozen, but I began the climb anyway because it was starting to get late.
During the entire approach the temperatures stayed below freezing. This made for difficult skinning, and when it got steeper I ended up boot-packing because it was actually more efficient. If the snow had been suitable, I could have skinned the entire way.
The pic below is the "crux" of the climb. It isn't difficult, but it is just one long face that you climb straight up. From where this picture was taken (around 9,000') it is approximately 2,600' vertical to the Pikers Peak false summit. To put that in perspective for my east-coast friends, that is like climbing the Empire State building a little over two times. To put that in perspective for my Colorado friends, that is like climbing Copper ski resort. What gets me is that this is only one of many sections of the climb! These PNW mountains are large!
Up up and away.
I made it to the top of Pikers Peak at 11:30 AM. Once there I met another couple who were contemplating skiing from the summit. They opted not to and skied down from there. I decided that I would take a long lunch to see if the snow would soften up any more for the final push to the summit. After an hour the snow had barely softened any more and some high clouds began to move in. I could wait no longer, so I pushed on to the summit at 12:30 PM. By 1:00 PM I was atop Mount Adams, and not a minute too soon. Cloud level was starting to drop and there was a storm brewing. After snapping a few pics I quickly transitioned into ski mode and began my descent.
All alone at the summit.
Mount Hood
Mount Saint Helens
Mount Rainier
From the summit I made my way to the top of the Avalanche Glacier Headwall. It looked steep and tempting, so I dropped in. Unfortunately, what looked so nice from above was actually quite nasty. I was skiing on a sheet of ice.
Skiing down the Avalanche Glacier Headwall.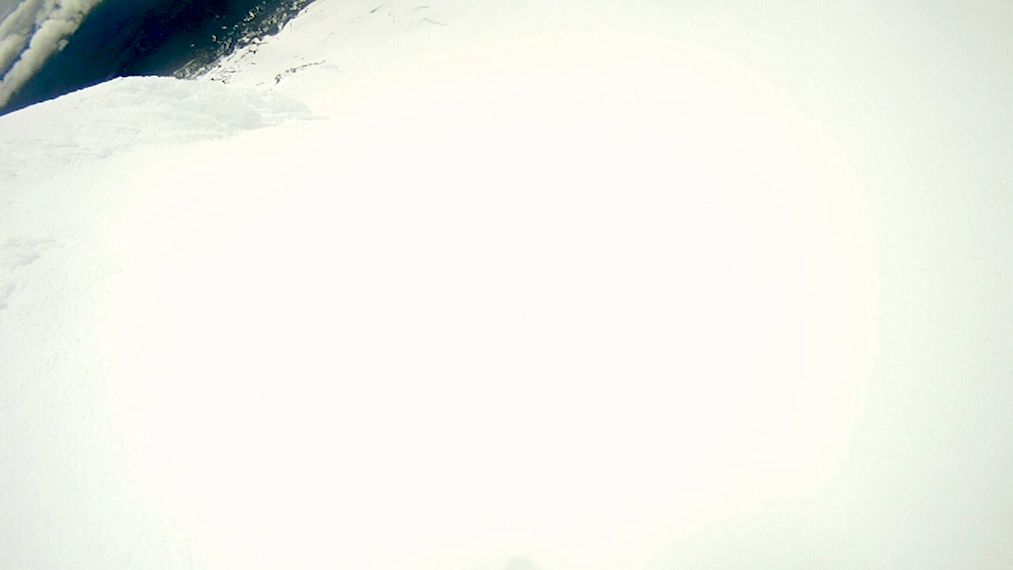 After roughly 800' vertical of skiing on the headwall, I traversed further south onto the Southwest Chutes. The snow was slightly firm towards the top of the Southwest Chute, but after some descending I got into perfect corn snow for several thousand vertical feet. This was what I came here for!
Skiing down one of the Southwest Chutes.
A little further down. I was able to ski really fast and make big fat turns.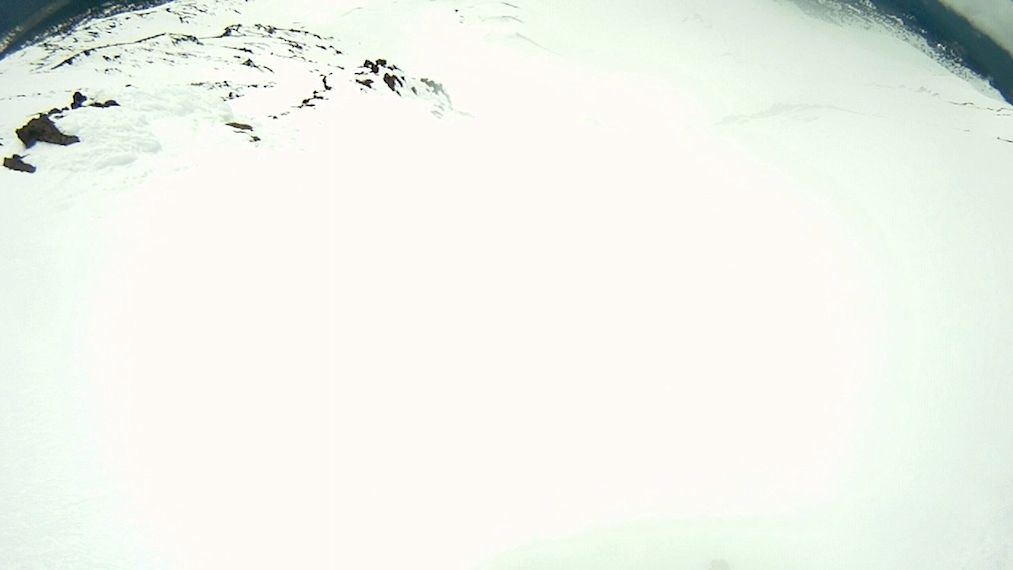 After skiing that much great snow on a nice steep pitch I was one happy camper (literally)!
A look back at part of the descent.
I was able to spy just a little glimpse of the Avalanche Glacier Headwall from below. It is in the center/left of this picture.
Once I finished skiing the Southwest Chutes it was a long traverse/slog back to camp. After a mix of side stepping, skiing and skinning for roughly 2 miles I was thrilled to see my tent. However, I had no time to relax. A storm was building above me and I had to pack up and head out as quickly as possible.
The forecast was for a sunny day...
The route from camp back to the car proved to be the most physically taxing part of the entire journey. The snow was slow and patchy, and with every turn I could feel the weight of all of my gear in my backpacking pack.
I was very displeased to see sections like this.
After 6 miles I was back at the car and I was very pleased to see this!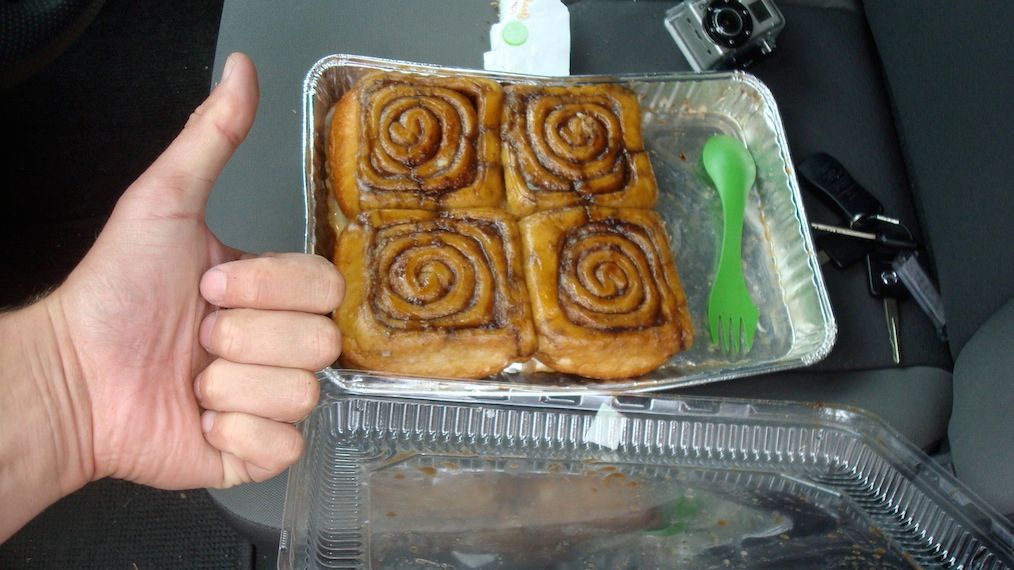 When there is a sign along the road that simply says "Big Tree - 1/4 Mile" I feel like you have to check it out.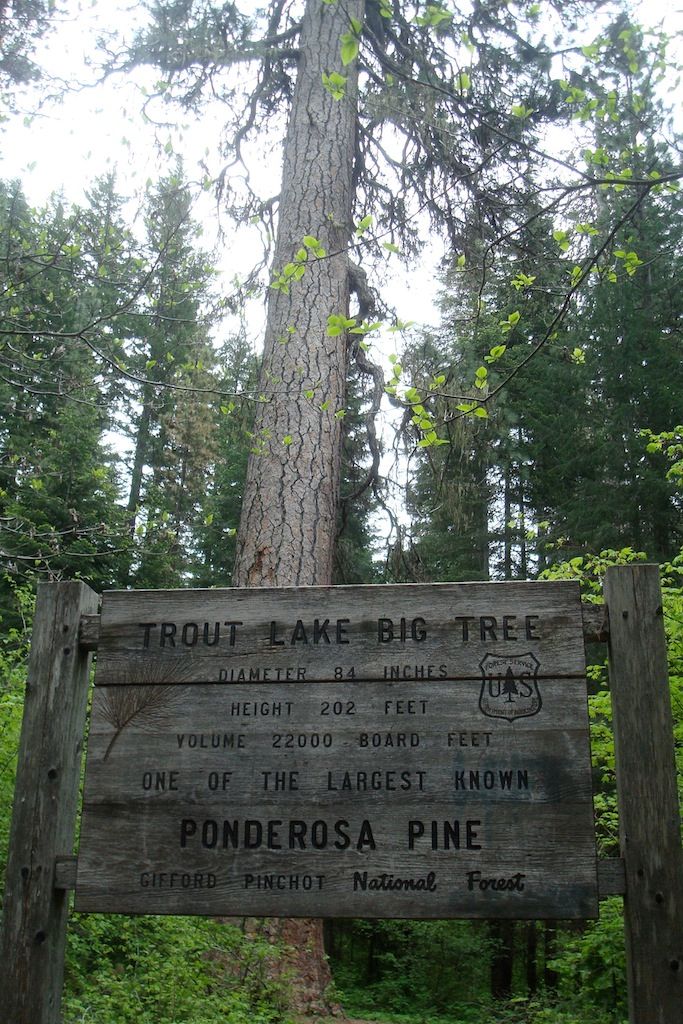 Beta:
Day 1
Day 2
Descent
This is a picture I found on Wikipedia. There was obviously a lot more snow when I skied it, but this gives a very good look at the line. I drew in my descent route with little blue arrows.