Like or Share this post.
Did you know that this year's Colorado snowfall was the lowest in recorded history (for much of the state)? Well, it was. Did you know that for much of the ski season I battled an odd blood disease whose symptoms came and went in waves? Well, I did.
But, all of this is no excuse to not take advantage of what you've been given. And that is just what the CUFSTers and I did. We had a great time despite the conditions.
As many of you know, I coach the
Big Mountain and Backcountry Program
for the University of Colorado Freestyle Ski Team (
CUFST
). I work pretty hard to make sure the students I work with get the most they can out of the program. The conditions and my illness this year made it challenging, but I work with some fantastic kids. Their positive attitudes and willingness to explore/learn/joke-around make my job really enjoyable.
The season can be divided into three distinct sections:
Early Season - Low snowfall and sketchy avalanche conditions
February - Pow
Late Season - Low snowfall and a fading snowpack (yes, March was "late season" this year)
Below is a little look at my season with CUFST through pictures. I divided it up into the three sections mentioned above. Like I said, it was amazing despite the snowfall.
Early Season:
The early season snowpack was thin...
(Photo by Mike Bibeau)
(Photo by Mike Bibeau)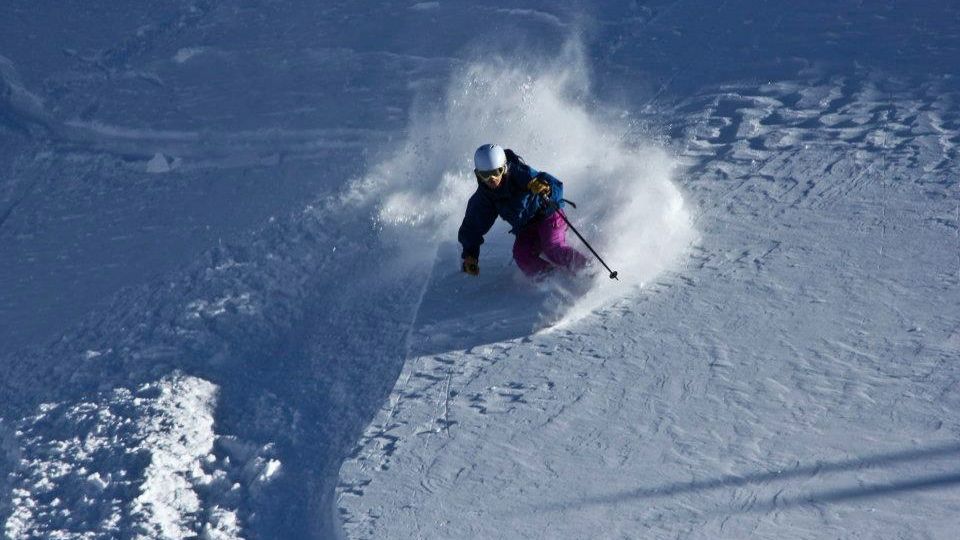 (Photo by Mike Bibeau)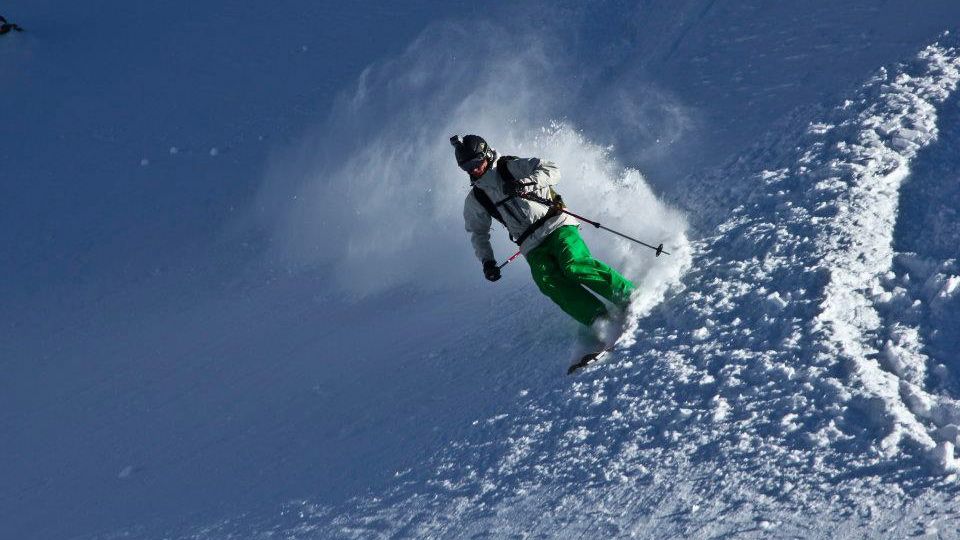 (Photo by Mike Bibeau)
and even a few things to jump off.
(Photo by Mike Bibeau)
We searched day and night for the soft snow...
(Photo by Mike Bibeau)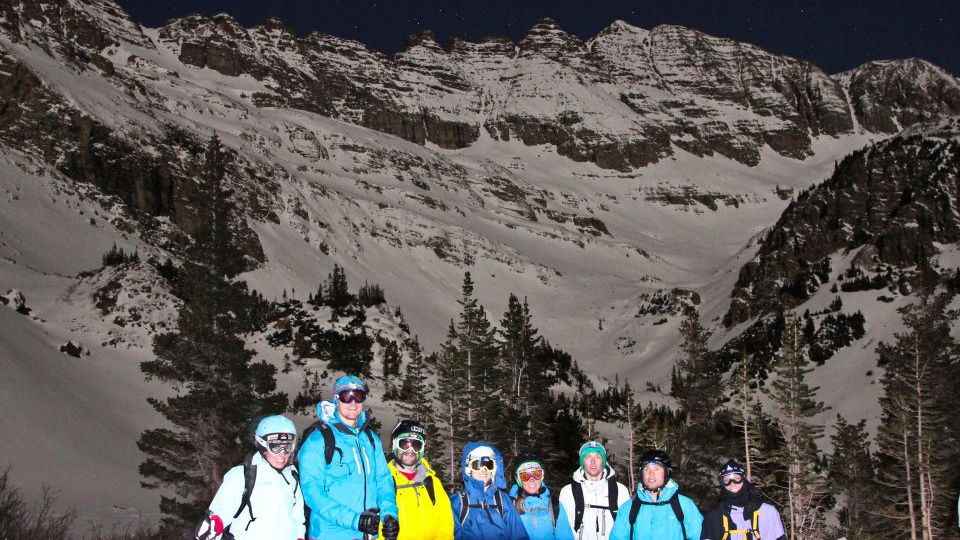 (Photo by Mike Bibeau)
and had a very unique experience.
(Photo by Mike Bibeau)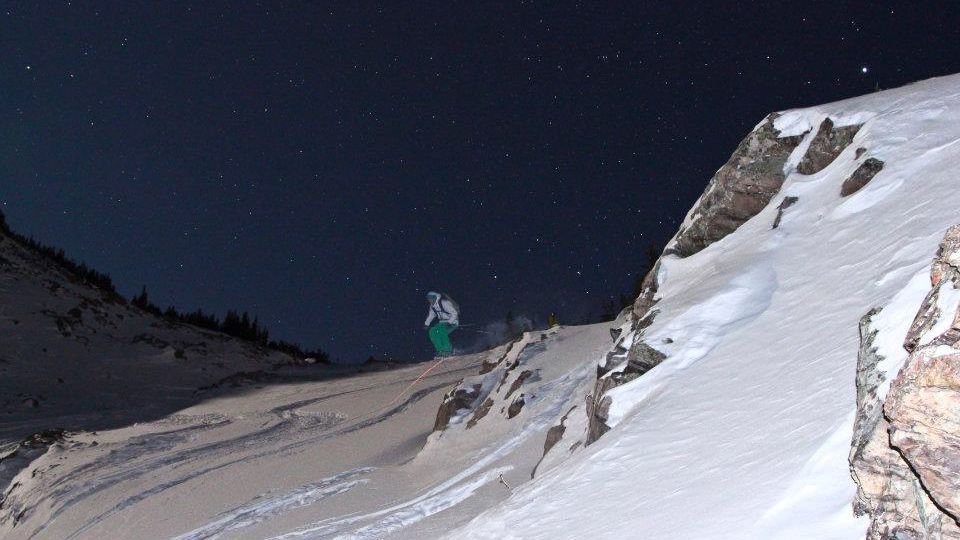 Everyone had a great time.
(Photo by Mike Bibeau)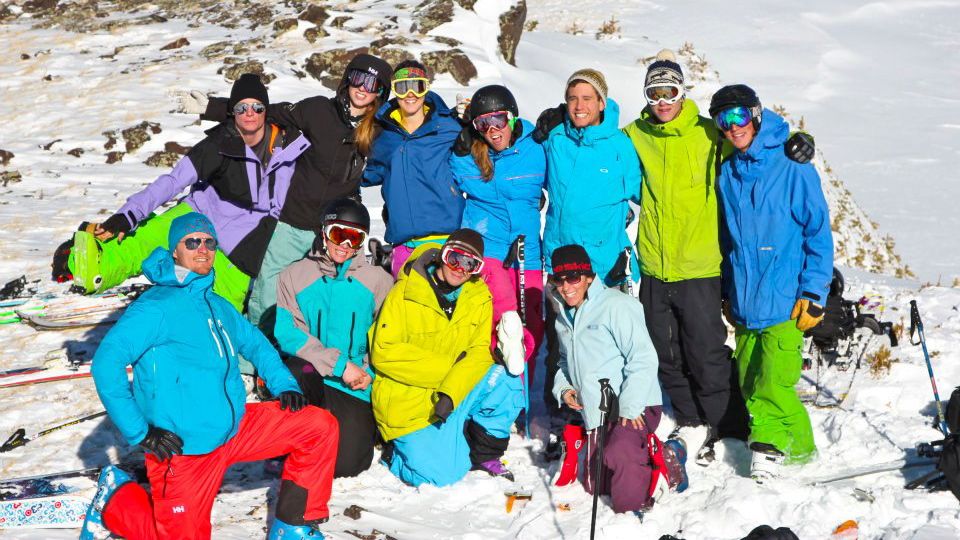 February:
February arrived with a furious set of storms for Colorado. As snow starved as we were, we definitely took advantage. For much of the month I didn't have a camera, so most of the season's best snow went undocumented. In any case, here's the best of what I got.
(Photo by Alex Kessock)
Pow makes me smile.
(Photo by Alex Kessock)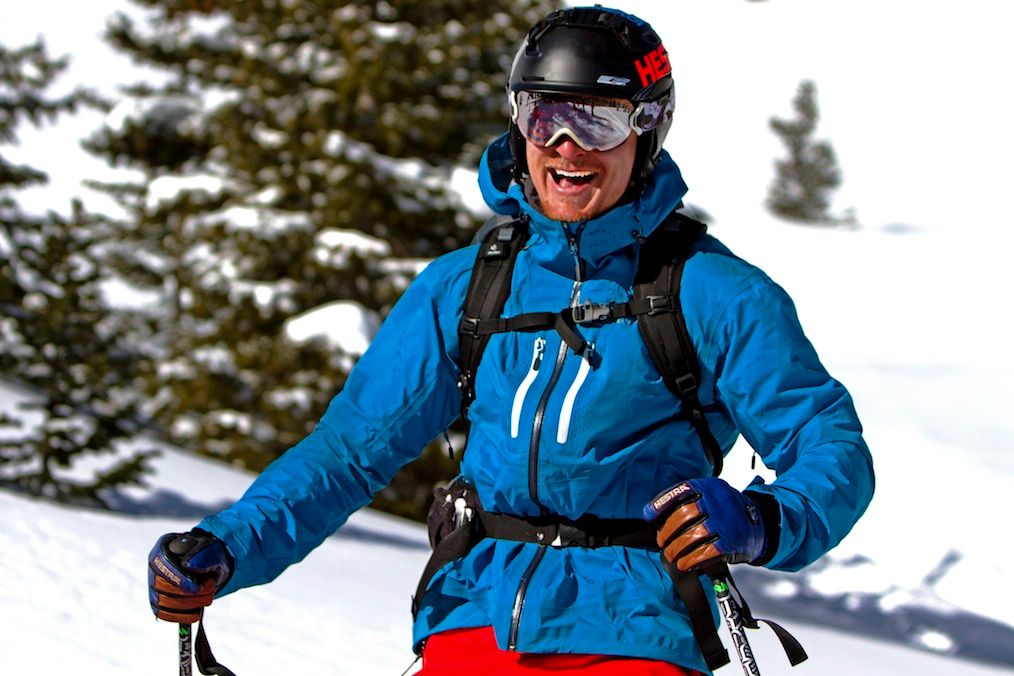 Even in Feb it got warm enough to not wear gloves.
We got a few soft and smooth cliff landings.
It's GOOD!
There were some pillows.
Faceplant.
Pillow line.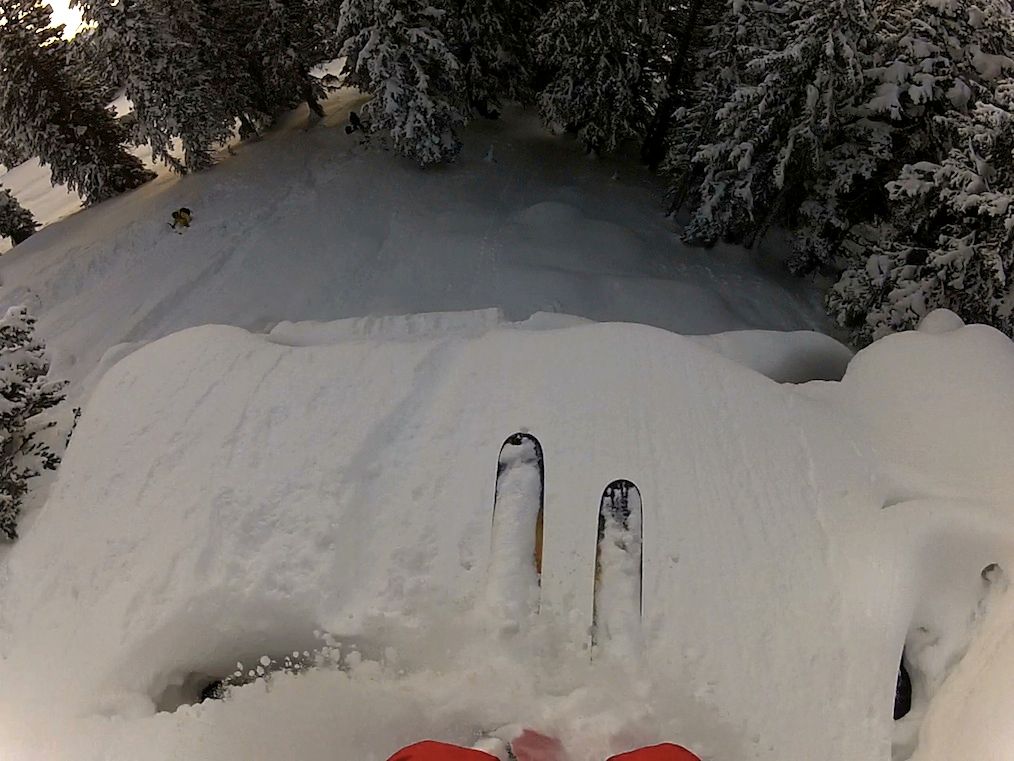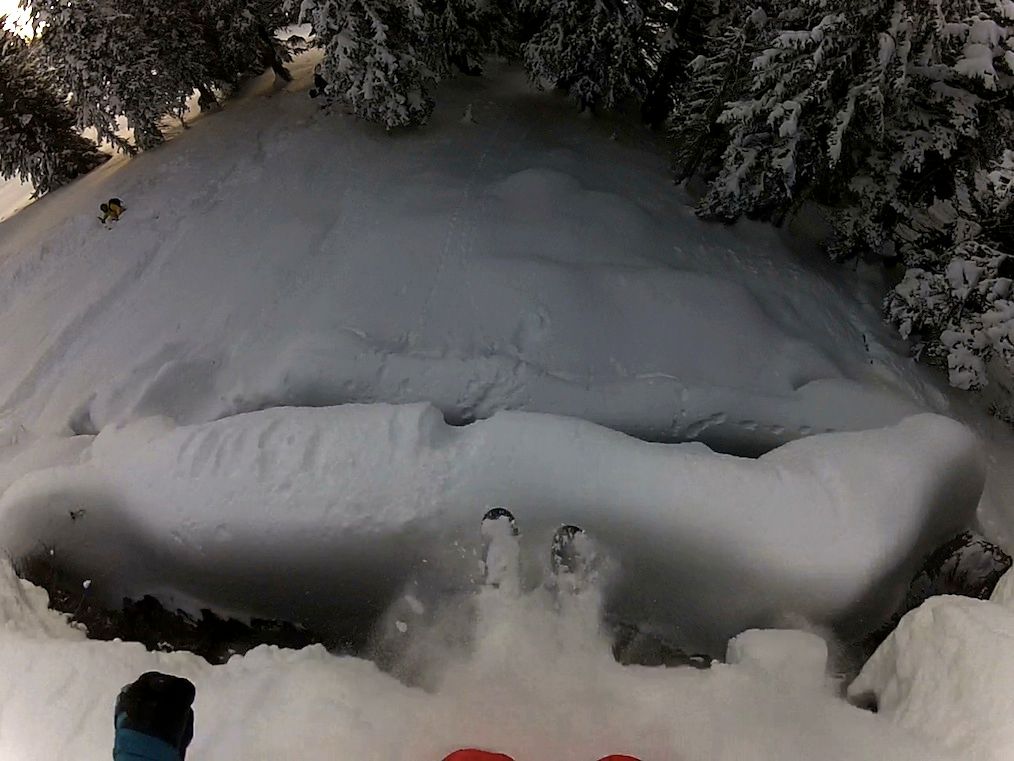 There were some beautiful sunny days in between storms.
(Photo by Andrew Lussie)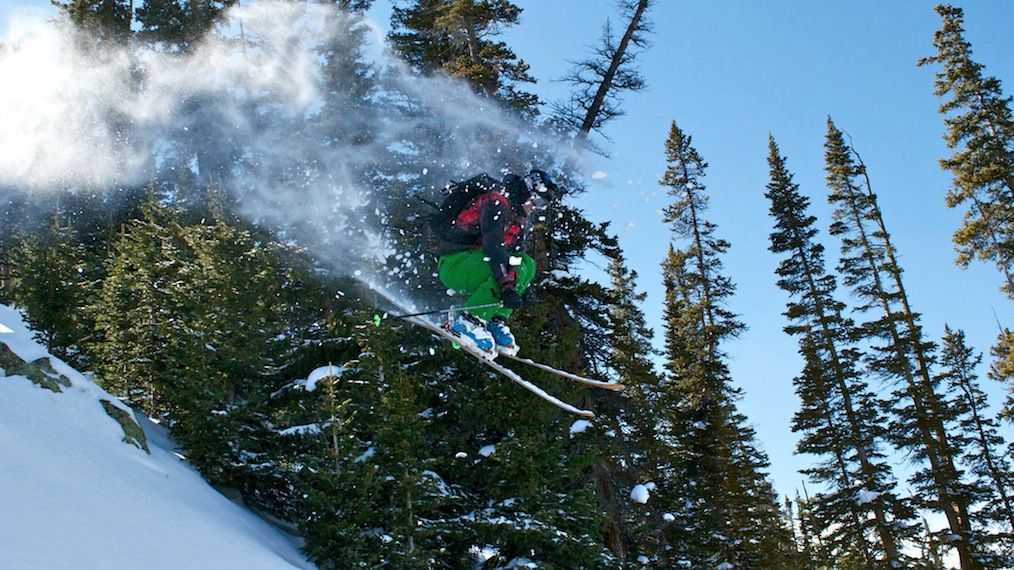 (Photo by Andrew Lussie)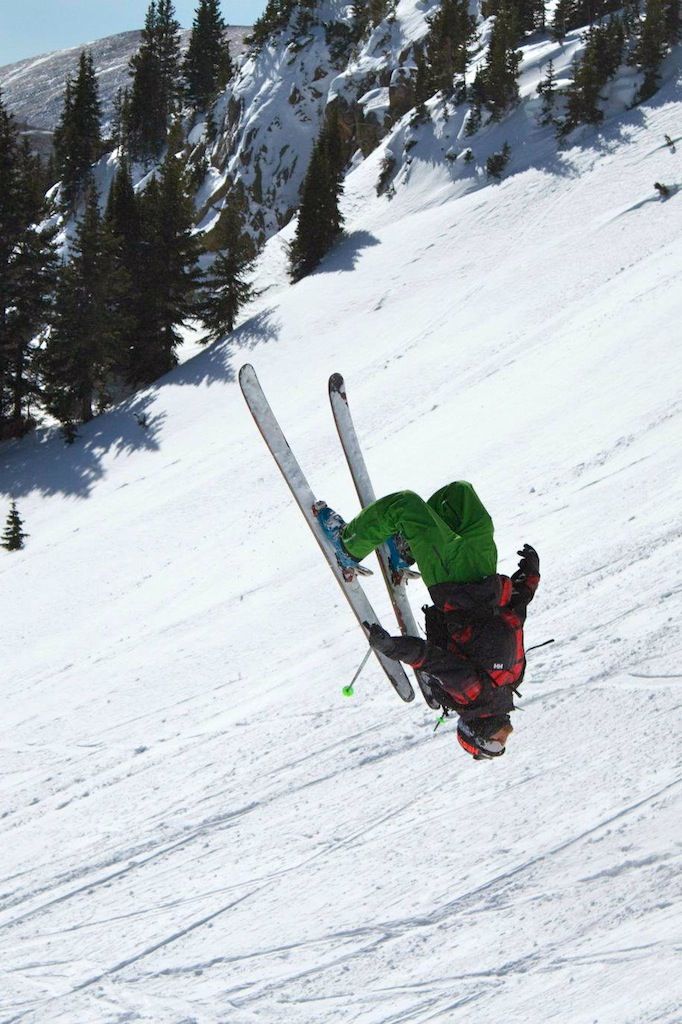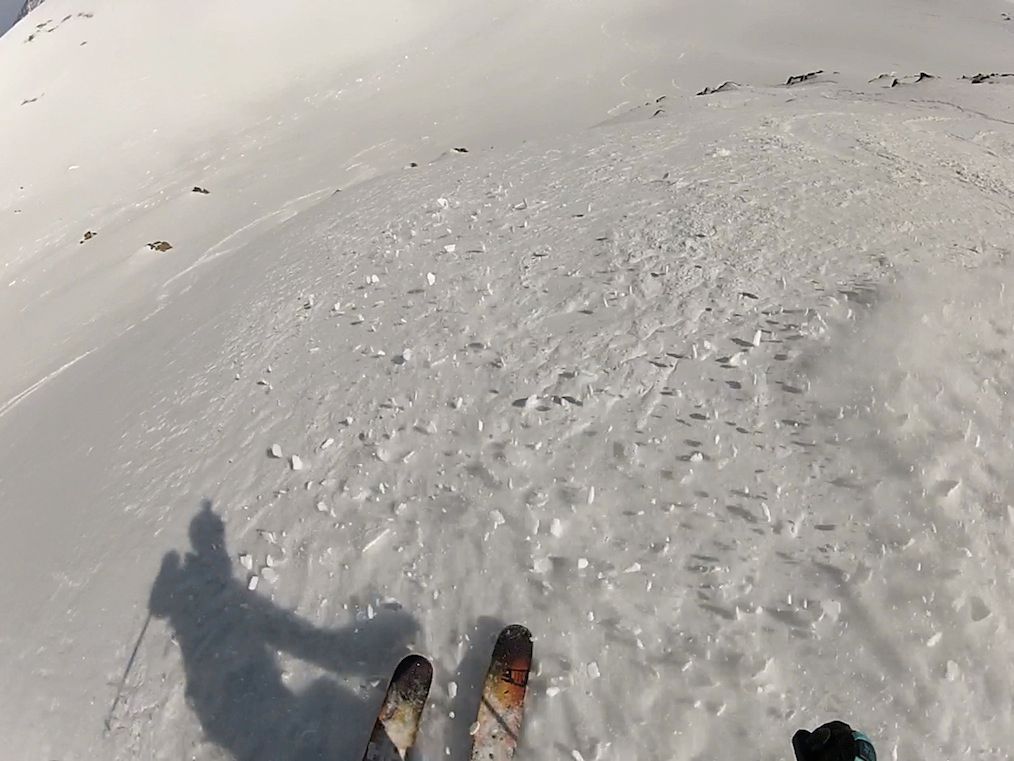 Late Season:
We entered March really excited about the potential snowfall for the rest of the season. But, as it turns out, it was the driest March on record. Not to worry, we just adjusted our game plan and went into more of a ski-mountaineering mode instead of a powder mode. Ski mountaineering takes planning and preparation. The descents are larger, and come with larger/longer approaches. Much of the ski mountaineering we did was fairly mild, due to the minimal amount of snow that fell and the lack of glacial terrain in Colorado. Regardless, our experiences were committing and enjoyable.
The rest of this post will be a short explanation of ski-mountaineering with pictures from this season to enhance it. If you've never done any ski mountaineering, then hopefully this gives you a feel of what it is like. If you have done some, then hopefully you can relate to these experiences.
These approaches can come in various lengths and styles.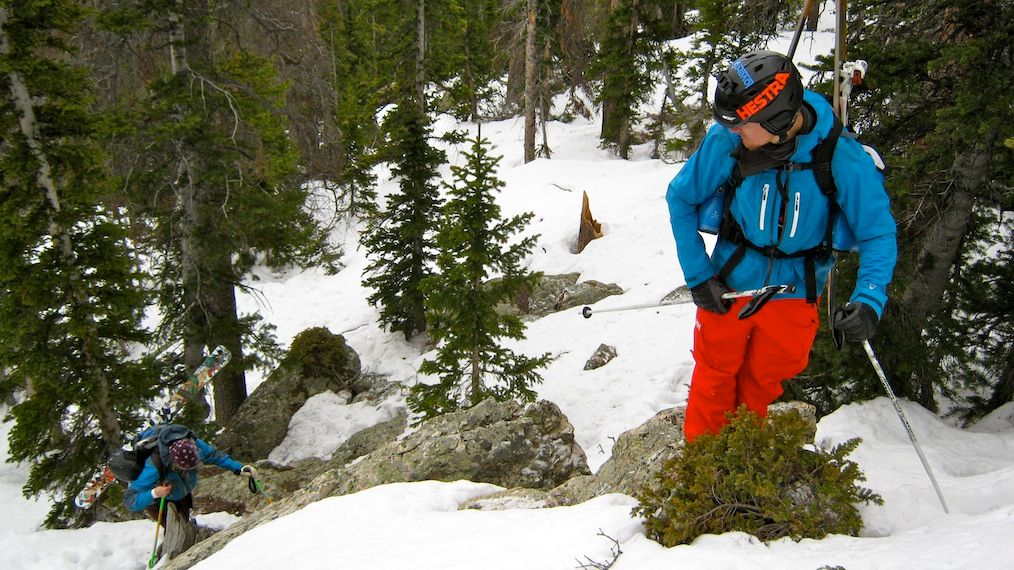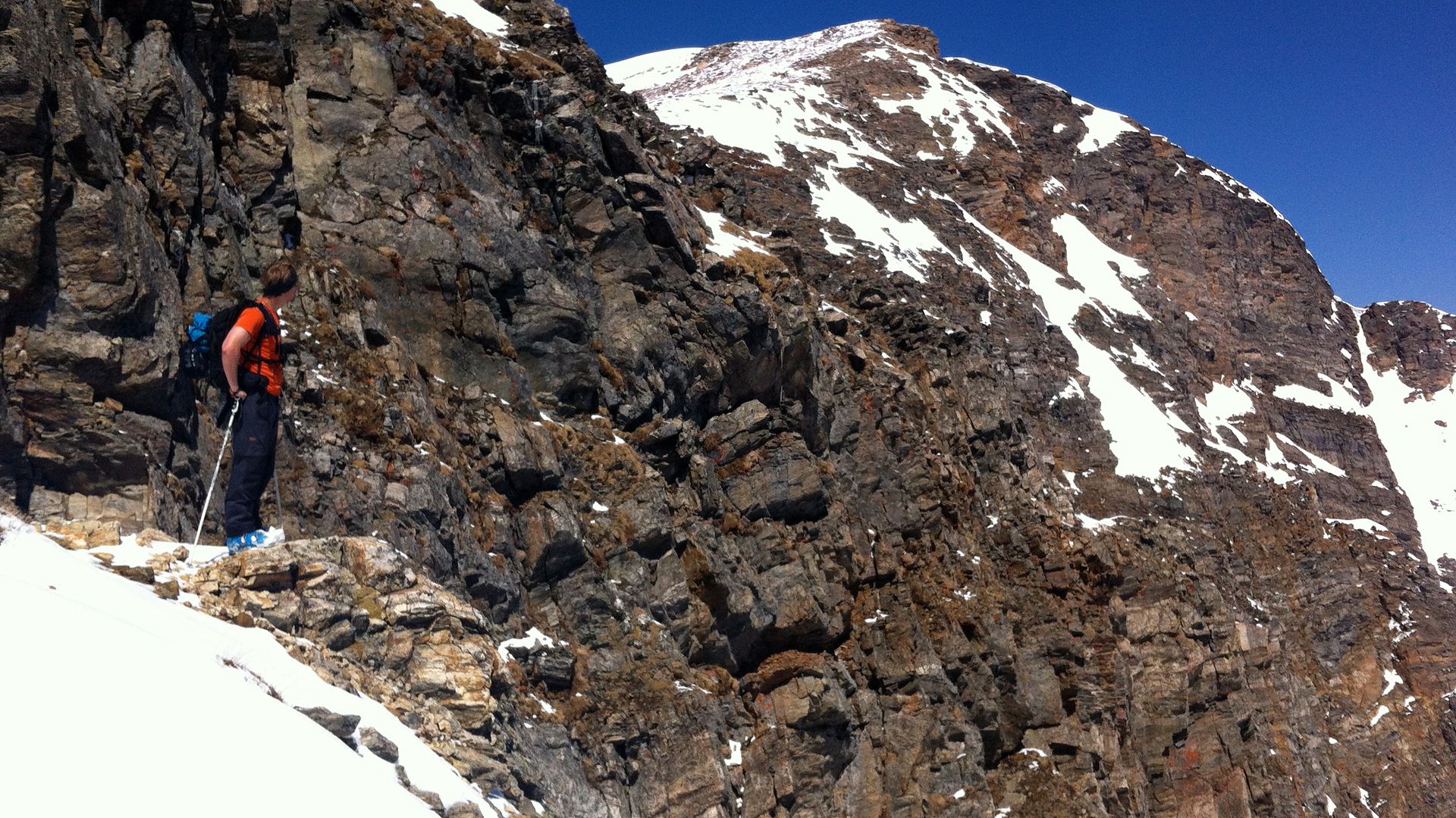 Sometimes you run into unforeseen obstacles, like too much snow on the access road...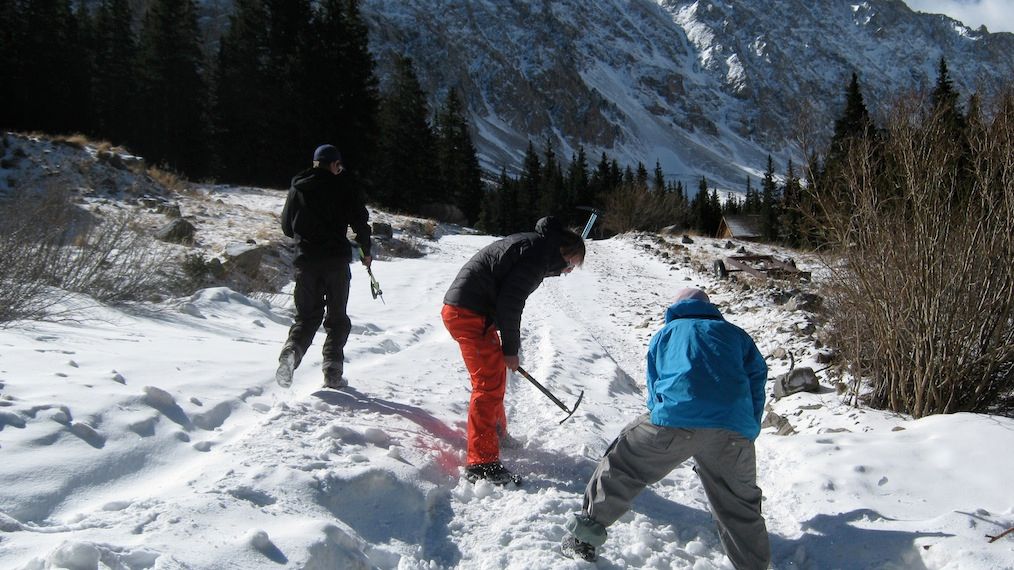 ...or not enough snow where you had hoped to be skinning.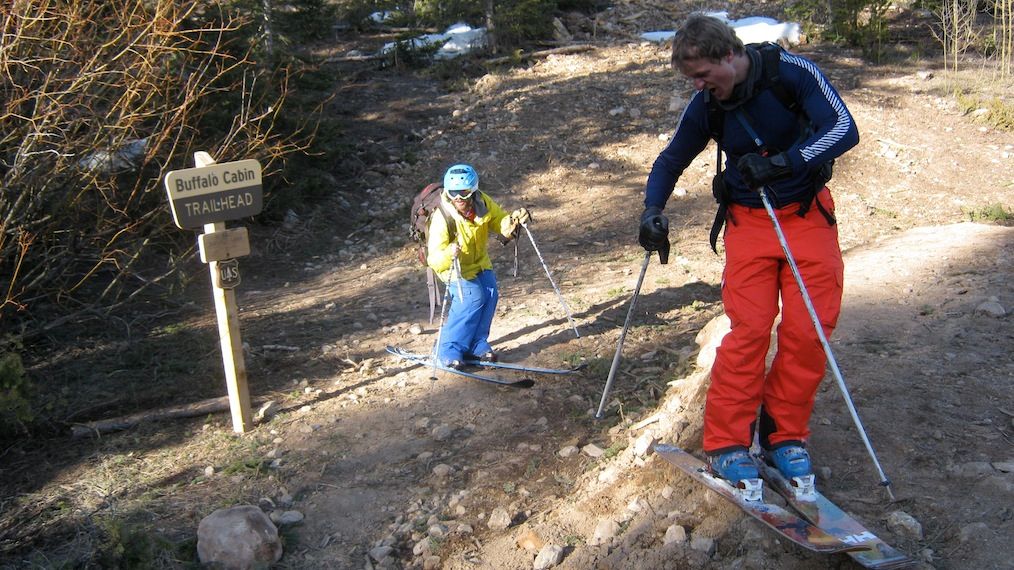 On many routes you get to stare at your line from the bottom and choose how to ascend it.
Sometimes you go straight up what you want to ski...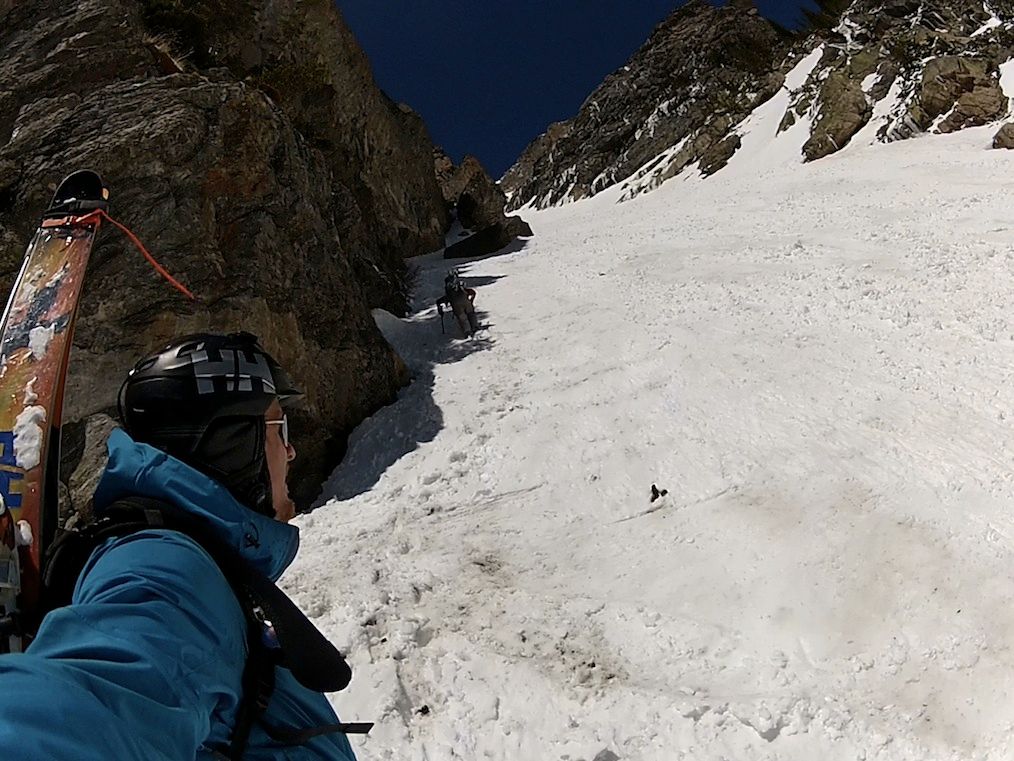 ...other times you go around (and get pretty views).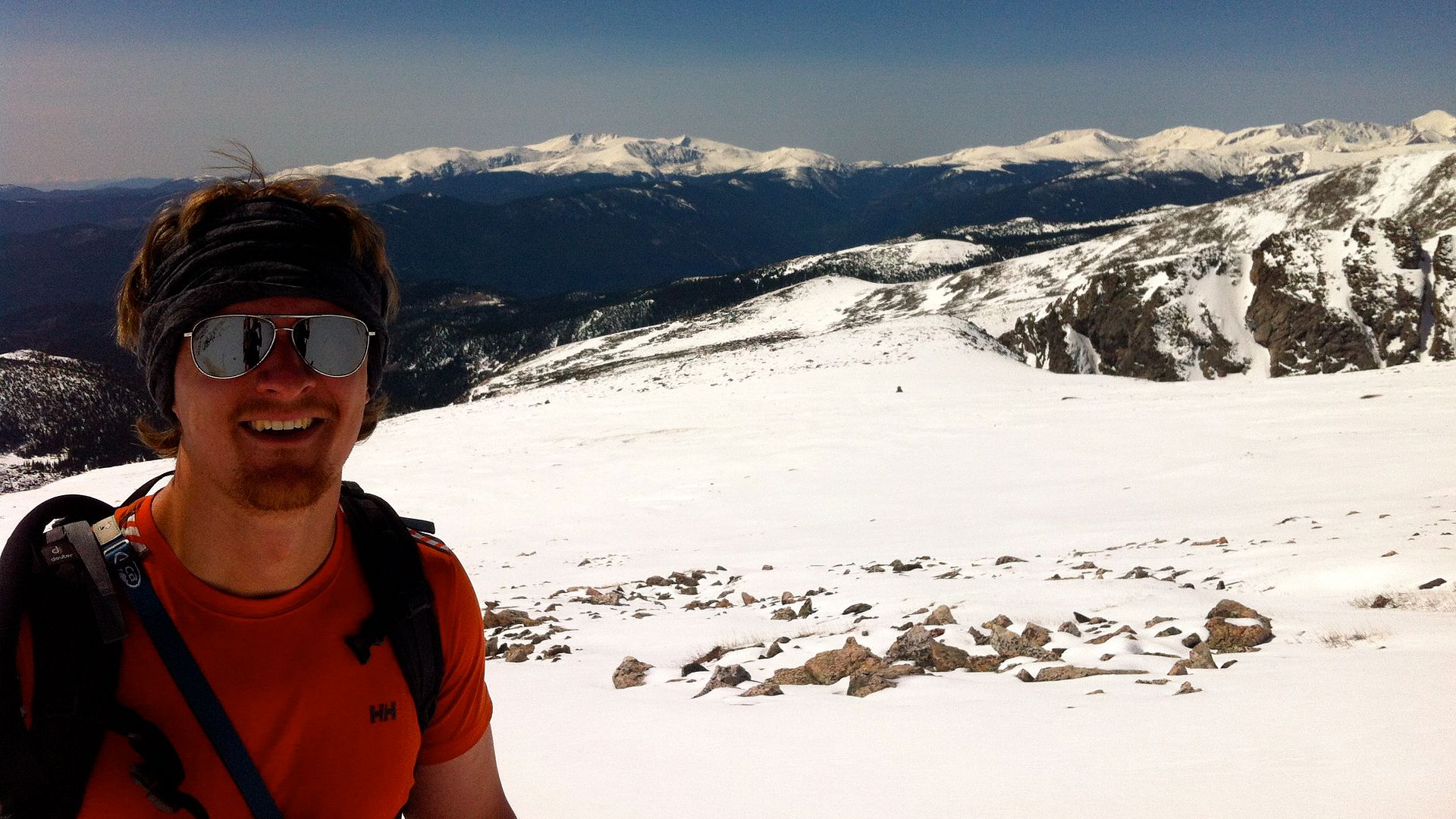 Sometimes the going is smooth...
...other times it is nasty.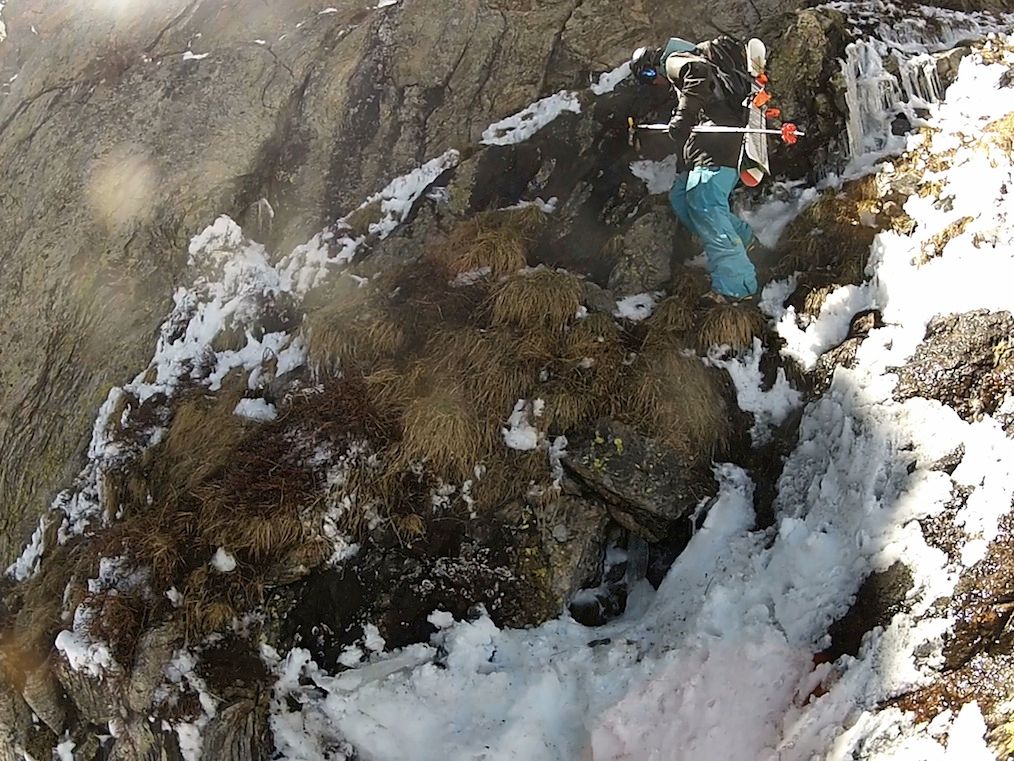 For some routes you have to learn rope work...
...or how to self-arrest...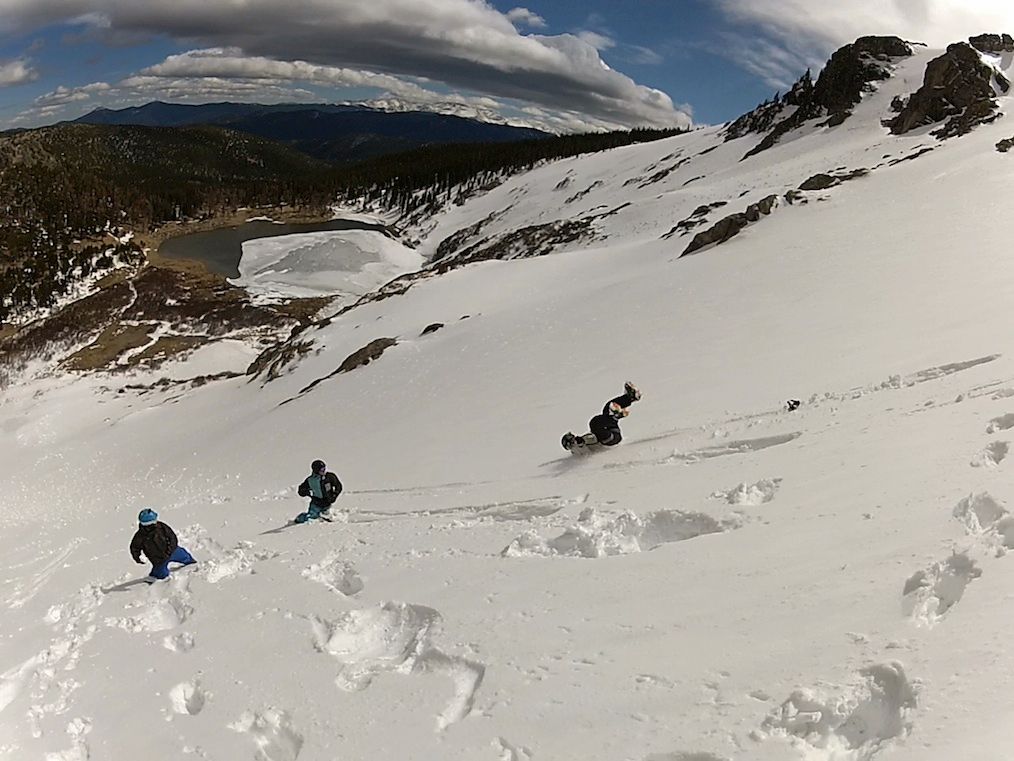 ...or how to partner-arrest...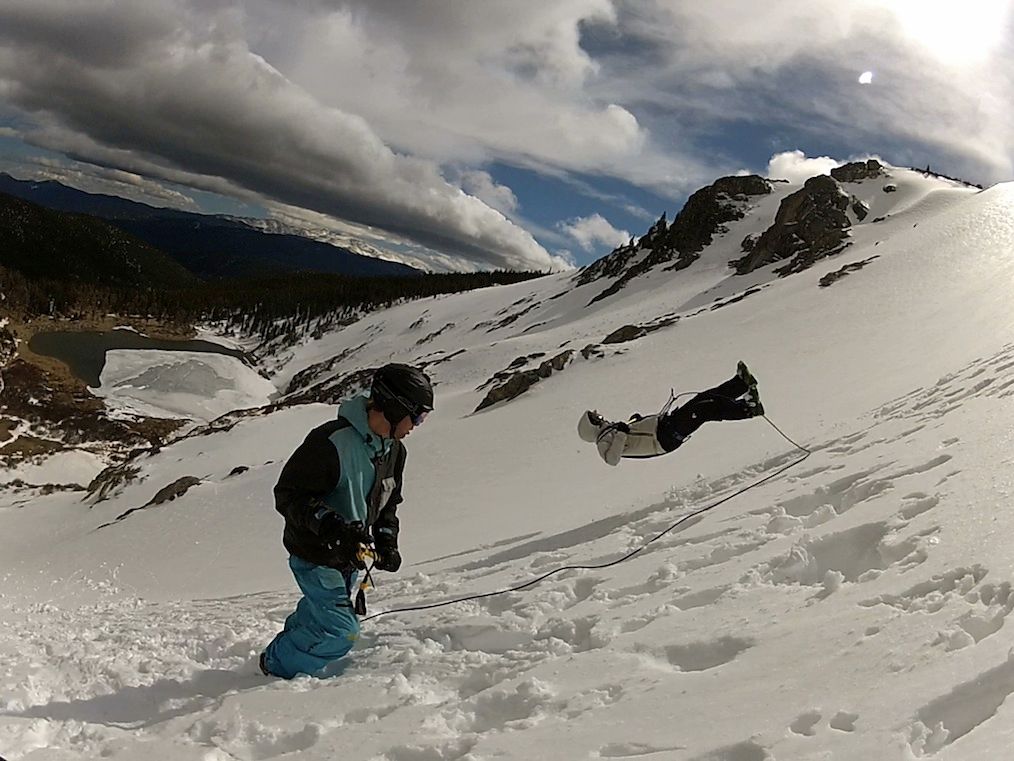 ...or how to set-up rescue systems.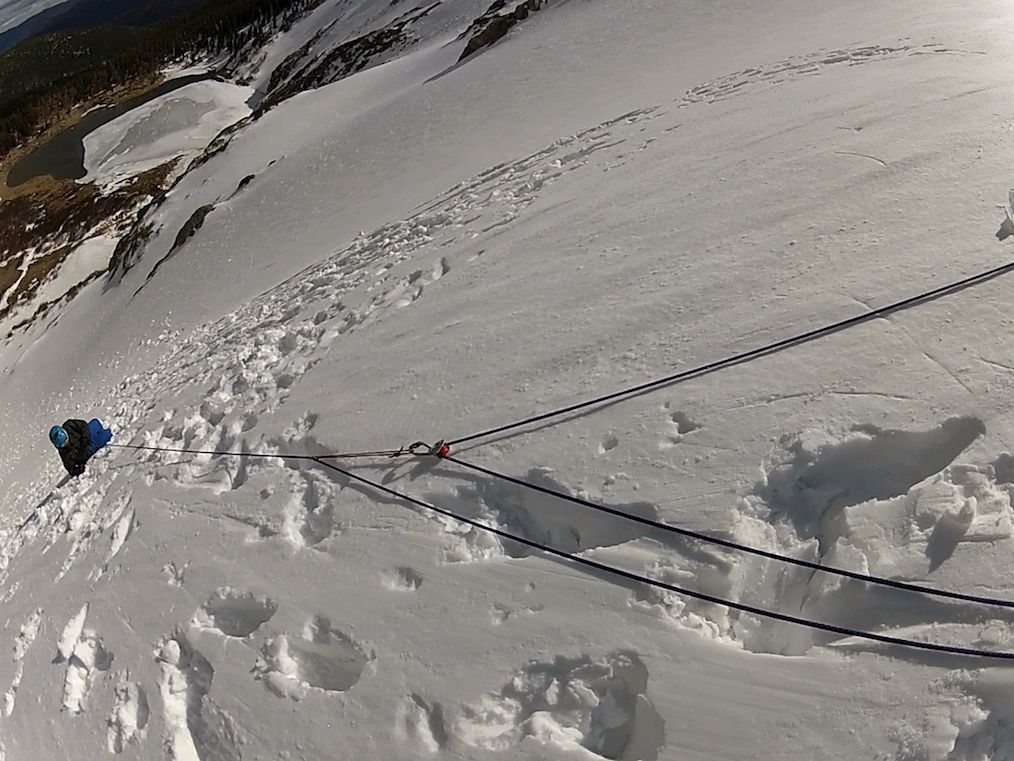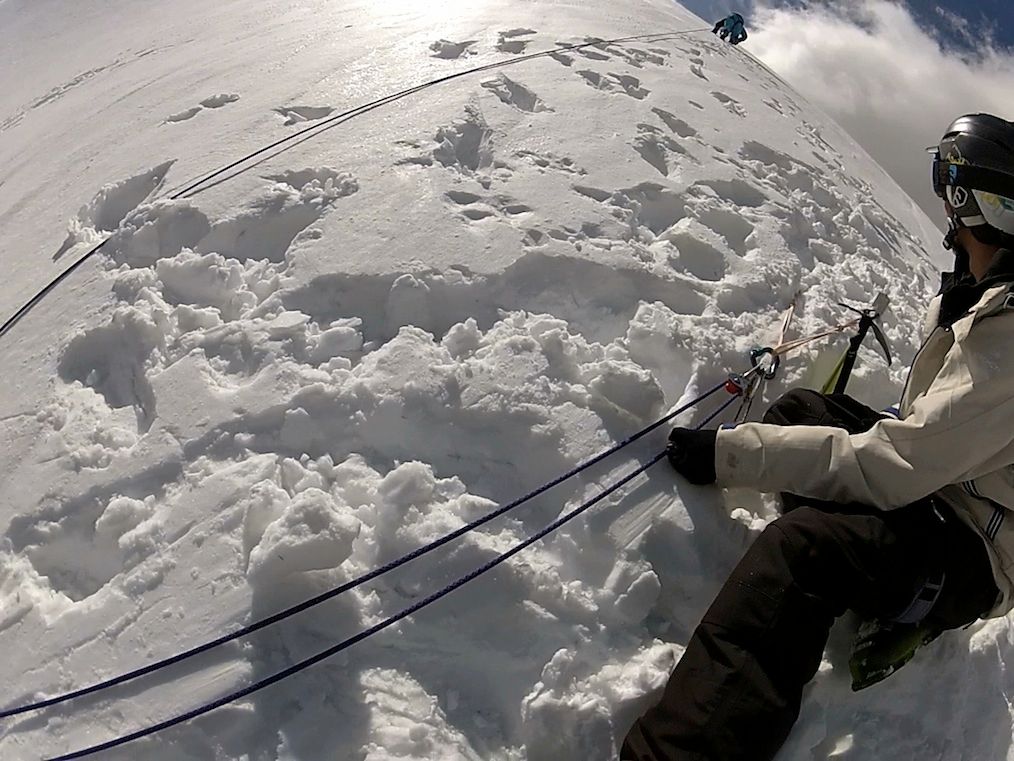 After a lot of work and preparation, you finally reach the top...
...and sometimes you do goofy stuff up there.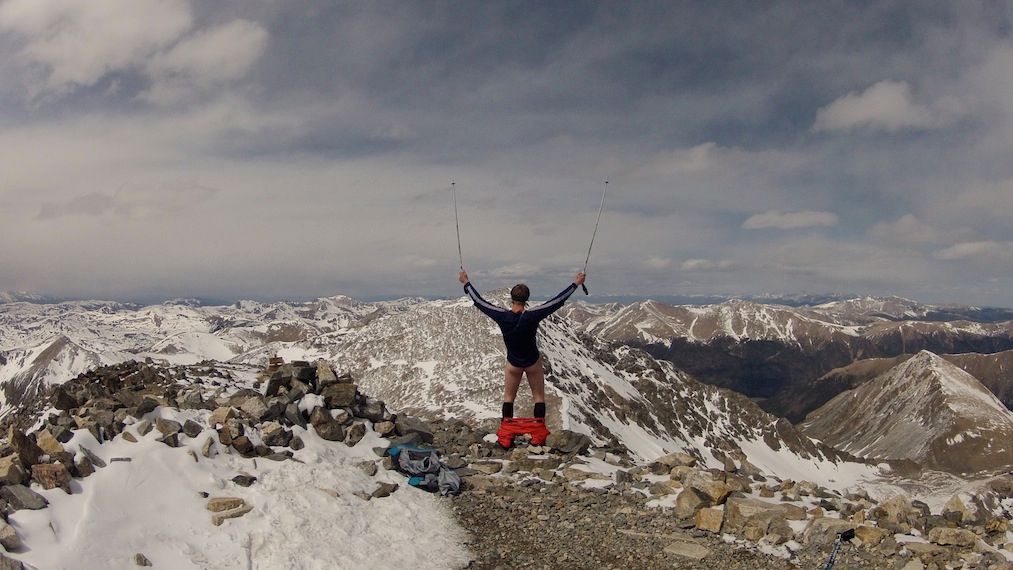 Then comes the reward for all the hard work. The ski descent.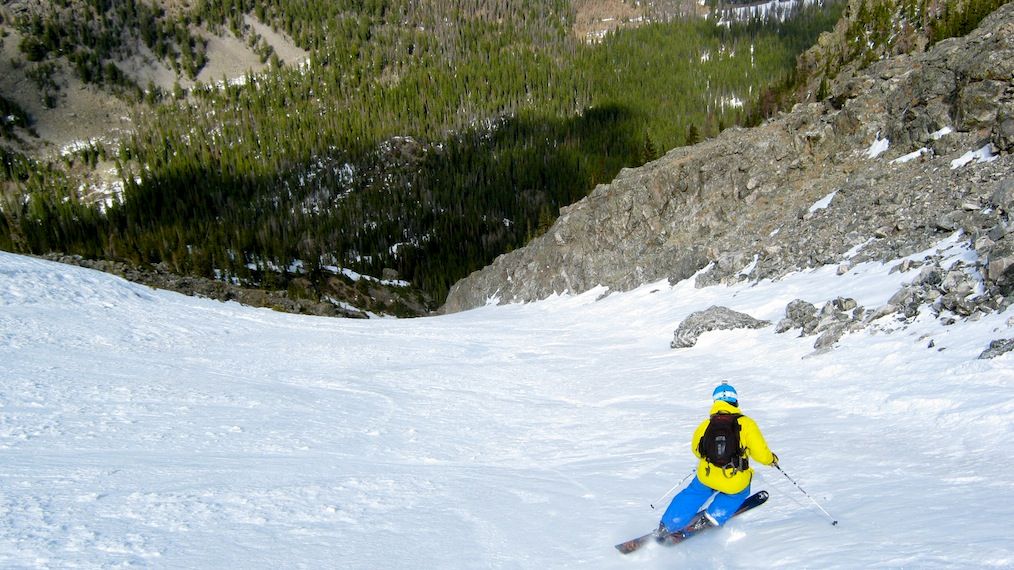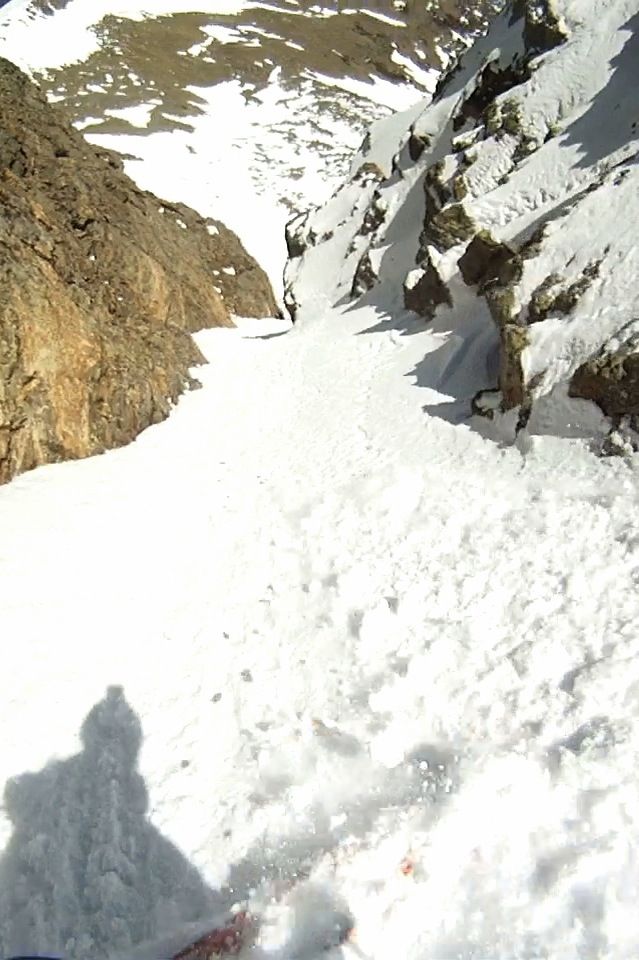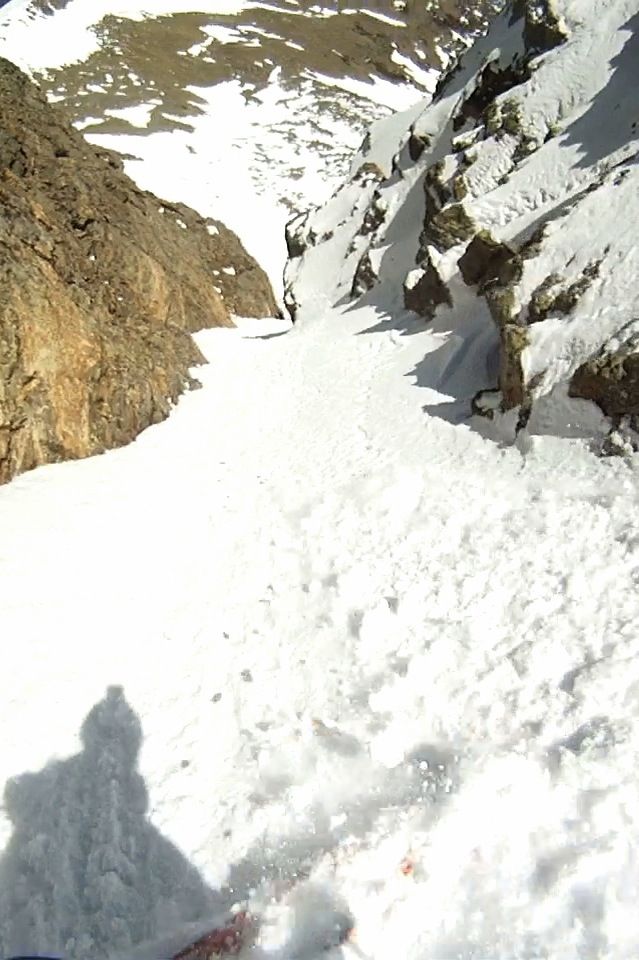 The company is always good.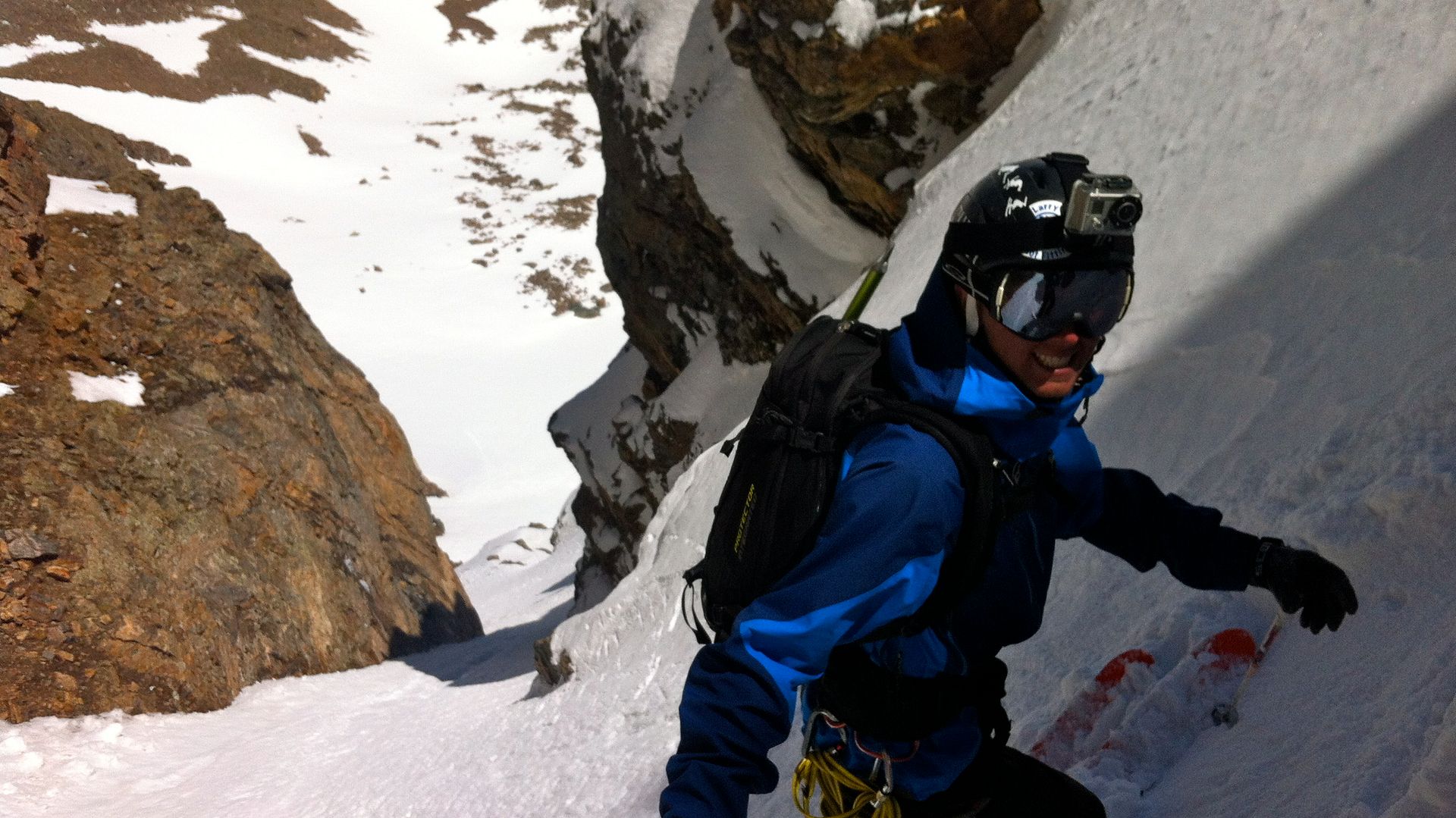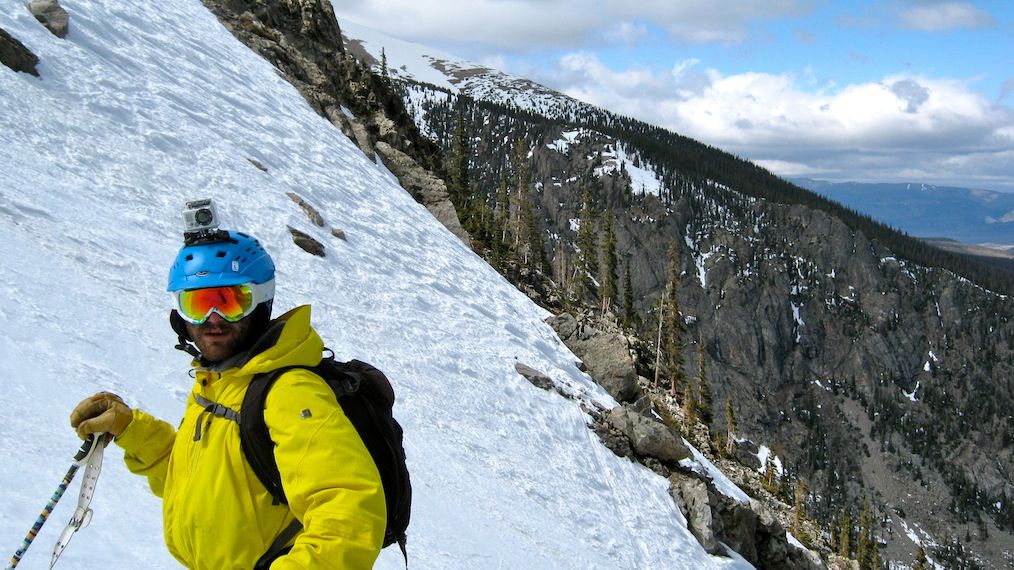 Sometimes the snow is great...
...other times the snow is miserable.
Sometimes the terrain is straight forward...
...other times the terrain is...interesting...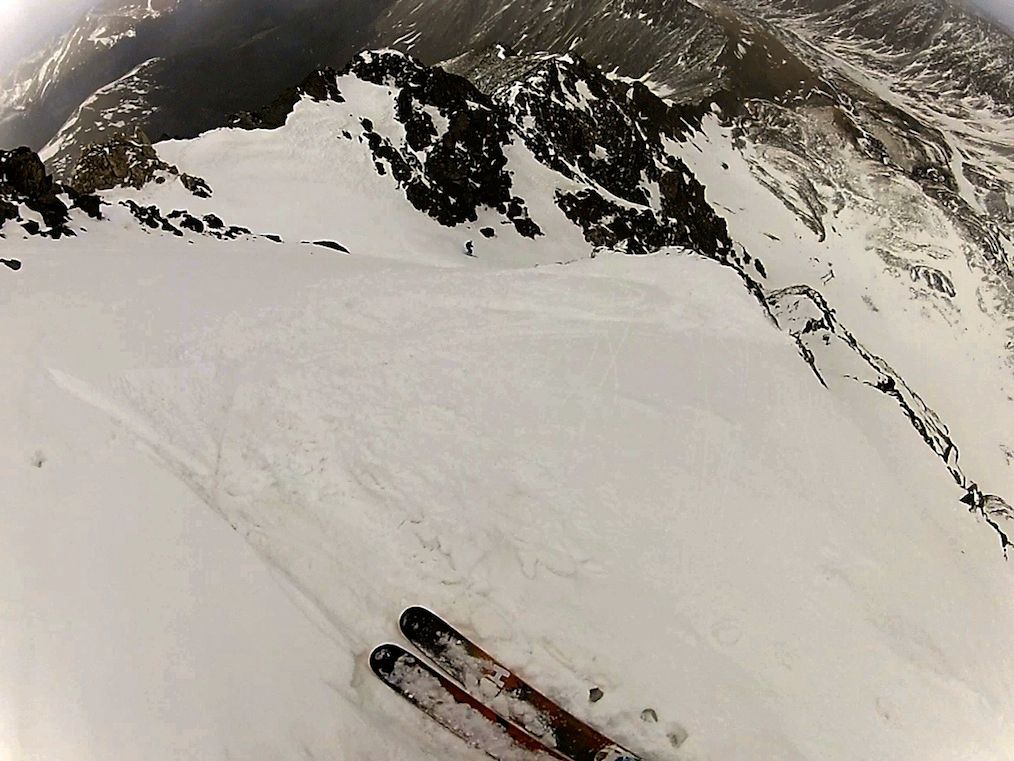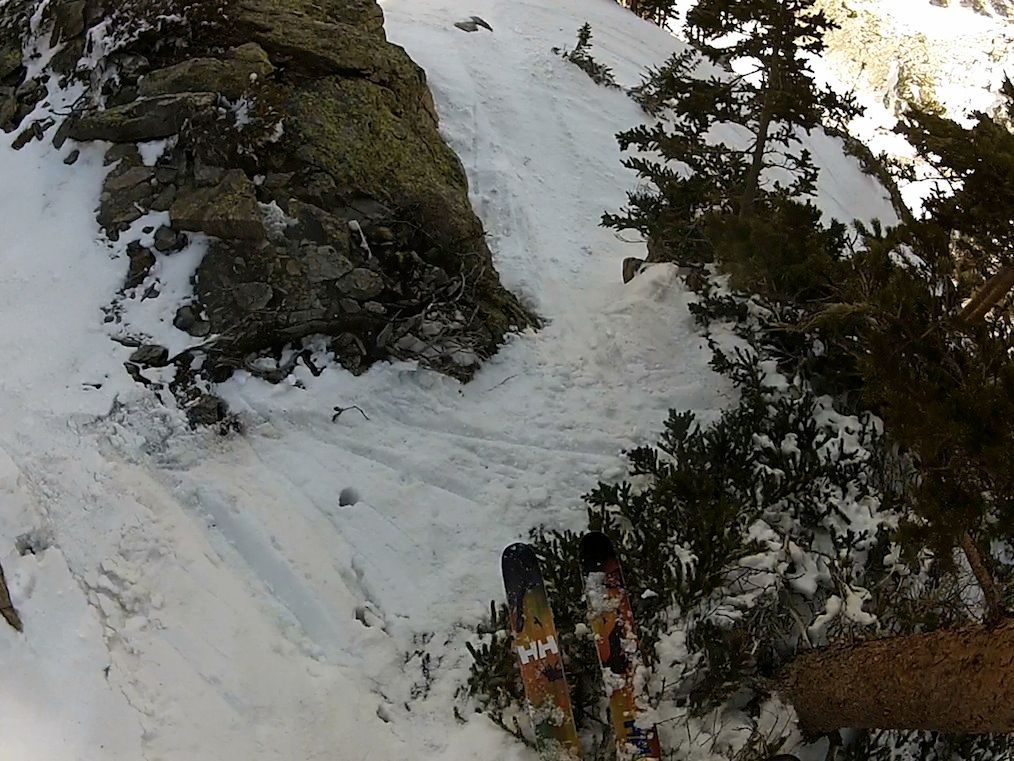 Sometimes there are rocks to jump off...
...other times you have to weave your way in between them.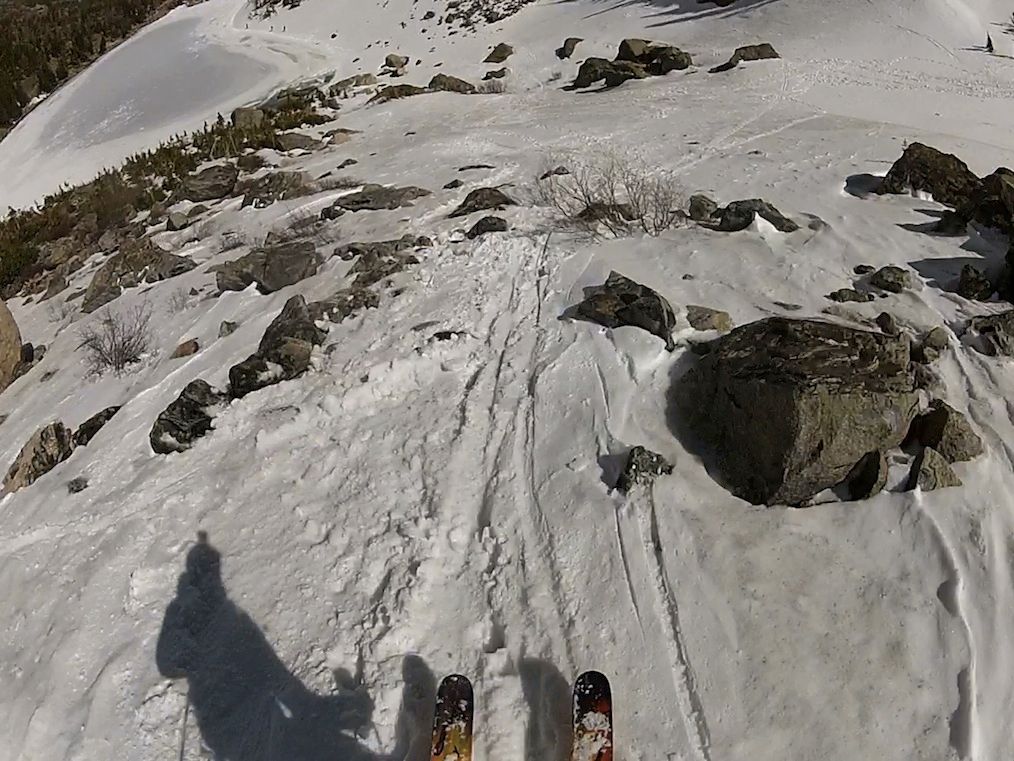 When you reach the bottom of your line, you get to look back at what you skied with satisfaction.
But you're not done yet. You still have to make your way out of the wilderness.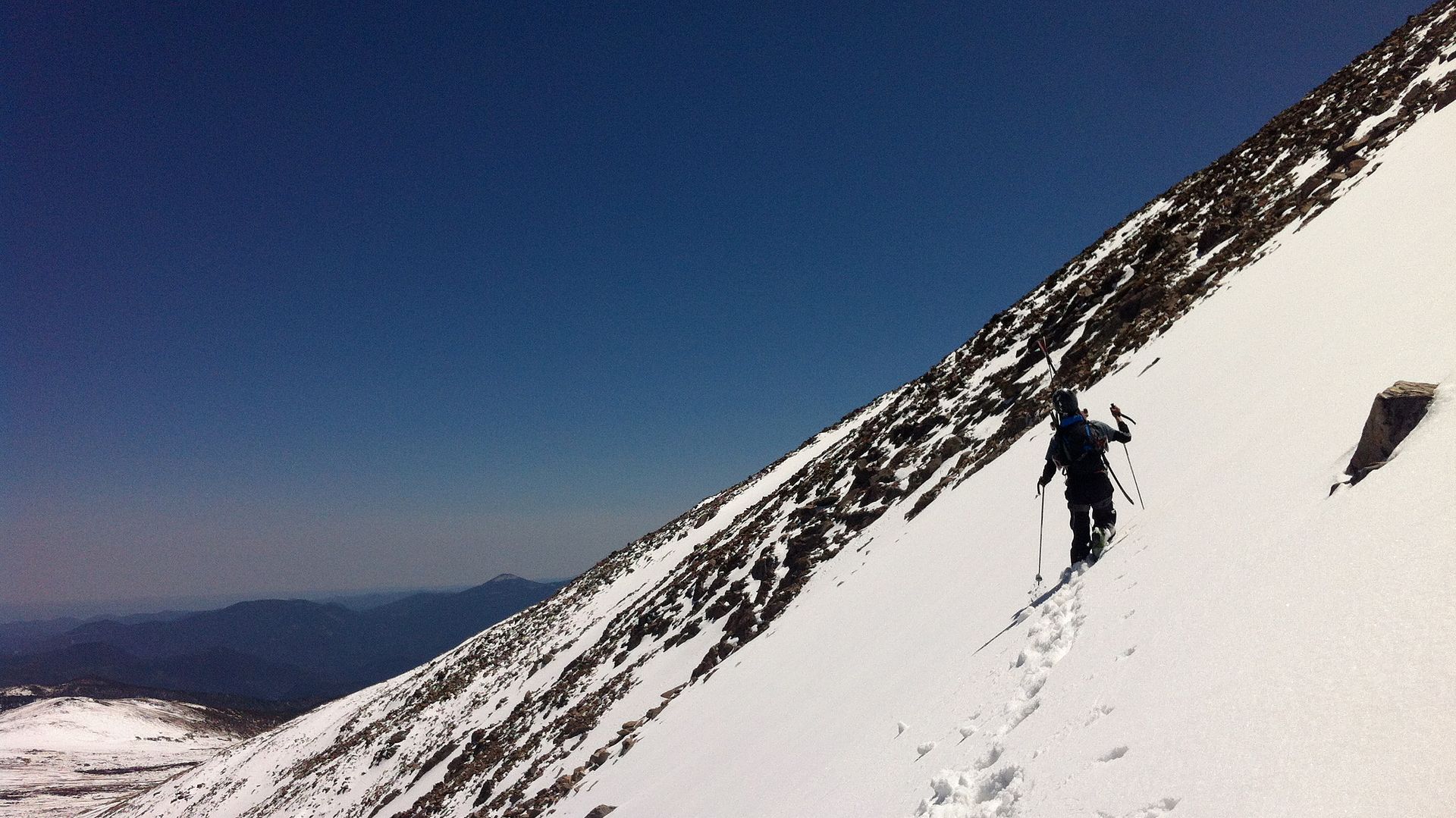 When you're finished you feel fantastic, accomplished and exhausted.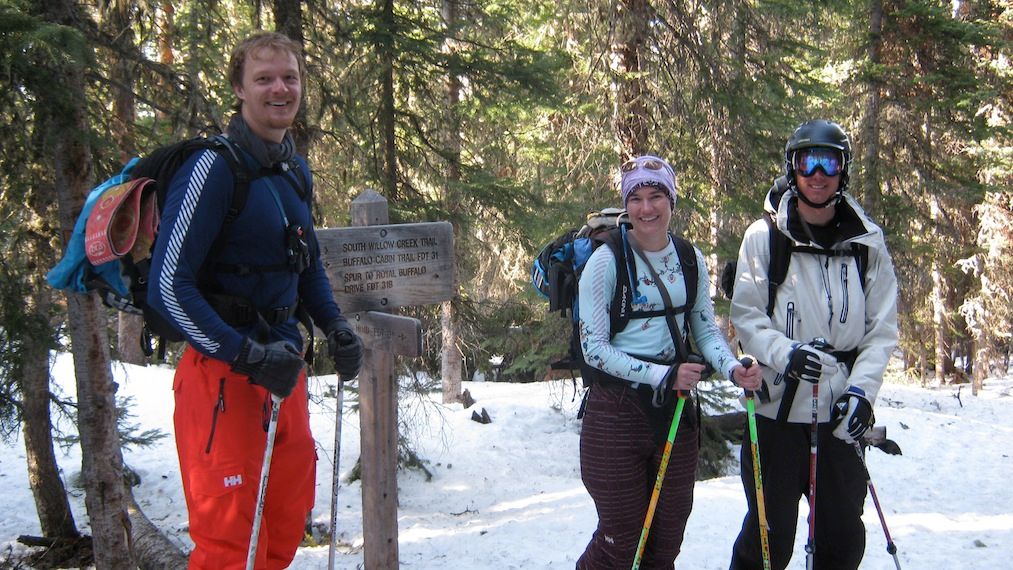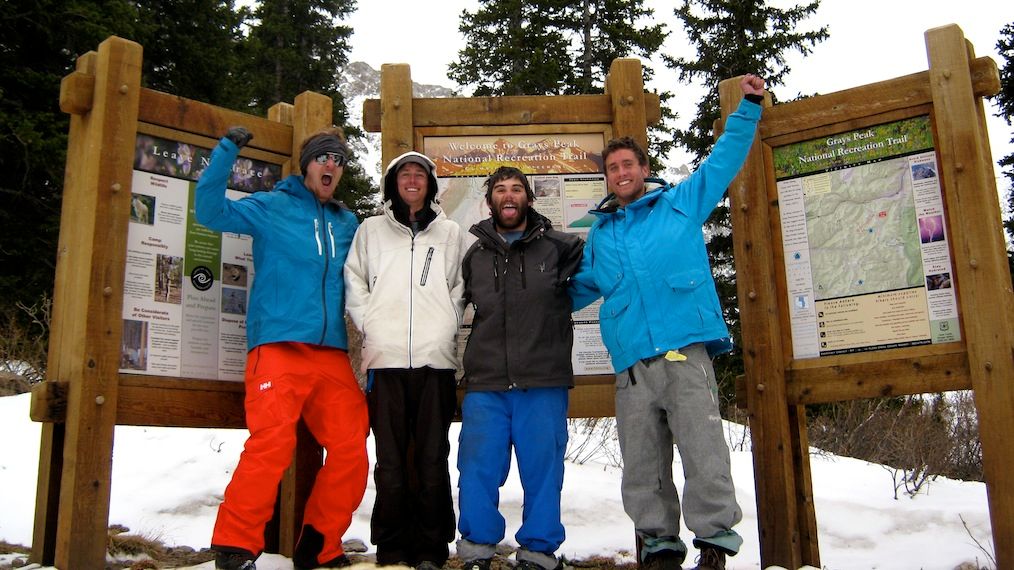 There is no doubt that all the hard work and preparation is worth it.
And that, ladies and gentlemen, was my ski season coaching for
CUFST
.
(Photo by Mike Blea)
A huge thanks to all the
sponsors that made this season's adventures possible
. Not only did they help me out, but they also
helped out many CUFSTers
. These companies are selected by CUFST and myself because they offer great products and customer support. Go to their sites. Check them out. Give them your business the next time you're in need.