Like or Share this post.
I don't normally post about failed attempts at a summit/ski descent, but I thought it might be a good idea to post about this one. I hope that the folks I ski with on a regular basis read it and it helps us continually make wise decisions in the mountains.
Background
:
I have been trying to ski the north face of North Maroon peak for several years now. Since it is well within my comfort zone and ability, and it is such an iconic peak, it feels like it calls out to me. Every year, however, I have either had issues finding a partner, been denied by avalanche conditions, or had other obligations (work, trips, other peaks, etc.).
This year, after finally successfully skiing Mount Moran I was itching to check North Maroon off the list as well. Things were looking promising. I had a partner lined up to ski it with, a weather window and I was in good physical shape.
May 21
:
My ski partner backed out of the trip. We had been planning on leaving the next day, May 22. I certainly understood his need to back out as he had some time sensitive issues to take care of. I decided to push the start of my trip back another day, and leave on May 23. I looked for other partners, but found none.
May 22
:
I debated whether or not I should go solo. More or less, my reluctance to go solo was because I simply like to spend time with other people in the mountains. Being solo does present some heightened risk factors, though. For instance, in case of an injury I would have no help. But that is a bit of a moot point for a ski descent like this. The chances that a partner could help you if you get hurt are slim. This is not the sort of place where one simply gets hurt...
I decided to go solo.
May 23
:
After the drive up to Maroon Lake, I loaded my pack and set off for camp. The views of the north face of North Maroon were great and I was excited to be there.
Starting the hike to camp.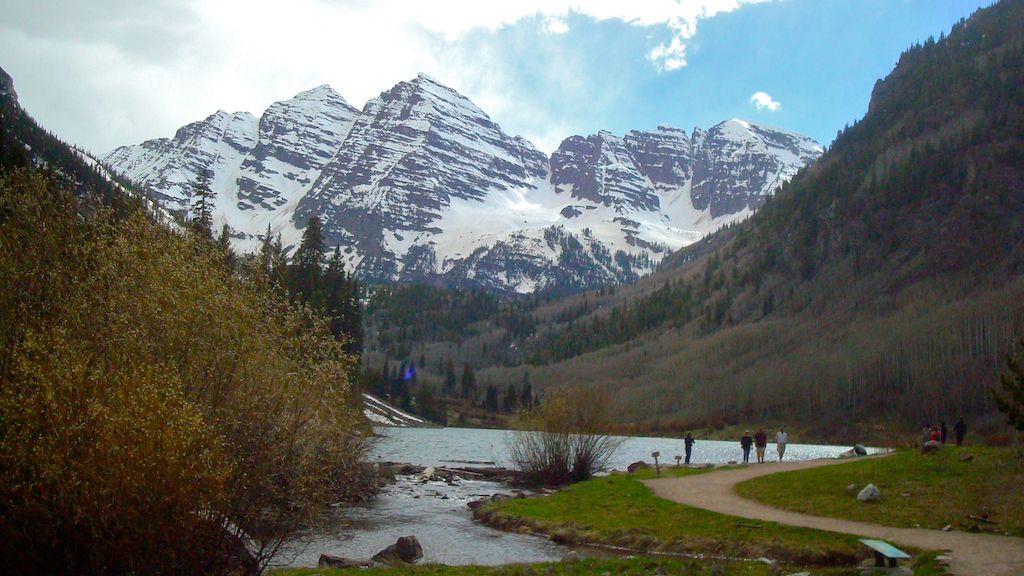 I hiked in 2.4 miles and 1300' vertical to camp with a brief stop at Crater Lake to enjoy the view.
Home sweet home.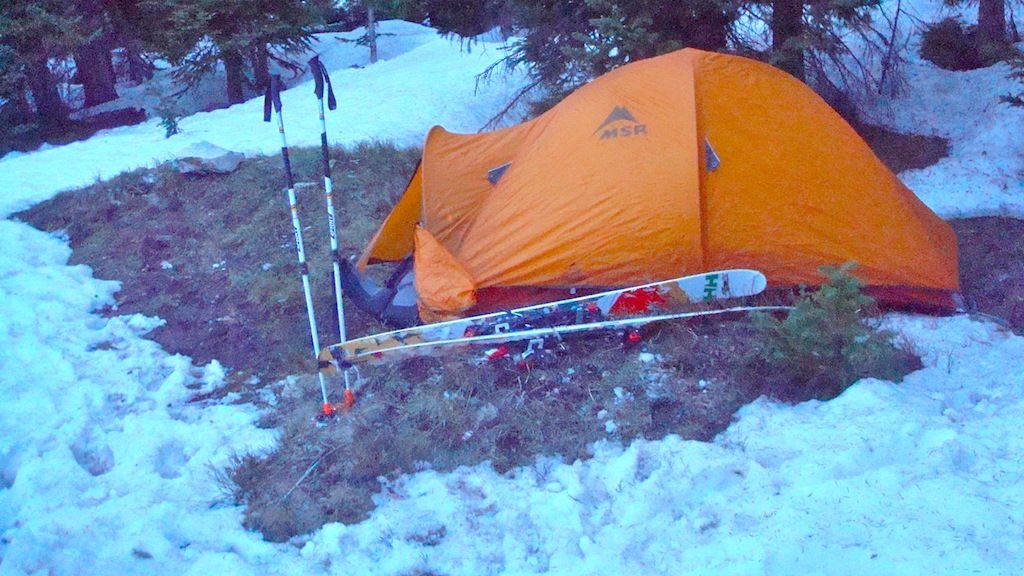 May 24
:
4:30 am
- Knowing that with my fitness level I could comfortably put away ~1200' vertical in an hour, and that I was only ~3,350' vertical from the summit, I set the alarm clock for 4:30 am with the plan of hitting the trail at 5 am. I figured this would give me plenty of time to make it to the summit before things got too warm.
As I was eating breakfast a group of two passed me, also on their way to the summit of North Maroon for a ski descent.
5:00 am
- I clicked into my skis and hit the trail about 15 minutes behind the other group of skiers. The first face that I encountered looked pretty benign. It was only ~700' vertical of mostly side-hill skinning. I was planning on having this face out of the way in 30 minutes (by 5:30 am). Unfortunately, things did not go as planned.
The night had been clear and cold, and the snow surface was brutal for a side-hill skin. In fact, it was quite difficult to even get the butt of my ice axe into the snow surface. The group ahead of me made decent time on the face by boot packing much of it (I talked to them about it later). I was continually going from trying to skin, to boot packing, to trying to skin. For a while I felt like I was on a Nordic Track.
What should have only taken me about 30 minutes ended up taking me 1.5 hours. I was frustrated, but the snow surface was still cold so I kept going.
Side-hill skin from Hell. Should have taken me no more than 30 minutes but took me 1.5 hours. This picture was taken from camp the night before.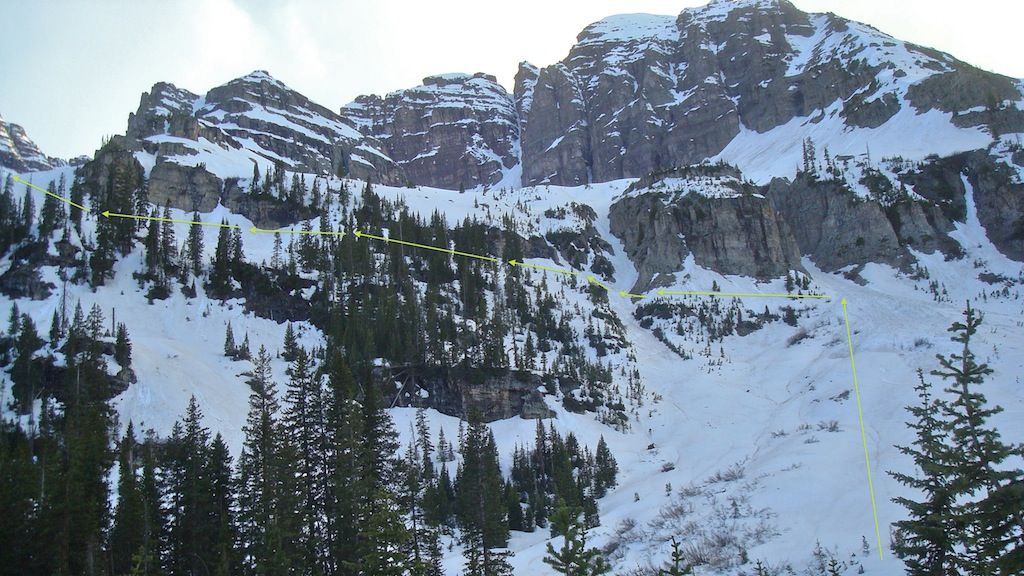 A slight view of the sunrise.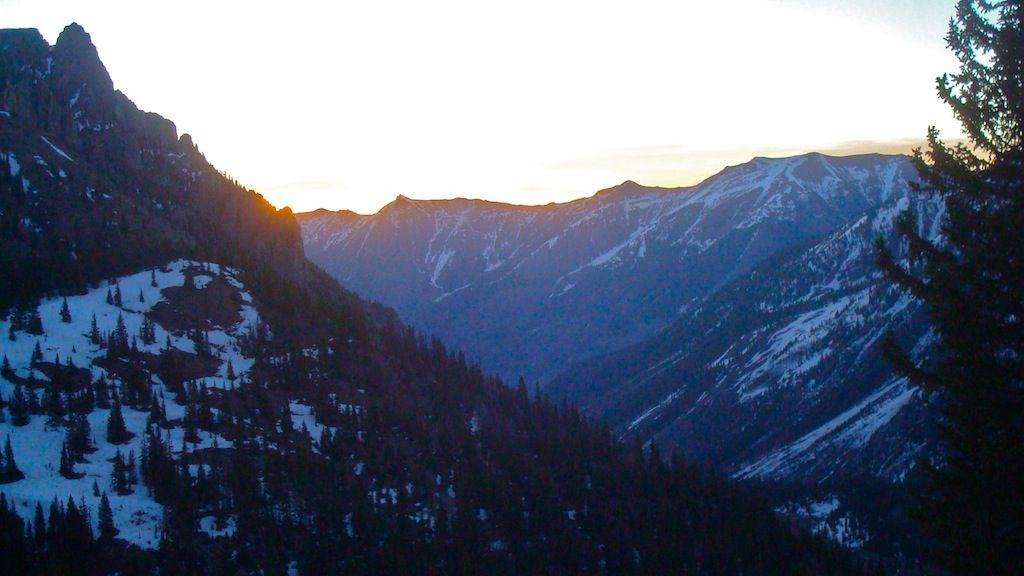 6:30 am
- I had reached the basin below the face of North Maroon. The skinning from here was much easier. I hustled and made great time. I put away the next 1000' vertical to the base of the north face in ~30 minutes. I was feeling pretty good. I could see that the other group of climbers was about 30 minutes ahead of me at this point. I lost ground on the initial side-hill, but made a lot of it up on this section.
7:00 am
- I had reached the base of the north face and transitioned from skins to crampons. I began hiking my way up. I was moving fast and still making great time despite the poor start.
7:30 am
- It was getting warm quickly. Very quickly. On a few of my steps I punched through the frozen surface into the unconsolidated snow beneath. Given that I was climbing fast I made the decision to continue upwards with the hopes of being able to outclimb the thaw. I knew that if it got much worse I would have to turn around. It is never a good idea to be hiking over large exposure on poor snow.
7:45 am
- At this point I was at roughly 13,300'. I could see the final cliff band on the north face. I was just below the middle crux. I had been hiking at a steady pace and had climbed a little more than half the vertical of the north face.
All of a sudden, a decent rock fall happened to my climber's left.
This gave me pause. I knew it was warming quickly. I debated whether I should continue climbing or take the rock fall as a sign that things were getting bad. Had I been skiing down at this point it would not have been as big an issue. On skis one is more mobile (ability to get out of the way) and has weight distributed onto more of the snow surface (won't punch into the unconsolidated snow beneath).
Within 30 seconds another sizable rock fall happened to my climber's right. This wasn't anything to mess around with. I decided to get off the face as soon as possible. I down climbed to a safer zone beneath a slightly overhanging cliff (protection from subsequent rock fall) and transitioned to my skis.
Time and location breakdown. This picture was taken after I had skied down and was waiting for the other group to ski down.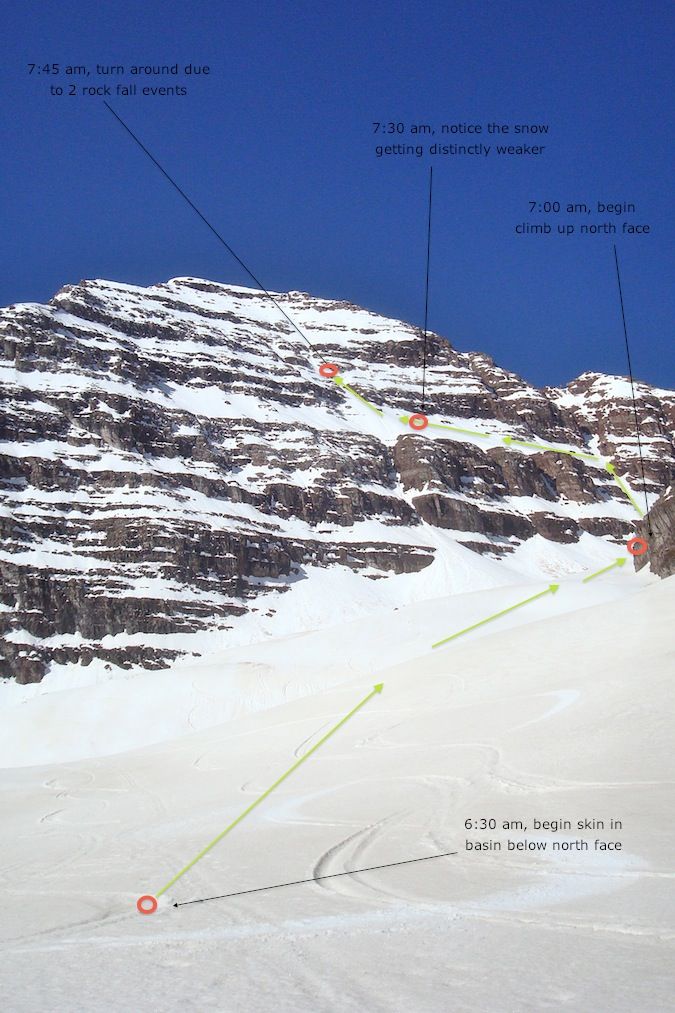 Although I knew it was the correct decisions, it pained me greatly to turn around. For a myriad of reasons my ego wanted me to continue:
I have wanted to ski the face for so long.
The climb and ski are well within my ability level.
I had put in a lot of work to get to where I was (driving, camping, skinning, hiking).
I was so close to the summit.
I fealt great physically and was climbing at a good pace.
It was only 7:45 am, and I would likely make the summit by 8:45 am (usually a very reasonable time to be on the summit).
There was a group that wasn't too far ahead of me that was going to ski from the summit.
Even though my ego wanted me to keep going, I had to face the facts and be objective about my decision making. It was getting warm very quickly. It is likely I could have continued and made the summit without further incident but the heightened risk simply wasn't worth the reward. I would have had to rely too much on luck to make it to the summit without incident. If something were to go wrong in that situation it would be disastrous. As I mentioned before, this is not the sort of place where you simply "get hurt."
If I had been about 30 minutes ahead on my climb I think I would have been fine. Curse that 1.5 hour side-hill from Hell on that first pitch.
7:55 am
- I delicately transitioned to skis. I was over massive exposure and had to be careful not to lose any gear and especially not do something clumsy myself. There are no pictures or video of this because getting the camera out and set-up was very low on my priority list. I wanted to get off the face as efficiently as possible. The snow was a bit punchy and variable for the descent, but I made it down without incident and was much more comfortable with the conditions now that I had skis on.
8:05 am
- I reached the bottom of the the basin below the north face just in time to see the other group summiting North Maroon. The snow below the face was really nice, and I took that as a small consolation prize.
I posted up and spent the next hour watching the other group ski down. After they reached me I congratulated them and we talked for a while. We all skied down to my camp together, ate some food, then began our hike down to the trail head.
Am I disappointed that I didn't get to ski North Maroon from the summit? Yes. Would I make the same decision again if put in the same situation? Yes. Do I plan on trying to ski North Maroon again in the future? Yes.
Some perspective of how far I had gone and how close I was. I'll get it some other day.